On February 26, the Georgian Craft Association organized an online award ceremony for Best Master of the Year 2020. "Best Example of Adaptation to the Crisis" was the nomination for this year's competition.
Despite the crisis in all sectors due to the pandemic, some craftsmen and workshops were still able to find alternative ways to continue the development of their traditional activities. Thus, the aim of this year's nomination was to identify the best examples of crisis adaptation in the craft sector as a positive experience that will encourage similar approaches in the future.
The Association and the National Agency for the Protection of Cultural Heritage awarded the winners of the nomination with a cash prize. The first place was won by the studio "Katamura", which in 2020 most effectively managed to create international sales and adapt to new principles. The second place of the nomination was shared by the studio "Atelier Saddam" (Tbilisi) and felt master Naili Lazarashvili (Bolnisi).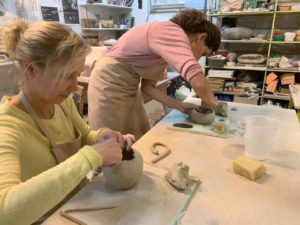 The competition for the "Best Master of the Year" was founded back in 2015 by the Georgian Craft Association, in cooperation with the Intangible Cultural Heritage Department of the National Agency for Cultural Heritage Preservation of Georgia. The aim of the competition is to introduce the masters of traditional handicrafts to the public and to show their merits.
By Nini Dakhundaridze