The Georgian brand "Usuli" is making strides in expanding its business ventures. Known for their handmade cosmetics, tea, and candles, Usuli is now venturing into the hospitality industry by opening an accommodation facility in Ambrolauri, Racha. With an investment of 60,000 GEL, the brand aims to provide a unique and memorable experience for its guests.
"The work of arranging the cottage in the ancestral yard will be completed in 5 days, and the customer will be able to visit us in a week. The cottage is located in the center of Ambrolauri, it is worth noting the fact that we have an ancient gate, which is included in the list of cultural heritage monuments, it is three centuries old and is a tourist location, the idea of ​​the construction of the cottage It was from the tourists that we decided to make a place where they could stay." – said, co-founder Nani Kobakhidze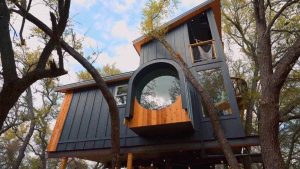 Spanning an area of 50 square meters, the "Usuli" cottage offers a spacious yard measuring 3,000 square meters. The cost of staying for one night ranges from 250 to 320 GEL, providing guests with a distinctive environment and a delightful breakfast. To enhance the experience, Usuli will also offer their signature handmade hygiene products, candles, and tea. Guests can take advantage of pick-up services from the station or airport and can even opt for additional tours across Racha.
Established in 2020, the "Usuli" brand initially focused on providing natural self-care products and healing ointments to Georgian consumers. The brand has plans to expand its tea production and venture into international markets in the near future. Currently employing around 10 people, the opening of the cottage will create new job opportunities, including a housekeeper and a cook during the initial stage of operation. The growth of "Usuli" showcases their dedication to delivering exceptional products and services to their customers.
By Mariam Gorkhelashvili