Gardenia Shevardnadze is one of those destinations that should be on your "must-visit" list during your time in Tbilisi – a tranquil garden wonderland tucked away in the otherwise dull hills at the edges of the city near Tbilisi Sea. With its workshops, café, bursting-with-life greenhouses, lily ponds with circling goldfish, flower shop, and charming garden packed full of diverse plants and colorful flowers, it is a magical mecca for gardeners, and in fact anyone with an appreciation for beauty and the secrets of nature. As soon as you walk in the door from the dusty road, the calm and soothing embrace of green nature envelops you. Wander the winding gravel paths and relax. Whether you simply want to unwind and grab a moment of peace, or you're seeking to add some greenery to your balcony, plant some seeds, get help landscaping your garden or office, get some advice from the well-trained and friendly staff on plant care, or to buy a unique hand-made gift for a loved one, Gardenia is the place to be.
Surrounded by seasonal flowers from early spring until late autumn, the smells of vanilla and cinnamon warm and comfort you in Gardenia's small and beautifully appointed café decorated with vintage chic. Pull up a chair and enjoy coffee, tea or fresh juice, with a piece of cake or khachapuri made by very talented local bakers and served only here. For a more filling treat, we recommend the traditional Gurian mchadi (cornbread) with a piece of soft Georgian cheese, perhaps followed by fresh fruit and vanilla ice cream.
Gardenia is a popular place for those looking for somewhere unique to host their festive events and ceremonies, and many couples have wedded here, surrounded by specially chosen and carefully displayed flowers, while countless friends have gathered to enjoy special evenings in the lap of nature on their birthdays.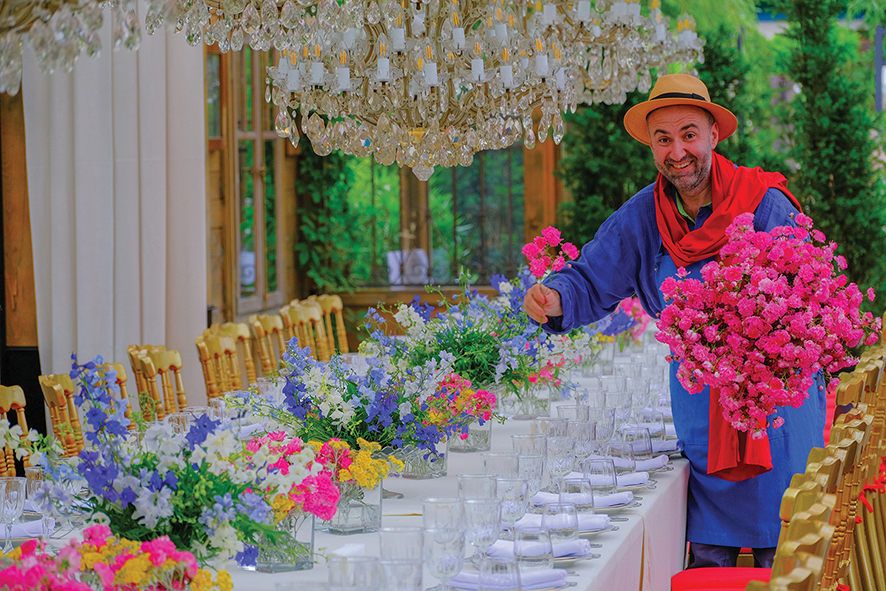 Along with seeds and seedlings, Gardenia offers you the chance to buy natural honey, jam, and flavorful tea that was grown, picked and packed in Guria.
Pop into the gift shop before you leave and have a look at the vintage objects the owner has collected from sellers of vintage goods – in fact, such objects can be seen all around the Gardenia property, including colorful, glazed teapots and tea trays, painted bowls, porcelain teacups, brightly colored glassware, and original flowerpots. If you can afford to, be sure to buy a one-of-a-kind, hand-embroidered tablecloth or bag, created as part of an exclusive Gardenia project working with Adjarian women living in the Ghorjomi region. Or perhaps you'll be tempted to buy a painting or other beautiful, crafty gift.
This wonderful place already has two decades to its name, and it continues to inspire new generations to dabble in soil or take up careers in horticulture, and even to train joe-public in floristry and gardening. To find out more, GEORGIA TODAY sat down with Gardenia founder and master horticulturalist, Zura Shevardnadze – a hardworking man with the boundless energy typical of his birth region, Guria; a man whose pure dedication to his work and goals continues to serve as an inspiration to many.
Gardenia will soon turn 20. Where did it start and how did it get to where it is today? Have you achieved your original goals?
I didn't have a concrete goal from the beginning. I knew I wanted to have my own little garden with lots of interesting plants, lots of endangered species – varieties that were no longer popular, but old and forgotten or lost. Through my garden, I wanted to show people these varieties and tell their stories. That was the goal, and I think we are close to it today. I built everything here with my own hands, me and my employees together, on a base of swamp land that was part of a Soviet nursery. After the destruction of the Soviet nursery, its employees were given 600 hectares of land as a gift, and I bought this land, today's Gardenia, from them. The current area is made up of 20 such plots.
We heard Gardenia is considered a continuation of the approaches of renowned gardener Mikheil Mamulashvili. What does this mean?
Mikheil Mamulashvili was the first Georgian gardener to call himself a "gardener." Before that, no such profession existed in Georgia. He was the first person before the revolution who was educated in Europe and called himself "gardener." He is considered a founder of ornamental horticulture in Georgia. Therefore, whose, if not his, heirs are we, the "Gardenians"? All of us who take on this profession, horticulture, are the continuation of his experience and heritage, his approach to customers. He remains for us an example and role model.
Who are the "Gardenians" – the people who make Gardenia the wonder it is?
These people are, in most cases, my students, or those I have trained in this profession, as well as people of the older generation who worked in Soviet nurseries and have some experience. And their experience is important to us. Gardenia stands and will always stand thanks to these people. This team is not only the team working here today, but also the people who learned here, shared their enthusiasm, gained experience and then went on their way. To me, they're still "Gardenians," though now they might be working elsewhere. Today's Gardenia was created by their united efforts and love of horticulture.
Tell us about the garden and the spaces you built around it. What does Gardenia offer its guests?
People who come here are greeted by a small world, into which they can bring and entertain guests, be it with coffee and cake in our small café, or a wedding party, and teachers can bring their students to attend our green lessons, which we're so very proud of. We have a clay workshop, too, among other workshops, as well as greenhouses, whose every square inch is filled, year-round. Guests can buy plants, get advice on their care, participate in master classes and training programs. We have a small shop where we offer fabrics embroidered using traditional Adjarian methodology, which itself is a very special heritage. In short, Gardenia offers a plethora of interesting and varied activities to interest guests.
Gardenia is a place where we can enjoy the coexistence of local varieties and exotic species, some of which have special stories behind them.
Indeed. Plants should bring us some form of emotion. And they can carry a hundred times more emotion when they are connected to a person dear to us, or have a special back story before they came to the garden. Gardenia is home to many plants that have already disappeared in other gardens, many of which are a very important cultural heritage. Their existence is very precious to us, because they are connected to different people and stories. We even have plants from the time of the above-mentioned famous gardener, Mikheil Mamulashvili.
Do you have a favorite plant here which holds a special meaning for you?
Yes. My teacher Zhuzhuna Avalishvili's Water Iris, planted here by her, which will always be in my garden; Mikheil Mamulashvili's "Miukhelbekia," which he used to decorate his flower wreaths, and is very important to me; and an exemplary one for me: Veriko Nikolaishvili's yellow-flowered Banksia.
Gardenia also serves as an advisor and helper in plant care.
Yes. Our success is conditioned by the experience and knowledge we have in this field. Alongside selling plants, it is no less important for us to be able to provide our customers with the right information about caring for those plants. We're happy to share our knowledge with them and to see them satisfied and coming back for more. We offer many affordable and exciting plants, including fruit trees, berry plants, vegetable seedlings, alongside numerous endangered species, which, along with pleasure, can also bring a profit. Raising awareness about these species and spreading information about them is a priority for us.
Gardenia is a hub of many interesting projects and events. How are these ideas born?
We're often invited to decorate festive events, including national holiday celebrations and wine festivals. Many people entrust us to organize special personal events too, such as weddings and birthdays. We've welcomed many guests here at Gardenia. Our team is always ready to gift our guests unforgettably beautiful events and memories, and the ideas often come from our team members themselves.
Our latest project seeks to preserve the almost lost tradition of embroidery and weaving in the mountainous Adjara region. Two years ago, with the support of the Ministry of Culture, we established an embroidery workshop in Adjara, where 40 women aged between 40 and 80 now work, weaving and embroidering. We then sell these works at Gardenia, helping them, and Georgia, to hold onto this wonderful tradition. The full income from sales of these works goes straight back to the women, so they can keep on weaving and embroidering and passing on their knowledge to future generations. We're very proud of such projects. Gardenia's success depends on the implementation of such initiatives. It's a matter of corporate social responsibility.
There is a diversity of educational programs at Gardenia, including green classes for children. Why is it important for a person to get close to nature from an early age? And how does Gardenia help them to do this?
Sadly, our young generations living in urban environments are not close to the land, to the soil, or nature in general. We at Gardenia give that back to them – putting them in direct contact with soil, plants; giving them the chance to feel them, smell them, touch them. The main idea behind our children's green lessons is to give them these feelings and memories. We run four lessons a day for both kindergarten groups and primary school students. Interested schools can buy tickets on biletebi.ge to reserve their visit.
For adults, we have training courses in floristry and gardening every spring and autumn. You can follow our news and offers on social media.
Future plans?
We have no plans to expand. As a rule, people tend to be eager to expand successful businesses, but in our case, on the contrary, we're focused on improving our services; paying more attention to our customers' needs; offering more, and more exciting, plants; improving our training courses. We constantly strive to take care of our guests even better than before. That is how we grow and develop.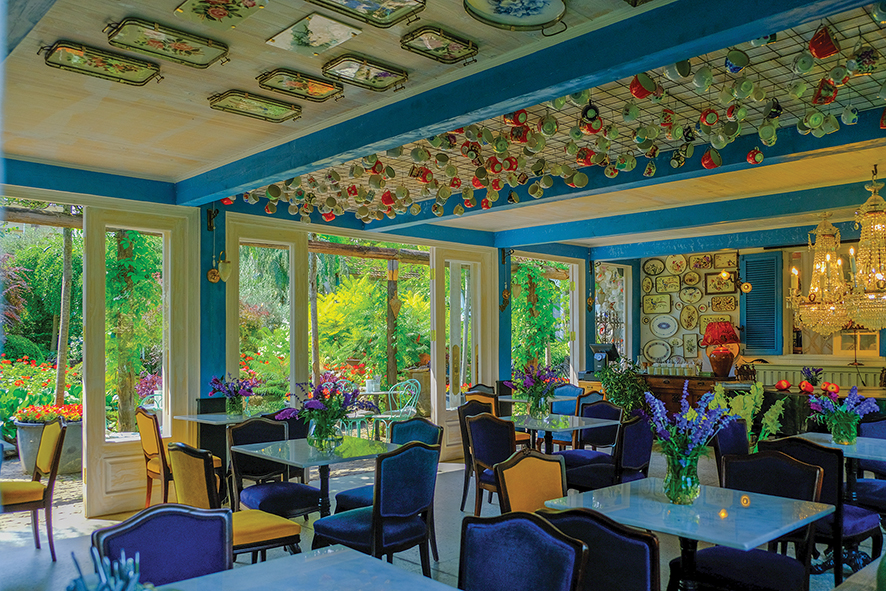 Gardenia Shevardnadze
Address: 138 Nikoloz Khudadovi Street, Tbilisi
The café is open 10am – 10pm.
The shop is open 10am – 6pm daily, except Mondays.
Exclusive Interview by Ana Dumbadze