Loic Pasquet, a legendary winemaker who sells his wines for €30,000, was recognized as the best winemaker in France in 2011 and is the owner of the Liber Pater brand.
"I am proud to name him among my friends!" Gocha Chkhaidze, Askaneli founder, wrote on Facebook. "And we are starting a joint project in Georgia! Expect intellectual wines from us. Askaneli already has them, but I'm thinking about other wines that no-one else has produced so far. Surprise!"
When Chkhaidze hosted the French wine celebrity Loic Pasquet in Georgia this month, GEORGIA TODAY took the opportunity to meet him in person.
"Georgia is getting slapped on the art of receiving! No castles, no hostesses, no parking, no fireworks, but an art of living, culture and a love of wine sweating everywhere. Unforgettable. Thank you for these unique moments," Pasquet said, having managed to visit both east and west Georgia in early May in an aim to learn more about the winemaking culture in the "cradle of wine"– Georgia.
George Sharashidze, GEORGIA TODAY's publisher, and founder of the brand 'Guria Republic,' with an ambitious plan to make Guria, a Georgian region in western Georgia, a world-famous destination for wine lovers, met with France's best winemaker Loic Pasquet in his own village of Bukistsikhe, in the Gurian mountains, a unique micro zone for Gurian endemic wine varieties such as Chkhaveri, Jani, Skhilatubani, Mtevandidi, and Sakmiela.
On May 13, after trying Chkhaveri wines from village Bukistsikhe winery and delicious Gurian culinary served wholeheartedly in Vakhtang Sharashidze's 200-year-old historic house, George sat with Pasquet to explore the secret behind producing the most expensive wines at 30,000 Euros a bottle, and how to start improving Georgian winemaking to EU standards for the most expensive wine segment.
Loic, tell us what first got you interested in Georgia as a potential destination.
Everybody knows about Georgia in Europe, because it is where wine was born. On TV, we hear a lot about Georgia, and yet you'll struggle to find a bottle of Georgian wine in Europe. This is the nation where wine was born, but it is impossible to find it to taste in Europe. And if we do find a bottle, we don't like the quality. All the knowledge, all the history should be in that bottle, but it is merely the kind of wine you might drink at the table with friends – not export.
Is this your first visit to Georgia?
Yes. It's an impressive country, because you have wine everywhere. We see it is a nation of wine, and the people are friendly, the atmosphere is good. It is clearly a big wine nation.
What are your impressions of the Georgian regions? I know you visited Kakheti, Adjara, and now you are in Guria.
Yes, and each region is totally different – west, east; the climate is different, the weather, the soil and wine varieties are different. The fermentation methods are different. Everything is different and we see big potential in the various terroirs in the regions. You need to explore this potential.
 Do you have any favorite wines yet?
Not yet. I've tried a lot of wine. I'm sure you have amazing wine in Georgia, but it is difficult to find. And amazing winemakers, but I have yet to find them. So far, the wine I've tasted is best for drinking with friends, but is not suited for export. I would like to find a small winemaker with all the potential behind them of a wine variety paired with the right terroir.
Do you already have a business model in mind?
Yes. And I don't think the price of Georgian wine is good today. Wine is born here, and yet the price is lower than that of Napa Valley, and that is a mistake.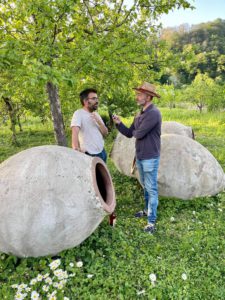 How do you compare Guria's wines to Kakheti wines?
It's difficult to compare. It's my first time in Georgia and I am still trying to understand it. We can feel the potential, but I'm not sure you have the best wine. Georgians need to be more professional, I think. They seem to have perhaps lost their wine culture – by which I mean knowing which is the right vine variety for the right terroir. They have perhaps forgotten where the old, original, plots are, where varieties were grown before the Soviet Union. They need to learn again the best clay for good wine, and how best to ferment – in Qvevri, or in the European style. It is a discovery being here, but I am still trying to get my head around it. I will come back in July and then we'll see.
How do you assess the potential of Georgian wine?
I'm sure it has very big potential, and, as I said, everybody talks about Georgia, but people simply want to taste good Georgian wine, and right now, they can't. People must drink a good bottle of wine and then they will want to come to Georgia to see it for themselves.
But if, for example, in France, it is impossible to find Georgian wine, it comes down to a technical and marketing problem.
Strange, as we regularly hear that some Georgian wines have entered this or that international market.
Maybe, but I don't know where. If you go to a supermarket or cellar in France, you won't find Georgian wine. If you can, it'll be a variety fermented in an oak barrel. But I want to drink Georgian Qvevri wine: I want to taste wine made using the Georgian technique, not from barrels. If you give me Georgian wine with the same taste as Bordeaux, why bother? It makes no sense. I want to experience Georgian wine, I want to feel Georgia, the Georgian mountains, countryside and song. For me, it is all about the Qvevri. But not only that: you need to present all the techniques from each region, to show the country off. And it is important to control everything; the techniques; get the right varieties growing on the right terroir.
So, you have tasted Georgian red, white, and rose wines, right? Do you see potential in all of them?
Yes, but there is a long way to go. The Georgians must not forget the 8000 years of history of wine here. My advice is to learn again what was in the past the best wine, good terroir, variety and technique of fermentation. I've tasted a lot of wine where they use very traditional tools to control the quality and acidity, and they have no problem controlling it with those tools. What can I say? The market simply wants great wine.
Have you tried Qvevri wine from another country?
No. Why would I want to taste Qvevri Wine from another country when it was born here in Georgia? If people end up trying Qvevri wine from another country, it is Georgia's fault for not being present on the market already to discourage others making it as their own. Take the example of Orange wine – a huge success, and Georgia is known for making the best. Yet, today, Bordeaux is making orange wine.
What's next?
For Georgian wine, it not so much an issue of quality, it's a problem in marketing, and that's what I see here. It's not difficult to make wine, it just needs to be done in the right place – that pairing of the grape variety with the right terroir, and remembering the old traditions. I have to explore it more deeply, and then we will see what the business potential is for me.
Exclusive Interview by George Sharashidze