Saniore Winery is located in the Naperuli Appellation (Telavi Municipality) of Kakheti, Georgia, famous for producing some of the best Saperavi and Rkatsiteli grapes and wine vintages dating back to the late 19th century.
This family-owned winery, and its near 200 hectares of contiguous vineyards and land, has been successfully run by a winemaking family since the 2000s and now the owners wish to move on. The grapes are currently produced and sold under the Sanavardo Estate brand, which means "The Stables".
This reference provides historical context and meaning to the wine estate's terroir, which was once owned by the famous Georgian poet and leader Chavchavadze, who was an equine enthusiast.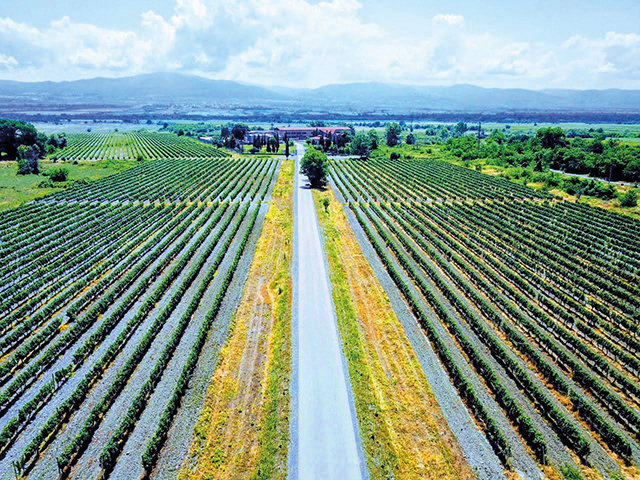 Located within two hours drive east of Tbilisi, this property is ideal for a buyer with interests in producing high quality Georgian wine at scale, with the French equivalent of a Appellation d'Origine Contrôlée certification, with the potential to develop an additional hospitality offering, such as a boutique wine hotel that opens up to panoramic views of the snowcapped Caucasus mountains. The vineyards are located on the fertile banks of the Alazani, Lopota and Stori rivers, at 420 meters above sea level.
The total assets for sale amount to 199.5 hectares (194 hectares is agricultural land and 5.5 hectares is industrial land) out of which 6,813 square meters is occupied by the wine factory building and 52 hectares are actively cultivated vineyards, with Saperavi grapes. The wine collection, crushing and bottling facilities were modernized in 2020. The fermentation tank production capacity is more than 3 million liters of wine annually.

The current owners will stay on during the handover period and be available to support the new owners with both vineyard maintenance and wine production, and integration with the local community.
This is a rare opportunity to purchase such a large contiguous vineyard in the country of Georgia that boasts the longest history of wine production in the world dating back 8000 years and includes a turnkey wine production facility with an established brand with deep historical roots linked to the terroir.
If interested, please contact Gazelle Finance at admin@gazellefinance.com or +995 593 441 636. All interested parties will be required to sign a confidentiality agreement.