One of my goals in Svaneti is to spend some time in every village. I still have some way to go, despite having lived in Georgia for 22 years. Now, at least, Nakra is off the list.
My wife and I had been talking about visiting this community, less than an hour's drive below ours, for more than a year, and finally bit the bullet, just for a night and a hike. She found a promising place to stay; with no guests in our own place, we packed and drove off, despite the weather (light rain off and on).
Nakra consists of about 100 families and relies heavily on two industries: wood products, a centuries-old affair, and hydroelectricity, which is, of course, recent. The road up to it from the main "highway" is pretty long and rough, but certainly navigable by ordinary cars. Situated in a forested valley with high mountains on all sides, it does make one wonder how much sun it can get in the winter: but the locals say that this is not a problem.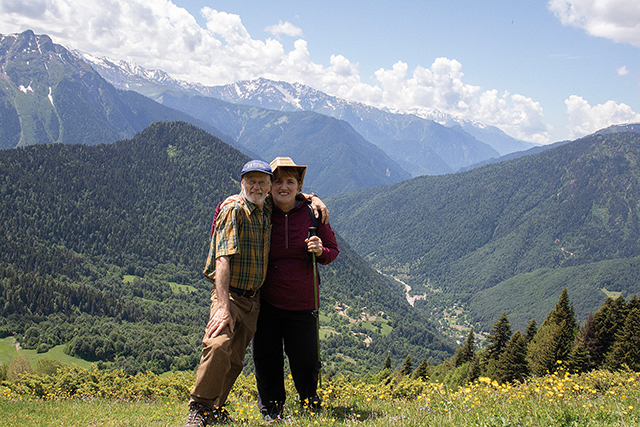 We found the guest house with no trouble, a handsomely stuccoed three-story house made to look like a Svan tower. A garden and umbrella-covered sitting area offered views down the valley and across to the mountains. Our hostess, Nino Vibliani, seems to be as energetic and business-minded as my wife, though 10 years younger and with four children; they hit it off straight away, swapping stories of trying to develop things in their respective villages. Plenty of common understanding, long talks getting to know each other, along with her husband and younger daughter, who is due to enter first grade in September. We had a good supper and retired to our room for the night.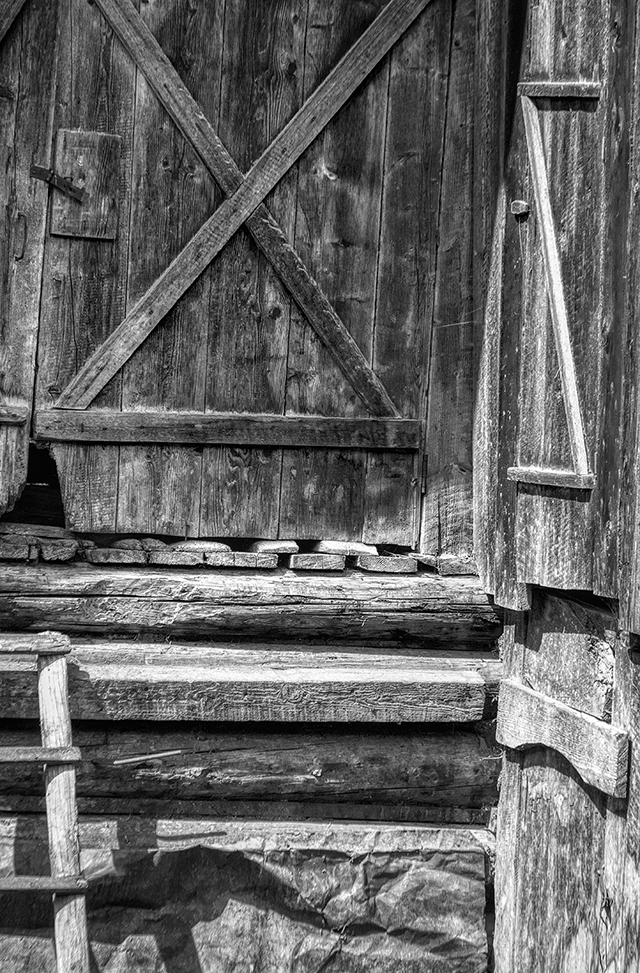 Next morning, after a sumptuous Svan breakfast and some poking around taking photos of the many log cabins and new fences with spring flowers in all their bright colors, I was ready for our guide, our hosts' younger son, who works for the local border guards. This is clearly a wood-based village, as I discovered, whereas Etseri is much more dominated by stone or cement-block dwellings.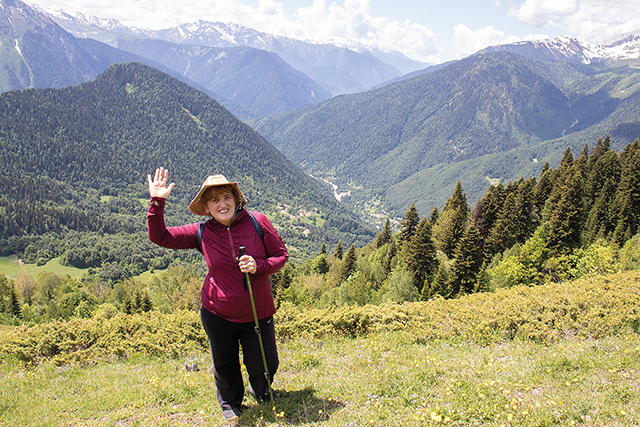 Our outing was to start by car, as far as I could drive, followed by a hike. We had to choose from several main attractions that the village surroundings offer. These include its old part, which IS mostly stone and towers; a German-Svan WWII battlefield apparently with bones and Nazi relics scattered about exposed, but a full day's trip on horseback; and a view which would take in both Elbrus, highest mountain in the whole Caucasus, and Ushba in the same sweep. Another possibility was getting up to a view of just Elbrus, somewhat less strenuous, and we chose this.

I was glad of my 4×4 with reasonably high clearance, both features needed on this day's drive, which was about 5 km either way. The rain had not made things too slippery, though, less than I had feared. The numerous forks would have presented a conundrum to us, but our guide took us through, as he uses these ways almost daily. There were a couple of steep inclines and rocky bits, and I found myself most impressed that the road was there at all: it represents huge effort, both in initial construction and then in maintenance from the avalanches of winter and rockfalls of any season. Eventually, we could go no farther, because of the condition of the road, and stopped to walk the rest, about 3 km each way.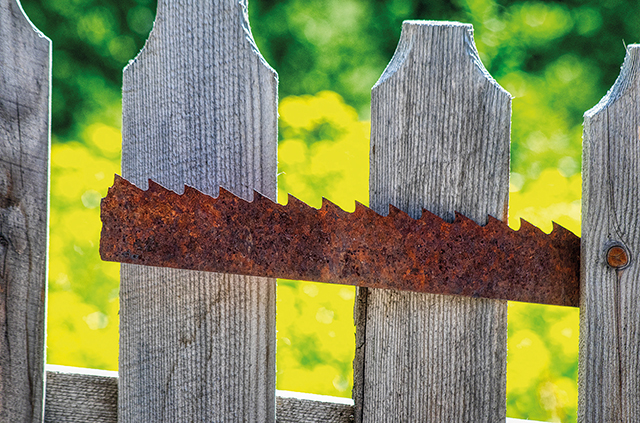 More far mountain landscapes opened up to us, dramatized by a mix of cloud and blue skies. Tiny wooden cabins far below added scale to the vastness, which otherwise might be lost on a viewer. Even the top of Nakra itself showed, little doll-houses in the distance; and, many km further off, the village of Tskhumari. We left Lali to rest, and trudged on.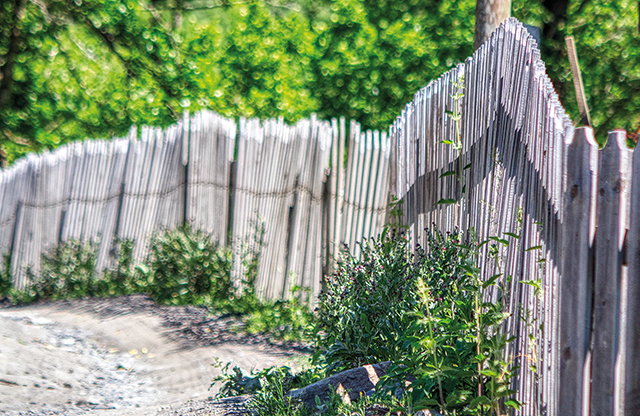 Then Goga said: "There it is!" and before us loomed the two rounded, snow-covered peaks of an extinct volcano, the higher at 5642m. This is Elbrus, in the Russian North Caucasus. On our side of the border, a more pyramidal peak showed to the left, but this is much lower: Elbrus shows its height by being visible at all, although the distance is deceptive due to the clear air. It seemed to be right there, but is in fact much further off, as Shkhara, Georgia's highest mountain, is above Ushguli.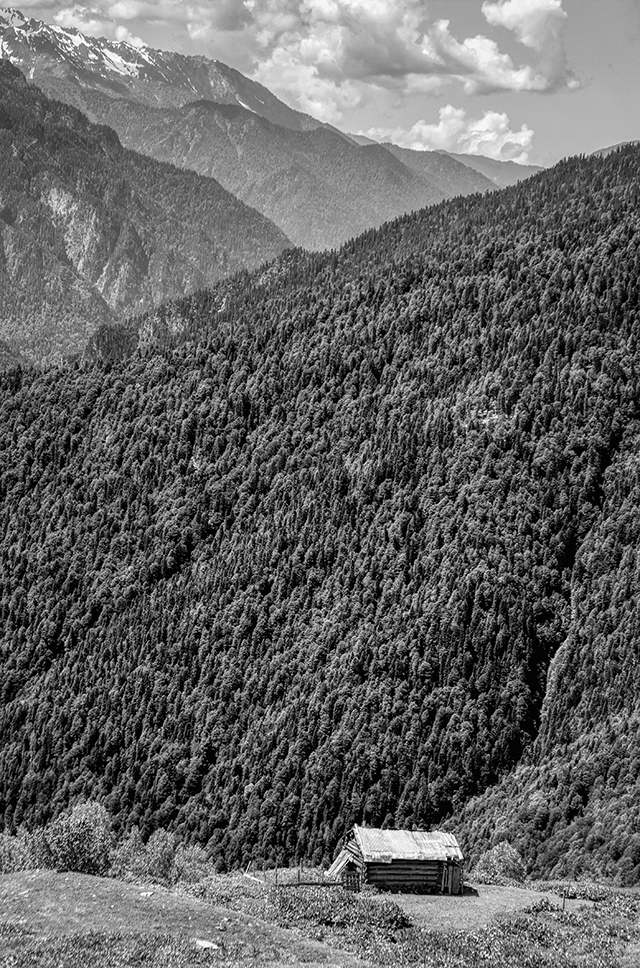 I was thrilled to get a view of Elbrus at all, having seen the amount of clouds around. Sometimes Nature is kind. Not knowing when I will be back this way, I took quite a few photos, then we began the slow walk and careful drive back down.
The other sights I have mentioned are still to come, but it was a good introduction to Nakra, and a reminder to me that every village here does have its unique offerings, all worth exploring. On the beaten track or off, Svaneti will delight.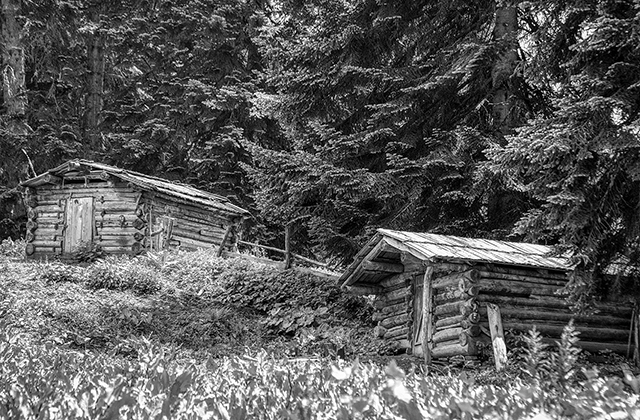 https://www.facebook.com/Guest-House-Nakra-საოჯახო-სასტუმრო-ნაკრა-2626866130663656/
BLOG by Tony Hanmer
Tony Hanmer has lived in Georgia since 1999, in Svaneti since 2007, and been a weekly writer and photographer for GT since early 2011. He runs the "Svaneti Renaissance" Facebook group, now with nearly 2000 members, at www.facebook.com/groups/SvanetiRenaissance/
He and his wife also run their own guest house in Etseri: www.facebook.com/hanmer.house.svaneti