Not only has COVID-19 had a serious impact on economies and businesses around the world, it has significantly changed our lifestyles and behavior. The pandemic is ongoing, and no-one can say exactly what tomorrow will bring, but these times have made many people revise how they think about many things in life, and many have begun to reconsider their priorities.
While traveling through Georgia, it is easily noticeable that more and more people are choosing to leave the noisy and overcrowded urban areas, and are moving to villages in search of a safer and healthier environment –houses which for years were left abandoned in villages are gradually filling with people and new life. Alongside those choosing village life are those who have bought a house with a garden in the city suburbs, and as the weather finally begins to settle into spring and summer, the majority of them have already started to plan the layout of their outdoor spaces, with fruit trees, flowers and perhaps even a vegetable patch in mind.
This process significantly contributes to the development of agriculture, as more and more people are getting involved in agricultural activities. However, when you are not a professional farmer, or are new to gardening, it's not easy to start growing successfully. That's where an experienced and professional partner comes in handy.
Such trustworthy and highly experienced partners with innovative ideas can be found in two companies operating for years already in the Georgian market: Water and Gas Technologies (WG TECHNO), which is the largest and first provider of irrigation systems, producing pipes, vegetable boxes for agricultural products, etc., and MZA CHITILI, which produces vegetable and flower seeds and fresh vegetables in its greenhouse, and then distributes them to supermarket networks. Their diverse experience and products are of use to both professional farmers and beginners in the field.
The General Director of both companies is Erhan Zorlu, a professional in the agricultural sector, who significantly contributes to the development of the Georgian agricultural sector along with his team.
Georgia is a country boasting fertile soil, good climatic conditions and rich natural resources, and it is very close to many markets, among them Russia, Dubai, and Qatar. Yet, there was no mass production of seedlings until the company MZA CHITILI was established here in Georgia. MZA CHITILI is the first company in Georgia to produce not only ordinary but also grafted seedlings, for which the latest Italian technologies and robotics are used. The aim is to take and implement foreign technologies in Georgia, which will help the local farmers improve their knowledge and skills in the field and get a larger, high quality harvest, with lower expenses.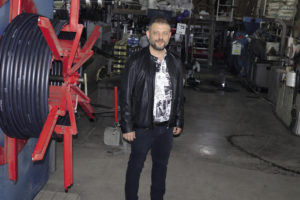 Zorlu believes that Georgia can become a production hub in the near future, from where diverse materials will be exported to the neighboring countries. The two companies he manages are expected to significantly contribute to this process. Interestingly, it is planned to export not only seedlings from MZA  CHITILI, but also agricultural tools, such as pipes, fittings, etc., from WG TECHNO. However, one of the challenging issues the companies are currently facing is the spread of coronavirus, which poses a serious problem not only for the agricultural fi eld, but for business in general. Despite these challenges, the company management was well able to survive the crisis.
The main difficulty for the companies was the fact that due to the pandemic and travel restrictions, the number of tourists in the country significantly decreased, many restaurants and cafes were closed, and accordingly, the demand for vegetables went down. This lack of demand lowered prices, and led to many farmers not even bothering to harvest their crops last year, leaving vegetables and fruit to rot in the field. Bankruptcy was high, and some farmers stopped farming, afraid the same might happen again this year.
All businesses have an impact on each other, and the agricultural sector, just like the hospitality industry, is waiting for summer and remaining cautiously hopeful that the epidemiological situation will improve, the number of coronavirus cases will decrease, and tourists will enter the country again, raising demand for their products. As such, higher prices on vegetables are expected this year, as are prices on polyethylene and the other plastic materials necessary for producing equipment and containers.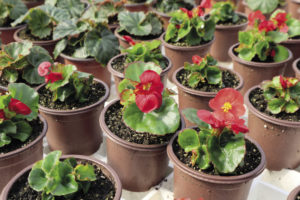 However, against the background of this situation and many farmers suspending their activities, the good point, as mentioned at the beginning of this article, is that many people have begun to grow their own gardens, which provides them with natural and healthy products as a result of their own labor. Naturally, these people need to buy seedlings for their agricultural activities, for which cooperation with MZA CHITILI is highly recommended, considering the company's success and popularity among customers not only in Georgia, but also in neighboring countries, while WG TECHNO can provide them with useful items such as vegetable boxes, pipes, and irrigation tools.
More and more people are buying seedlings, a good sign that during this global pandemic, people are getting closer to nature and are appreciating the opportunities it can offer them to make a living. In terms  of the crisis management strategy mentioned in the headline, when MZA CHITILI lost a share from farmers in the market, it turned its attention to those individuals newly engaging in agriculture.
Today, it is growing the same amount of seedlings, but the marketing is changing, with the company trying to reach people who have houses in villages and need seeds for their gardens. As such, the company is spending more time on digital marketing and digital services in general. And internet statistics show that ladies are particularly interested in gardening, so, the company's marketing strategy is currently focused accordingly.
The main comfort is that in their shops, customers can find everything they need for their gardening work in one space. And, to make shopping easier and more comfortable, customers can shop online at www.farmershop.ge, a site offering everything for successful operation of both individual's and experienced farmers' businesses, from seedlings and fertilizers to irrigation and greenhouse systems and pipes.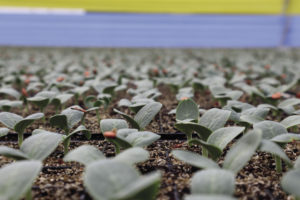 It is also noteworthy that despite the difficult situation amid the pandemic, the company kept all its employees, appreciating their experience and hard work. Zorlu believes that at such times, the feeling of belonging and unity among employees is of vital importance for their motivation and mental health.
The busy season of spring is here, which is a seedling transplanting period, and this is the main focus for the companies now. For the future are plans to open a branch in Uzbekistan. MZA CHITILI and WG TECHNO are successful companies in their field not only in Georgia, but in neighboring countries. Even in Turkey, it is difficult to fi nd companies with such experience and diverse products. Based on his own experience, Erhan Zorlu advises other business representatives that in such difficult situations, changing their focus could be the best solution, as "small changes can bring about a big effect."