The Zurab Tsereteli Museum of Modern Art in Tbilisi, Georgia, unveiled "First Light," an exhibition featuring a selection of recent installations by Bahraini artist Rashid Al Khalifa on September 19. This showcase will be accessible to the public until November 17, 2023.
Shaikh Rashid bin Khalifa Al Khalifa, a member of the Bahraini royal family, an artist, and the chairman of Bahrain's National Council for Arts, serves as the first and current honorary president of the Bahrain Arts Society.
Rashid Al Khalifa, inspired by his surroundings, creates artworks that harmonize traditional and contemporary architecture with the natural environment. The distinct light, colors, and atmosphere of Bahrain's landscape play a significant role in shaping Rashid's resulting creations, which manifest as prominent wall sculptures and immersive installations.
"It brings me immense joy to be here in Tbilisi and present my inaugural solo exhibition. Stepping into this exquisite space for the first time is a moment I've eagerly anticipated. It's a true honor to showcase my works spanning different periods in this setting. The series I'm presenting, named 'First Light,' is crafted from aluminum; first, I sculpt it, and then I apply the paint," the artist shared with us.
GEORGIA TODAY asked for more details.
What is your inspiration? What drives you?
It can be nature. In general, I relish experimenting with diverse forms and materials.
Could Georgia serve as a wellspring of inspiration alongside other countries?
From what I've witnessed thus far in Georgia, it's undeniably splendid. I'm certain there are abundant fountains of inspiration. Personally, the color green left a lasting impression on me, and I'm determined to infuse it into my works.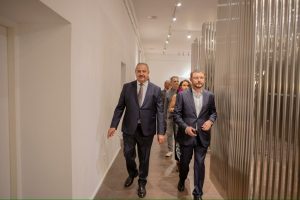 Are there specific pieces that hold a special place in your heart?
Truth be told, they're akin to my children, each one of them. Every series I create evokes a distinct emotion. However, if I were to choose, the 'Waves' series holds a special significance. It bursts forth with an array of colors, evoking excitement for some, yet it brings me a sense of tranquility.
What do you envision for the future?
"I'm optimistic that this exhibition will pave the way for other Bahraini artists to share their works in Georgia, and vice versa. We'd be delighted to welcome Georgian art in Bahrain. This kind of cultural exchange holds great importance in connecting our people through art, so I look forward to more collaborative endeavors in the future," he says.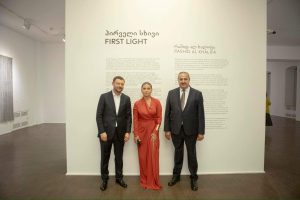 Rashid Al Khalifa's "First Light" exhibition is a testament to his innovative approach, blending nature with diverse materials. Rashid's aspiration for cultural exchange between Bahrain and Georgia underscores the unifying power of art. This exhibition not only showcases his talent but also lays the foundation for future artistic collaborations. "First Light" leaves an enduring mark on the cultural landscape, fostering a more interconnected and vibrant artistic community.
By Mariam Gorkhelashvili