By Nina Tsipuria
"Godfather of U.S. paparazzi"; "photographer who pioneered the controversial art of candid celebrity imagery"; "arguably the most controversial paparazzo of all time" – phrases about the legendary photographer – Ron Galella I read in Google and the more you see his photos more you google information about his work and life. Ron Gallela's camera captured Hollywood in 1960,70,80,90 years. In 2021 Ron Galella's book 100 ICONIC Photographs – A Retrospective was published, where he spoke about unpublished photos and the stories behind the scenes. Ron Gallela captured more than 3 million photos, in 2016 Time magazine released "100 Most Influential Photos of All Time", the list included The 1971 photo, dubbed "Windblown Jackie" taken by Ron Galella.
Nina Tsipuria was honored to have an interview with the famous photographer a little before he passed away. Ron Galella in his own words told his life story and adventures behind the scenes.
Dear Ron, you are named "Godfather of U.S. paparazzi". Please look back and tell how and when your passion for photography began.
My passion for photography began when I was in my teens. I loved to draw, copying the comics in the newspaper, such as Dick Tracy. I bought a Kodak box camera and asked anyone & everyone to pose for my camera. During the Korean War I did not want to be drafted in the Army, so I joined the Air Force. I had to choose a career and the closest option to art was photography. I learned how to use a camera, develop film and camera repair.
Today your photos continue to be regularly published and broadcast globally on news programs, magazines, books and in documentaries. Which of your photos make you popular? Was there the one photo after that you became famous?
October 7, 1971: New York City, NY
Madison Avenue
Jackie Kennedy Onassis: My greatest & most popular photograph, titled Windblown Jackie.
My Mona Lisa.  Jackie had no makeup or special hairdo. It is just natural beauty. In Ralph Waldo Emerson's 1836 essay, Nature, he writes: "Love of beauty is taste. The creation of beauty is art."
The stories behind the pictures is my favorite part of your web – https://rongalella.com/, I can't buy this book in Tbilisi, Georgia ( in my country) but before I buy it online, please tell some stories from this book – about Steve McQueen and about Windblown Jackie.
It was late in the afternoon, around four thirty, blue sky with a slight breeze. I had just finished photographing portfolio shots for Joy Smith, a pretty model who lived on East Eighty-eighth Street. As a fool for beauty, I was not getting paid, so I figured I might as well shoot in Central Park across from Jackie's apartment in hopes of getting lucky—AND BOY DID I! Upon leaving the park, we caught a glimpse of Jackie leaving her apartment through the back door on Eighty-fifth Street, heading toward Madison Avenue. Joy could not believe it was Jackie, and I excitedly assured her that it was.
Walking a distance behind her, Joy and I followed Jackie on Eighty-fifth Street to Madison Avenue, where Jackie made a left going north. I decided not to run in front of her, because if I did, she would have recognized me and put on those dark glasses. So, with Joy, I decided to hop a cab to catch up to Jackie. "Follow that woman!" I told the cab driver. When we caught up with her between Eighty-ninth and Ninetieth Streets, I rolled down the rear window and shot two profiles of her walking. She did not see me or hear the shutter click due to the noisy New York traffic. Suddenly and without me asking, at the corner of Ninetieth Street, the cab driver blew his horn! Jackie turned and I pressed the shutter release for the third time, creating what Henri Cartier-Bresson called a decisive moment. The father of photojournalism, Cartier-Bresson is one of my favorite photographers and the crème de la crème of street photographers. He was an early adopter of the 35mm format and candid photography. This decisive moment photo, which I titled, Windblown Jackie, is my favorite, most published picture and the best-selling print of all time at my fine art galleries worldwide. It's a superior picture as it embodies all the qualities of my paparazzi approach: exclusive, unrehearsed, off-guard, spontaneous, no appointments—the only game. Jackie has a slight smile on her lips as well as in her eyes. The dramatic, soft backlighting and the over-the-shoulder composition show Jackie at her sexiest. She was casually dressed, wore no makeup, and her hair was windblown, which added to her raw, natural beauty. With a bit of luck, and all the elements working with me, I captured this iconic photo; outside, in the street, from a cab; it could never have been produced in the sterile environment of a photo studio. Jackie responded casually, not knowing it was me, as my camera covered my face. Then, after I got out of the cab, she recognized me and immediately put on her sunglasses. After capturing this iconic image, I photographed her from Ninetieth Street to Ninety-first Street. I handed one of my prefocused cameras with a wide-angle lens to Joy and asked her to try and photograph Jackie and me together, which she did. Both Joy and I were laughing and clicking away until a furious Jackie turned toward me and said, "Are you pleeeased with yourself?" I knew then it was time to stop and said, "Yes, thank you," and we left.  Clearly, at the time I did not know it was going to become the most purchased, most recognized, most talked about, most significant photo I ever captured.
And about Steve McQueen in Montego Bay?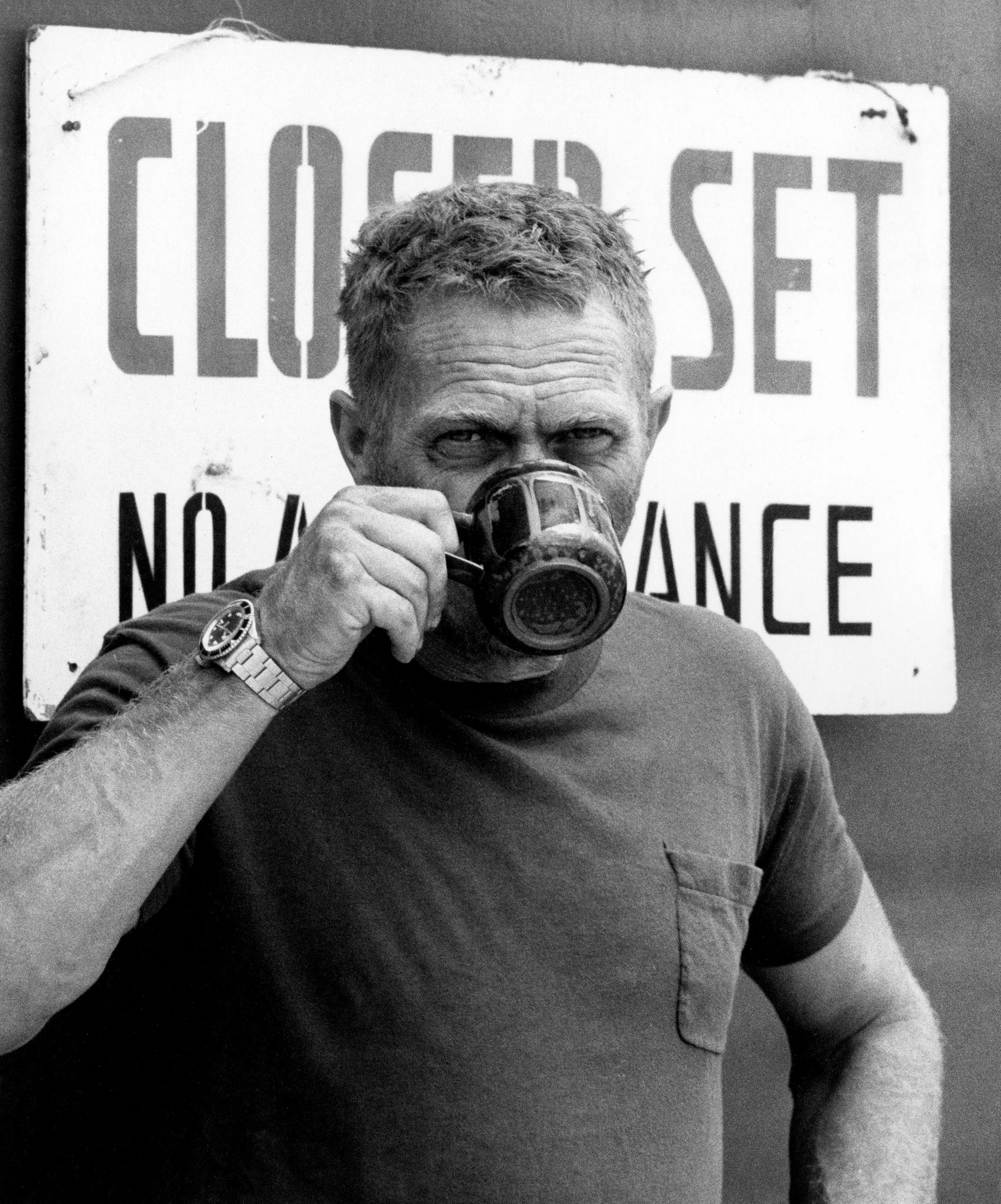 It was April 15, 1973: Montego Bay, Jamaica – Set of Papillon.
Whenever I photographed Ali McGraw, she was always friendly, so in 1971 I decided to drop off a package of photographs to her at her home in Malibu Beach, CA. In July of that same year, I received a handwritten response from Ali thanking me for the "marvelous photographs." In my note attached to the photographs, I asked for a sitting, and Ali responded that she would not be available until her next film. During this time, she was married to producer Bob Evans and they had a newborn son, Joshua.
In 1972, Ali accepted a co-starring role in the film The Getaway alongside "the king of cool," actor Steve McQueen. This role proved to be a pivotal move for her. While filming the movie, and even though she was still married to Bob Evans, she and McQueen fell madly in love.
In April 1973, John Durniak, the photo editor of Time magazine, invited me to lecture at the Wilson Hicks International Conference on Visual Communication in Miami, Florida. My topic was "Photography with the Paparazzi Approach," which included a slideshow. I was in good company as Eddie Adams, Arthur Rothstein, Larry Schiller, and other notable photographers agreed to host lectures. To promote the lectures, writer Patricia Burstein interviewed me for a piece in the Miami Herald and coined the phrase that was also the article's title, "Paparazzo Superstar!" Patricia asked me, "What's next?" and recorded my response thusly: "His next stop is Jamaica. Galella read in Show magazine that McGraw and McQueen, currently romantically linked, are making a movie there. 'It's a gamble,' he says, 'even though Ali knows and likes me. I've got to watch out for McQueen, he's kind of touchy.' But first Ron will give his lecture at Wilson Hicks."
Due to the complexity of Ali's situation, a photo of her and Steve together was considered "hot" by newspapers and magazines worldwide, and I planned on getting the exclusive shots! As soon as I arrived in Jamaica, and knowing all the location filming was complete, I found my way to the Papillon studio gates. I addressed a handwritten note on my "Photography with the Paparazzi Approach" letterhead and sent it with a copy of the Miami Herald article to Ali, requesting a picture of her with Steve at the gate of the studio. Steve, not Ali, came to the gate and declared there would be no interviews and no visitors.  Being streetwise, he threatened to send his posse of friends after me if I did not leave. "I want you out on the next plane!" Steve shouted. I did not want to go home without any photos, so I asked for a fifteen-minute photo-op of him ALONE and then I would leave. He agreed only after I signed an agreement, and stated, "I'll give you 15 minutes of me provided you leave on the next plane out of Jamaica." I signed and had him pose in front of a CLOSED SET—NO ADMITTANCE sign. During the shoot, McQueen spoke quite candidly: "You got a tough job. To be quite frank, I don't like your job." McQueen then added, "You must play it straight, get 'Paparazzi' off your letterhead and business card—it's a bad word." I said, "I do not agree." For me, the word "paparazzi" demands respect for truth and realism. (Although in 1992, when I moved to Montville, NJ, I took McQueen's advice and removed the word "Paparazzi" from my letterhead and replaced it with "superstar.   ") He also spoke of Ali as his fiancée. In August of the same year, they were married, and the union ended five years later.
Even though I did not get the pictures I sought, I did not give up and did not leave empty-handed. The photos I shot that day have become some of my most popular, iconic shots. To this day, this take is sold repeatedly through my fine art gallery representation worldwide.
Please tell me a story of one of your photos, maybe about the hero of the remarkable moments of shooting?
August 1969: London, England. Thames River, the Burtons' yacht, Kalizma.
My most memorable and unusual take in August was of the Burtons on their yacht Kalizma, named after their daughters, Kate, Liz, and Maria. The boat was moored in the Thames. They would visit it on weekends to see their dogs, which were quarantined on the boat because of British health laws. Adjacent to the yacht was a dock with a big five-story customs warehouse that stored sugar, cinnamon, cocoa, butter, and coffee. The Kalizma floated 150 feet from the warehouse. I spoke with the warehouse watchman, and he said I could go in and shoot from the windows Monday through Friday, as the building was closed from Friday afternoon until Monday morning. Instead, I developed a plan to spend a weekend in the warehouse, but I needed to be sure what weekend the Burtons would be spending time there. I spoke with one of the Portuguese sailors who worked on the yacht, and he mentioned that "some event" was planned for the following weekend. So, I prepared myself for the three-night stay by buying a sleeping bag. On Friday afternoon around four, I bought a whole shopping bag of food and soft drinks and paid the watchman fifteen dollars to lock me in the warehouse. He wouldn't be back to let me out until about nine on Monday morning.
The warehouse had bars on the windows, so there was no way to get out. Climbing up the stairs, I saw rats, which became the worst part of this bazaar stakeout. That first night, fearing the rats, I slept on the roof. Saturday morning I put my sleeping bag on top of sacks of coffee, facing the window, on the fifth floor. The spices combined with the coffee created a sweet, chocolaty fragrance, helping me stay alert. The window acted as my TV, with only one station, which I watched constantly in order to catch the Burtons coming aboard. Nothing happened Friday, but on Saturday afternoon they started parading in. There was Elizabeth Taylor; lawyer, Aaron Frosch; a bride and groom; and other minor actors. I found out later Richard and Elizabeth had been best man and maid of honor at the wedding of their secretary, Bob Wilson. The wedding took place at the Dorchester, which of course I missed, but I wouldn't have been able to get in there anyway. All I would have gotten was them coming out of the Dorchester at the end of the ceremony. I soon realized that what I had was much more valuable—exclusive pictures of the wedding reception. Best of all, it took place right in front of me, on the Burtons' yacht.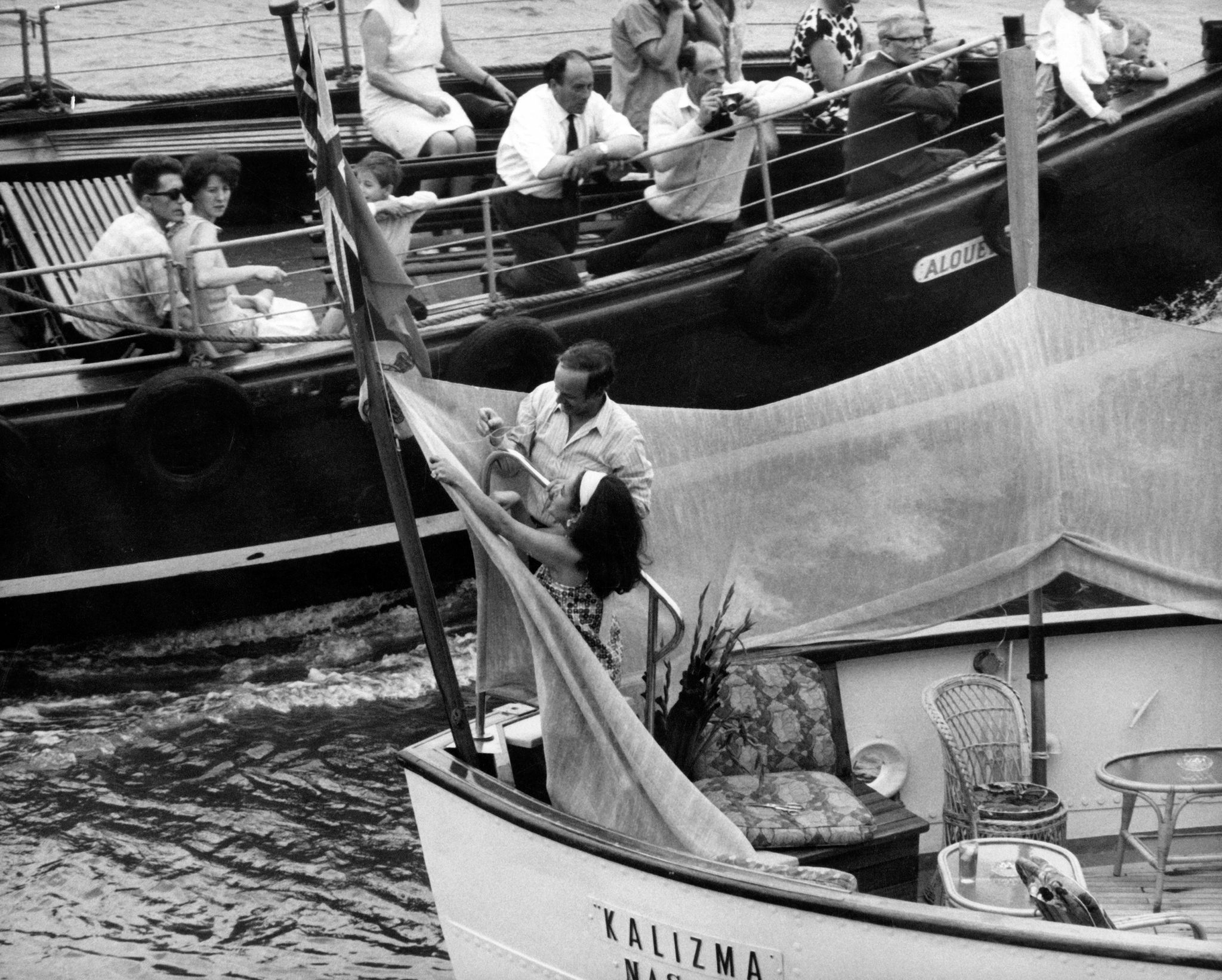 But the best shot wasn't from the wedding at all. This yacht was like a landmark; tourist boats would pass by, and I could hear the tour guides say with their megaphones, "This is the Kalizma, the Burtons' yacht, and when the American flag is flying, Elizabeth is on board, and when the British flag is flying, Burton is on board." My best picture—and the best-selling picture—was one of a tourist boat passing by while Elizabeth and the yacht's steward, Raymonde, were hanging up gauze curtains for privacy. The tourists were there with their cameras, unaware that Elizabeth Taylor was right in front of them. The screen blocked the tourists from taking pictures, but I got the best shot! The National Enquirer published a two-page layout of nine pictures titled, Exclusive Photos: Liz Hangs 'Curtains' on Her Yacht to Hide from Gawking Sightseers. I was paid the normal rate of four hundred dollars. I did not have time to bargain since making a long-distance call from London was time-consuming and, as always, my goal was to shoot nonstop. Thinking back, I should have been paid at least four thousand dollars, but I did receive high praise from the Enquirer at a later date.
Your top two selling photographs are John Lennon & Mick Jagger, (right) and Windblown Jackie. I would like to ask you about John Lennon and Mick Jagger.
John Lennon & Mick Jagger, (right) and Windblown Jackie  – have one thing in common, none of the subjects knew they were being photographed.  The unguarded moment between two popular music icons caught in conversation, bathed in soft, diffused light, was captured using a 300mm lens. Mick, wearing a white tuxedo jacket, white scarf and a carnation in his lapel pocket (a boutonnière-correct term; he had shed his black and white tie and unbuttoned his top shirt button earlier) looking slightly down, and John, in a black tuxedo, looking at him in profile. John's date, May Pang, is obscured with her back to the camera. Stars from Hollywood's golden age to the present came out in droves to honor the legendary song-and-dance man from New York City who helped shape American motion pictures.
Guests included John Wayne, Charlton Heston, Paul Newman, Kirk Douglas, Doris Day, Clint Eastwood, Bob Hope, Governor Ronald Reagan, Jimmy Stewart, Billy Wilder, Sam Peckinpah, Loretta Young, Gene Kelly, Natalie Wood with Robert Wagner, Barbara Stanwyck, and Shirley McClain. It was a big night because number one, Cagney drew the biggest amount of celebrities, there were so many stars. I covered that event many years and I never saw so many celebrities as for James Cagney. He was a Yankee Doodle Dandy man. He was a great actor. The evening's host, Frank Sinatra, greeted Cagney at the stage to the tune of Yankee Doodle Dandy, accompanied by a thunderous standing ovation. The song and dance man did a few dance steps before ascending to the stage. "I'm a wreck" the legendary tough guy actor said acknowledging his emotional state said, beginning this heart warming speech. Dressed in a tuxedo, I crashed the event after shooting arrivals and gained access to the ballroom through the kitchen. After dinner, Jagger, who had been sitting with Ali MacGraw and Steve McQueen, came over to Lennon's table. He came over to John's table to greet him, that's how they were talking and that's how I got the picture. At first I used a 300mm lens. It's a great photo because our eyes prefer to go to one subject.  In this case John looks at Mick who is the focal point, it's a bull's-eye effect. In this case Mick is the hero, the focal point, John looking at Mick makes Mick more important. I was also lucky because the tv network lit the ballroom for the prime-time tv special which aired five days later. (Cagney's friend, legendary Director John Ford, was honored the year before at AFI's inaugural Lifetime Achievement Award event). Thanks to CBS, there was great lighting! The back lighting was tremendous and that added to the picture. And I didn't have to use a strobe because the lighting was great.
I later shot with the flash and an 85mm lens with color film but it's the diffused, backlit image of two old friends caught in that particular moment in time that is so iconic and meaningful to so many.  Later I found out that some jealous photographer told security that I crashed the event, but AFI founder, and the event producer, George Stevens Jr., intervened on my behalf and told them it was OK for me to stay to cover the event. I believe George allowed me to stay because I had gotten photos of other AFI events published in many publications including Time and Newsweek.
Nostalgia is one way to explain the popularity of the image. Everybody likes the past when there were great stars. Today you don't have those great stars. And also the public reacts to the image because of the tragic way John Lennon died.  Assassinated. John and May Pang later split up and the former Beatle went back to Yoko Ono. Their son Sean was born the following year, in October 1975.
This iconic image was shot on the final frame of Tri-X film roll.  It may also be the last professional photograph taken of the two music legends together.
 About "100 ICONIC Photographs – A Retrospective"
 Before the instant gratification of social media granted us the ability to satisfy our appetite for an insider's look at the reality of celebrities' lives, there was the ever-present Ron Galella. Endowed with his unique artistic vision for what photography should be – a.k.a. – "the paparazzi approach" – Galella captured through his lens the most authentic photographs of pop culture's biggest stars of the '60s, '70s, '80s and '90s. From film and television, to music, models, athletes and socialites: if you'd been shot by Ron during those eras, indeed you had arrived.
Now for the first time, you get to see the culmination of all of it – the gems – personally curated by the author himself. This thoroughly presented 160-page hardcover volume, includes a foreword by Bob Ahern, Director of Getty Images Worldwide Archive Photography and a passage by May Pang recollecting the night Ron's cover photo was taken of May, Mick Jagger and John Lennon. Also included are photographer Geoffrey Croft's stunning color photographs detailing several historical artifacts Ron has saved and treasured over the years. The book is being printed exclusively in Italy. It's a sure bet that 100 Iconic Photographs will be a cornerstone of the Ron Galella bibliography and an impressive addition to every pop culture enthusiast and photography lover's bookshelf.
The Interview was recorded 19th of January 2022.