Salome Chelidze is a Georgian artist who also owns the renowned 'Restaurant Museum' that hosted the President of the United States.
Born into a French-Georgian family, Salome has been painting from childhood and leading a very interesting artistic life. To learn more about her work and future plans, GEORGIA TODAY went to meet her.
"I don't exactly remember when the artist in me came out," she tells us. "My parents say I was always drawing, but I particularly remember painting at the age of 6, 7, 8; paintings which my mother framed and kept. What excites me most when I see my childhood artwork is the colors, how I loved dot mosaics. From the age of 16, I found designers and I helped them as an assistant. I remember working with Zaliko Berger and learning a lot of interesting things from him. I used to make Bijouterie with beads.

"I told reporters my inspiration was Antoni Gaudí and his mosaics, although I devoted a lot of time to interior design before getting into mosaics. My parents also devoted a lot of time to color combinations, and I was constantly involved in this aspect.
"I'm happy when I get questioned about a hotel or restaurant design. This interest was generated by the design of our own restaurant, which is unique in downtown Tbilisi, and the interest of visitors never fades.
"I would also like to mention that among my ancestors were the French Jeanniot, landscape decorators who left many magnificent parks and buildings as a legacy of Georgia, among them Irene Park and Kutaisi Boulevard.
"Perhaps all of this combined with genetics and the environment led to the creation of my pictorial paintings," she muses.
What are the challenges associated with being an artist in Georgia today?
Being an artist is a big challenge. Besides it being a lot of hard work, the artist needs luck- it's most important. It also matters who represents you and how you are evaluated after your first exhibition. I can't fail to mention IArt Gallery and its founder and director Ika Bokuchava, her professionalism and having her on your side is a great luxury for any artist.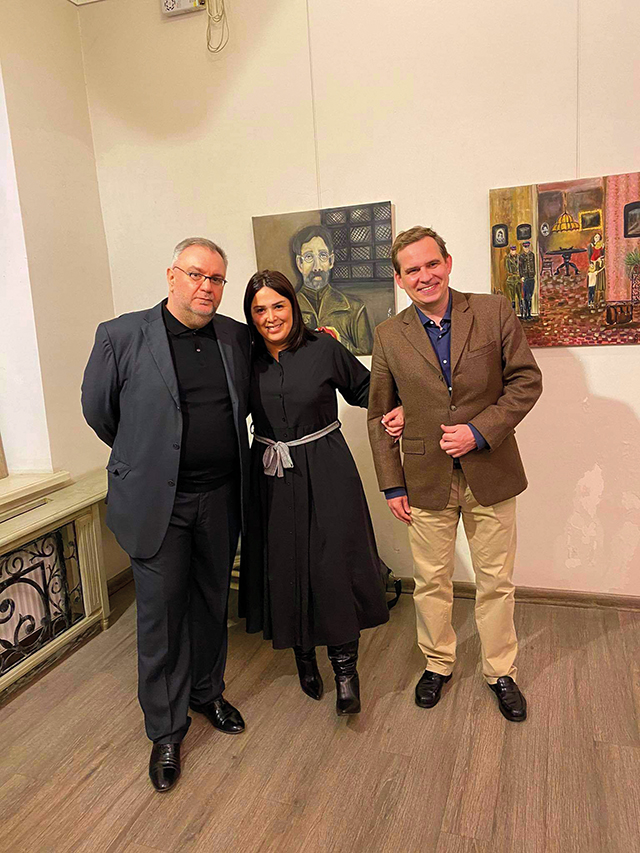 How does Gustav Klimt influence your creativity?
I get this question a lot and it makes me happy. People often liken my style to Gustav Klimt's, and Klimt lovers often buy my paintings. Art experts have also mentioned that there is something in common, probably it is that I also love to paint in gold and create complex compositions. It's a great honor for me, but, I myself can't compare my works with his: I'm too shy. As for my inspiration, it probably still comes from my love of Gaudi.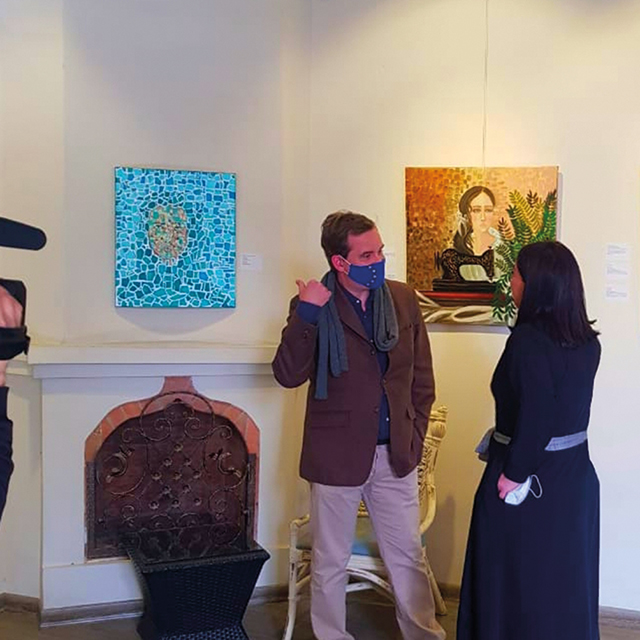 Where did the idea come from to combine a restaurant business and art?
Restaurant Gorgasali has existed for more than 30 years: my father bought the abandoned ruins and started construction with his own funds. As far as I can remember, he was constantly building it, and used to say "I'm building a restaurant at the presidential level. We must revive Georgian culture in these halls and show the world how multicultural a nation we are."
My father was from a French-Georgian family, and my brother and I were involved in this process even as school-children. I worked with my father as a designer, managing director and now owner. The greatest feeling is the feeling of freedom when you create a work. It is a celebration of your soul, and when it is followed by recognition, it is a unique thing.
I'm the little hostess of this house, and for me, the restaurant business is also associated with art, not only the design of the restaurant, but also the design of each dish is of great importance to us.
Tell us how the presidents of the United States and Georgia ended up in your restaurant.
It all started with a lot of diplomats coming to our restaurant. We're a restaurant-museum, and the location of the restaurant is in the historical district of Tbilisi, so ambassadors and presidents of different countries, famous actors, and singers often come and dine with us, all extremely fascinated by the design and cuisine of Gorgasali.
The famous George Bush visit is really like a fairy tale, though. US Embassy staff came to us and told us that a very honorable guest was to be brought in a few weeks. We didn't know until a few days before who it was, and when we heard that US President George W. Bush was about to have dinner at our restaurant, well, I just can't convey the emotion.
It was a real victory of a great idea and great work, to have our work so appreciated. At the end of his meal, President Bush told the press "Good food, really good food." After that Restaurant Gorgasali was covered by all the global press; everybody was writing about us! The dinner table of the presidents is still kept in the restaurant, with the flags of America and Georgia always flying, I am happy that my father witnessed this success. Today, Gorgasali also has the nickname "The Bush Restaurant".
Back to your art. Tell us about the exhibition held at the IArt Gallery.
I exhibited two collections at the IArt Gallery: 'The Lost Children of France' and 'The Oil Mosaic.' Numerous art experts came, as did French Ambassador Diego Colas. For me, this exhibition was very emotional, as it was dedicated to my father and his ancestors. I depicted the lives of Jeanniot in my painting. It was very exciting for me to work on these paintings, I have conveyed all scenes of the French family, the repression of 37 years, and history.
After this exhibition lots of journalists try to contact me, and I was offered to participate in many projects. Very high evaluations were made of my works, which makes me very happy.
You have an upcoming exhibition in New York.
Yes. I've been cooperating with the New York gallery Agorra Gallery for almost a year. It is definitely a new and very interesting stage beginning in my life.
And Cezanne Printing House is writing a book about your work?
Miracles seem to happen very often in my life, indeed, so much work as I have already said, brings great success. Cezanne Printing House contacted me, asking to write about my life, with the book illustrated with my drawings. We will have the presentation soon.
What are your future plans?
I've started a collection called 'Great America.' I want to show Georgian society the oil mosaic in my paintings, to show the country that plays a huge part in my life, a country that always stands by Georgia. I will go around Georgia with this collection and hold exhibitions.
Creating a collection takes a lot of time. I draw for about 8-12 hours. I will tell you a secret: the canvases will feature Columbus, an American Indian, a Texas cowboy, Charlie Chaplin, Marilyn Monroe, Michael Jackson, American football, baseball, the American court, and US holidays and traditions.
I want to paint all the important political figures, from presidents to politicians, American writers, and more. I think, for the Georgian viewer, seeing Great America in 50 paintings will be a great pleasure. It will be a cognitive tour of American history, with one canvas collage starting with an oil mosaic.
In addition, various exhibitions and presentations are planned, I hope the pandemic will end soon and the world will return to its usual rhythm!
Interview by Ketevan Skhirtladze