Ekaterine Tikaradze, Minister of Health, and Tamar Gabunia, First Deputy Minister, met with Nadir Arber, Founder of Tel Aviv Sourasky Medical Center and Head of Covid-19 Research.
The Ministry of Health reports that the parties discussed issues of cooperation in the field of healthcare in 2021, future plans and anti-covid-19 treatment.
During the meeting, the representatives of the medical field from Israel noted that the anti-coronavirus medicament is intended for patients in moderate to critical condition. The drug is an innovative compound and it is based on enriched CD24-exosomes.
"Regarding the coronavirus drug, we want Georgia, as our friendly country, to be a partner of Israel. You have very good medical staff and we believe that this cooperation will be very successful and fruitful. COVID-19 Medication will help many people," said Nadir Arber, founder of the Sourasky Medical Center in Tel Aviv.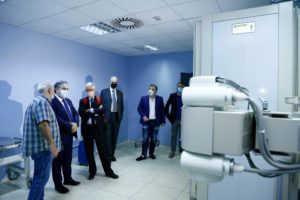 Representatives of the medical field from Israel visited N. Kipshidze Central University Clinic and the Scientific-Practical Center for Infectious Diseases, AIDS and Clinical Immunology.
Georgian doctors wished the researchers from Israel success in their future activities. Specialists from Israel expressed their support for the ongoing and implemented reforms in the healthcare system and readiness to further deepen cooperation.
The anti-COVID-19 drug EXO-CD24 was developed by medical researchers in Israel a few months ago.
By Ana Dumbadze
Source: Ministry of Health