The Ambassador of the Arab Republic of Egypt to the Sultanate of Oman, Khaled Radi, received the Egyptian businessman and owner of the Hebashi Investment Group, Mr. Hani Hebashi, at the embassy headquarters in Muscat for the purpose of discussing the new group's work in the Sultanate.
The ambassador emphasized that the Egyptian state and its representatives present in all countries of the world are keen to support the Egyptian investment sector abroad by overcoming any obstacles that may stand in the way of Egyptian investors abroad, in addition to trying to support them with all available capabilities.
The ambassador discussed with Hebashi the investment group's plan to be conducted in the Sultanate of Oman, as the Hebashi Group is keen to open a wide range of investment activities in the Sultanate as it is one of the most important and relevant Arab countries in the middle-east.
Given the in-depth knowledge of the Hebashi Group in the economic and investment aspects in the Sultanate of Oman, it will provide appropriate services and investment opportunities for all segments of society in the Sultanate, provided that these services are different and exceptional, and all these things will give the group reliability and support, even though it has just opened its activities.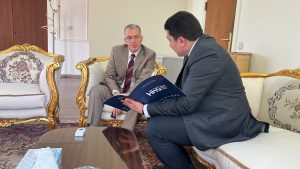 In turn, businessman Hani Hebashi expressed his thanks to Ambassador Khaled Radi for his luxurious reception. Hebashi praised the Ambassador's efforts in supporting the work of Egyptian investors in sultanate of Oman, and helping them to overcome any difficulties in the easiest and fastest way.
Hebashi International Group is a holding group for more than seven companies, and these companies work in various fields, for example, the field of real estate, tourism, decoration, and media, in addition to the group owning a large number of branches all over the world, in Saudi Arabia and the Sultanate of Oman, while its main branch is located in Tbilisi, Georgia.