Despite the decreasing trend in the newly detected coronavirus cases, the death rate (CFR) among registered cases of COVID-19 is rising in Georgia and is higher than it was in the autumn, during the second wave. Some members of the medical community believe that the state should present a relevant analysis and clarify the reasons for this trend.
As of June 2, in the case of Georgia, the Case Fatality Rate (CFR) is 1.40%. The rate is low compared to most European countries. However, what raises questions for some members of the medical community is the growing trend of CFR directly in Georgia during the third wave.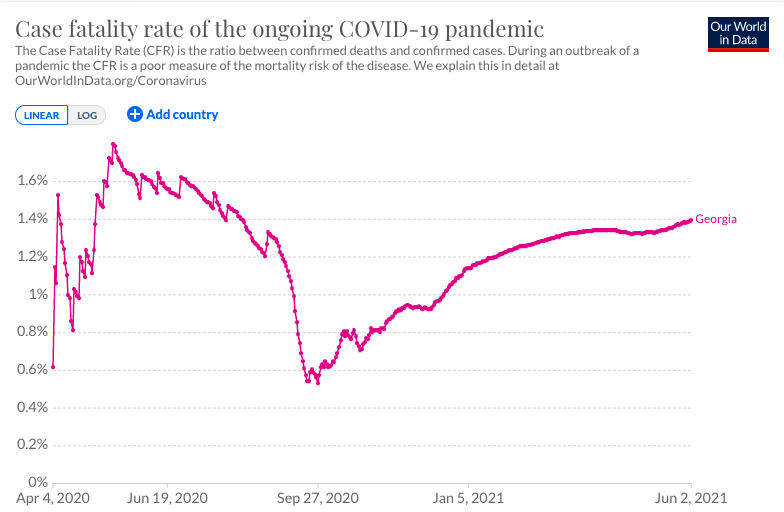 Georgia reported 779 coronavirus cases, 959 recoveries, and 23 deaths on Friday, the official figures show.
Georgian capital Tbilisi recorded the highest number of 401 Covid-19 cases within the last 24 hours, followed by the Samegrelo-Zemo Svaneti region with 69 cases, and the Imereti region with 66 cases.
The daily test-positivity rate stands at 2.59 %, while it was 3.06 % in the past 14 days.
161,947 people in Georgia have received the coronavirus vaccine so far.
The total number of confirmed cases has reached 347,762, among them, 331,680 people recovered and 4876 died.
Death toll data during the week available here.
Related Story: Corona Updates: NCDC Head Says Peak of 3rd Wave Over, Land Borders Open, Flight Numbers Up