On May 27-28, the Deputy Minister of Health of the Czech Republic, Radek Policar, visited Georgia to discuss with Georgian authorities further cooperation fighting the Covid pandemic and beyond.
During the meeting with his counterpart Mrs. Tamar Gabunia, First Deputy Minister of Internally Displaced Persons from the Occupied Territories, Labour, Health and Social Affairs of Georgia, Policar shared the Czech experience of the Covid-19 pandemic and related challenges. The assistance provided to Georgia by Czech institutions and funded by Czech Government, especially in epidemiological management and support to vaccination, was highly appreciated by Deputy Minister Gabunia.
Discussion with the Head of the National Center for Disease Control and Public Health Mr. Amiran Gamkrelidze focused on further strengthening of existing cooperation. Besides protective materials deliveries and rural doctors training in the beginning of the pandemic the Czech Republic assisted Georgia with creation of the online vaccination registration portal, which helps the Ministry of Health to prioritize age groups according to national vaccination plan and avoid disorganized queues of citizens. Both sides also discussed future development of the local oncology registry. As Ambassador of the Czech Republic to Georgia Petr Mikyska reminded, "health sector is one of three priority sectors of the Czech Development Cooperation in Georgia and we will keep medical cooperation high on the agenda in the future as well".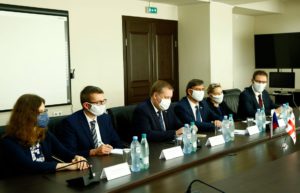 Deputy Minister of Health Policar was accompanied by Czech business delegation. Czech medical companies introduced their products to representatives of the State Medical Holding and Regional Health Centers and visited state owned Academician Nikoloz Kipshidze Central University Clinic and two private hospitals – New Hospital and MediClub Georgia. On May 28, the Embassy of the Czech Republic in Tbilisi hosted Medical Business Forum, where Czech companies LINET, Codaco, PharmData, TestLine, ProSpon, MZ Liberec, TSE, SMT, Advanced Medical Solutions, Nafigo, WPA Nanotechnologies and PROMA REHA presented their products to 15 Georgian medical distributors and representatives of medical companies.
Czechia has a long tradition of medical equipment production and Czech companies are successful and competitive on global market. The Czech producers offer top quality, cutting-edge technology and smart, innovative ideas. "I am very proud that Czech companies are responding to the so-called new normal for health care with innovative approaches and high-quality products. The international cooperation is crucial in tackling the pandemic and new challenges. Czechia confirms its readiness to keep supporting Georgia and old and newly established partnerships between both public and private Czech and Georgian actors are and will be instrumental in our joint actions", Deputy Minister Radek Policar resumed.