The Lost Ridge Inn is a two-floor, beautifully converted country house with that perfect blend of modern and old. You'll enter through a covered terrace into the cozy living area with soft seating, tiled floors and a large fireplace. In front of you is the bar area and a friendly face or two to welcome you. Two bedrooms are on the first floor; four others upstairs. Surrounding the house is a lawned garden featuring a summer kitchen, hammocks, and an overall sense of tranquility.
Attached to the house is a brewery, its shiny metal tanks on display through the glass as they quietly work to ferment the Inn's own craft beer, inspired by herbs and fruits of the region and beyond.
The Accommodation
The first thing you'll notice on entering your bright room, illuminated by floor-to-ceiling windows, is the warm scent of cedar, the wooden floors and furniture, with the cleanest and most tastefully chosen bedding. Tasteful too are the bathrooms – warm, natural colors, modern fittings, Mediterranean style tiles. Bathrobes, slippers, drinking water, toiletries and a hairdryer are included. The rooms boast central heating and A/C, and, refreshingly, no TV (though there is WiFi).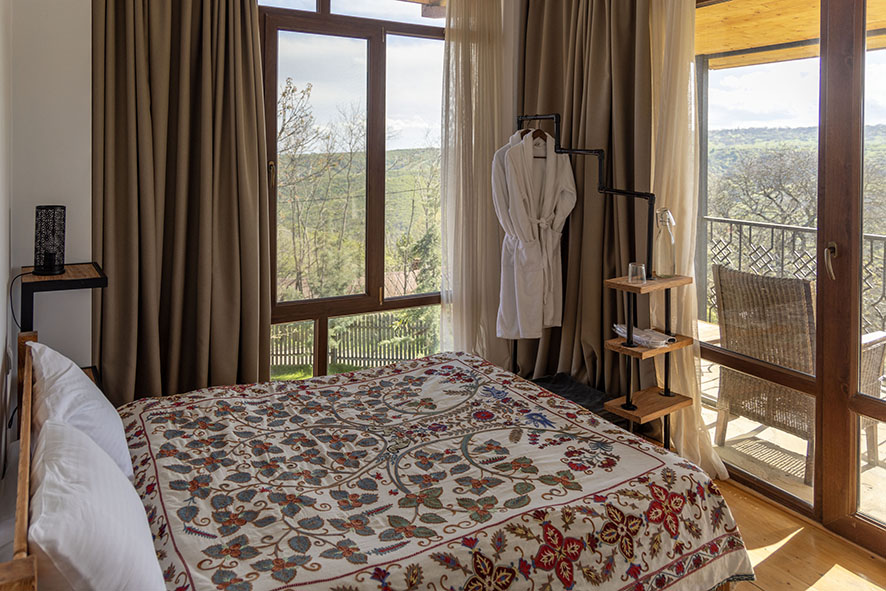 On your stone-tiled balcony or terrace, over iron railings enveloped in grapevines, you'll have an uninterrupted view of the garden and surrounding countryside – Lost Ridge Inn sits on the top of a hill. The room I was staying in looked over the rolling hills and the medieval Bodbe St. Virgin Mary Temple, currently under renovation, and just up the road, Lost Ridge Inn's corral and the horses we'd be touring on later that day. When we arrived, the horses – chestnut, gray and white males and a foal, were free-roaming and happily chomping away on the sweet grass in the rear garden.
The Food
Without exaggeration, I can say this was the juiciest, tastiest and freshest selection of vegetables and salad greens I have tasted in a very long time – sliced beetroot salad, red cabbage and sour cream, cucumber and tomato salad with sunflower seeds, spicy Mexican beans, Spinach pate with pomegranate seeds, and soft Georgian bread to smear it on. All these are just words, though – the taste was more than can be described. The Lost Ridge Inn selects its ingredients wherever possible from local farmers, adding home-grown herbs to the mix. For breakfast, they also add their own eggs, and honey, jam, cheese and natural yoghurt made by the locals in the neighboring village Nukriani.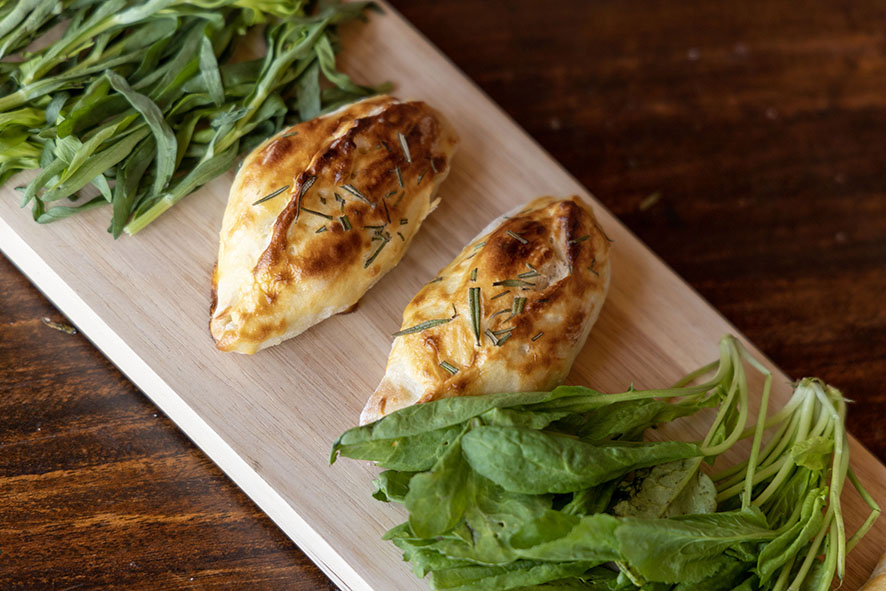 The Brewery
It pains me on this occasion to say that I'm not a beer drinker (I prefer wine), but it would be a crime not to share a very special feature of this boutique hotel – they brew their own craft beer! I'll let their own words describe it to you better.
"Using pure well water, hops and grains grown in premier beer nations of the world, plus local seasonal ingredients, we craft small-batch ales reflective of the wildness of this Georgian village setting. We experiment with herbs and fruits grown in our own orchard and surrounding area, occasionally we get inspired and gather these in the alpine Tushetian meadows, Alazani lowlands or Gombori Pass.
"While any industrial brewery can churn out unimaginative bland lagers, Lost Ridge offers made-in-Georgia classic styles such as Belgian-inspired ales and Tripels, Saisons and Pacific Northwest-style IPA. Our special brews are bottled and aged in our onsite beer cave."
They also serve the natural wines Pheasant's Tears and Lurji Bani.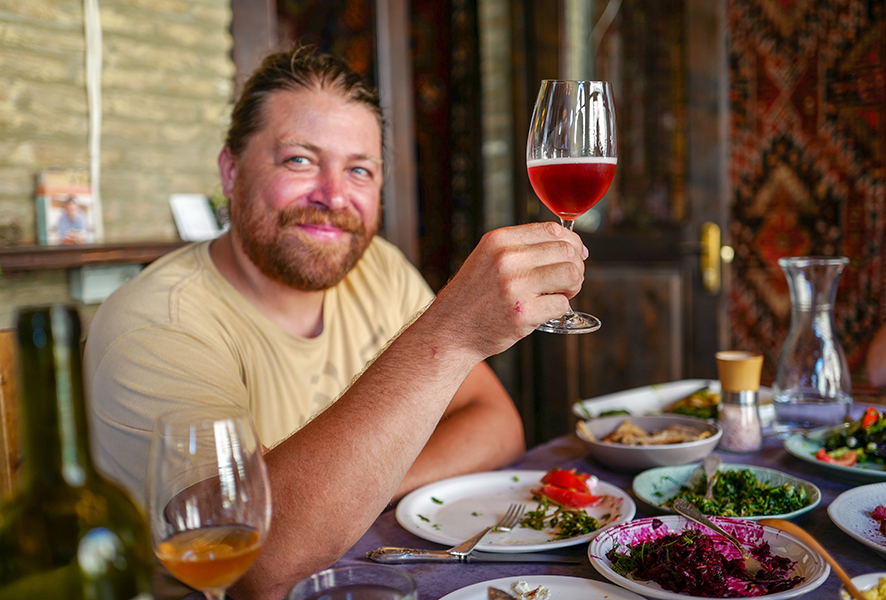 The Living Roots Horse Ranch
The ranch is a minute's walk away from the Inn, also clearly marked from the road. We arrived in the stable yard, where Nika, our guide, introduced us to the newest member of the family – a 2-week old foul, and his mom. The horses, aside from the one female, are all castrated males bought from around Georgia when they are around 6 years old. The Ranch chooses only horses who are familiar to having riders and which have a naturally calm temperament.
There are currently six horses for novice riders and two for those who have more experience. The six are 13 years old or younger, are in excellent form, and have a lovely, patient character, regardless of the rider- from middle-aged mom, to TikToking teen, to chatty 9-year-old peppering our lovely guide with non-stop questions as we rode.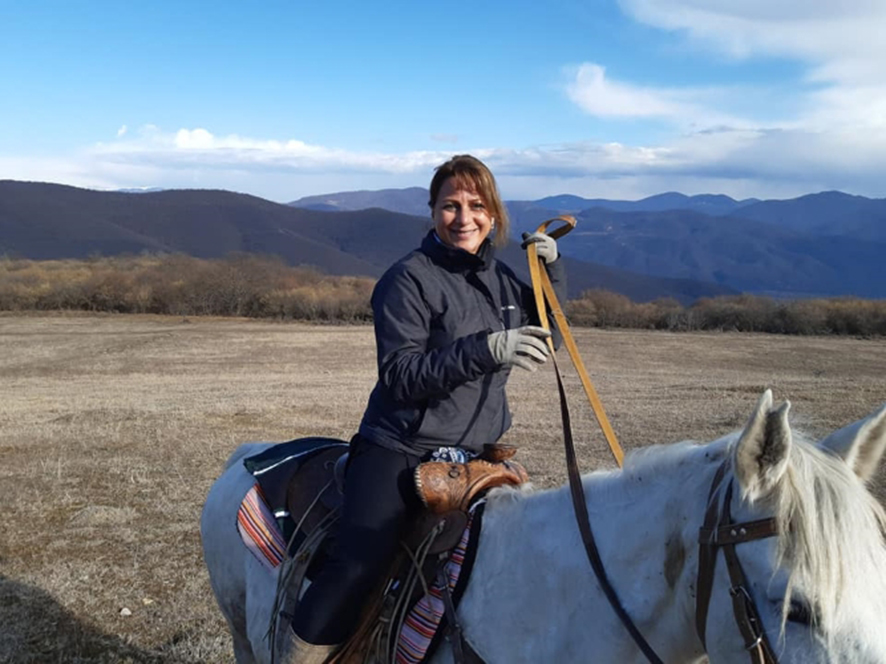 After letting my kids brush the horses and help saddle them up, we started out on our absolutely perfect 1-hour simple loop trail, which took us along the ridge for a view of the Alazani Valley and nearby villages, then along another hill for a magical eye-level view of the St Nino (Bodbe) Monastery from the opposite side of the gorge. We started and ended our ride on the new asphalt road, but for the majority of it we were on level dirt tracks, some car-wide, some with just enough space for us and the horses to pass – and the horses were very at ease in all environs, knowing where to go and what to do, having done it hundreds of times before. Nika, who has been riding and caring for horses since the age of four, was an excellent guide, giving us clear and easy to follow instructions in English, and always calmly and confidently ready to help if we got into trouble. He also patiently and enthusiastically answered that chatty 9-year-old's questions, as well as mine, about the stable and the challenges of quality horse-rearing in Georgia- challenges the Living Roots Ranch has clearly overcome.
The Lost Ridge Ranch offers different tours of different lengths for different abilities and tastes across Georgia – it's best to contact them directly before you go to discuss what you'd like. From my short experience there, I can say how tranquil and beautiful an experience it was to ride slowly along with my kids in the sunlit Kakheti hills; and how buzzed and blessed I felt afterwards to have had the chance to do so – and my kids felt exactly the same!
The Café
The Ranch boasts its own café, and after a rest and wash, we were welcomed into the cozy, warm, wood-and-stone interior for a delicious and filling dinner, accompanied by wine and zesty lemon water. The café is small but in warmer weather opens up on to a garden and terrace with seating for numerous guests and a daytime view of Kakheti that washes over you like a relaxing balm. While my kids played on the swings, I had the chance to take my glass of wine and sit by the fire pit and warm up with other Inn guests.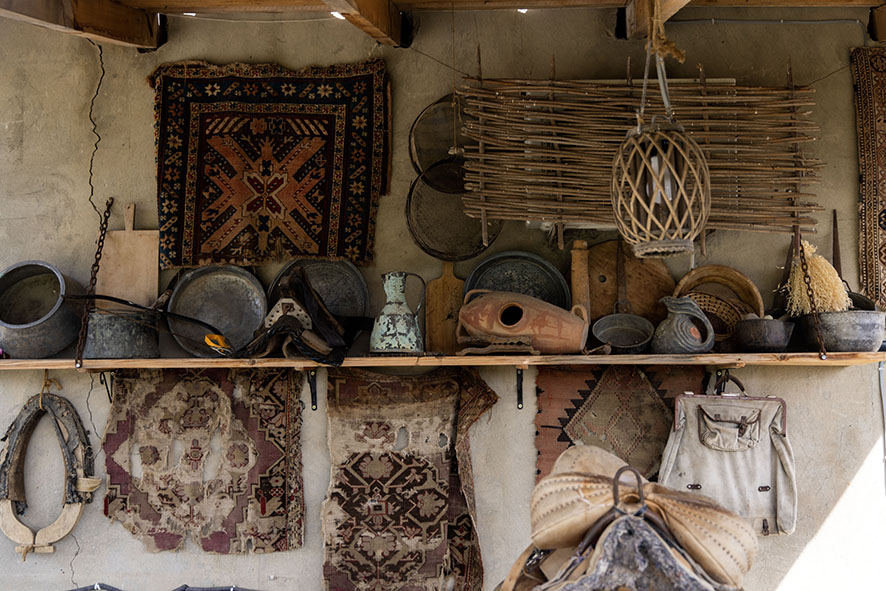 How To Get There
Driving Tbilisi to Sighnaghi takes around 1 hour 48 minutes and is 108 kilometers east of the capital. Take the S-5 east out of Tbilisi and stay on it for 94.4 km. When you get to Chalaubani, turn right onto the Sh-40 – you'll see a sign for Sighnaghi and a police station on your right. The next 20 minutes and 15 or so kilometers will see you winding along a well-paved road through quaint villages with terracotta-tiled houses, crumbling stonework, rusty farm equipment and bold signs boasting "Honey" and "Wine." At the sharp left turn toward the St Nino Monastery, you'll see a small hand-painted sign pointing right reading "Lost Ridge Inn." This is a beautiful, newly asphalted road and a joy to drive for the last few minutes of your journey. Lost Ridge Inn is a cream-and-wood house just off the bend of the road past the Ranch, and up a short gravel drive.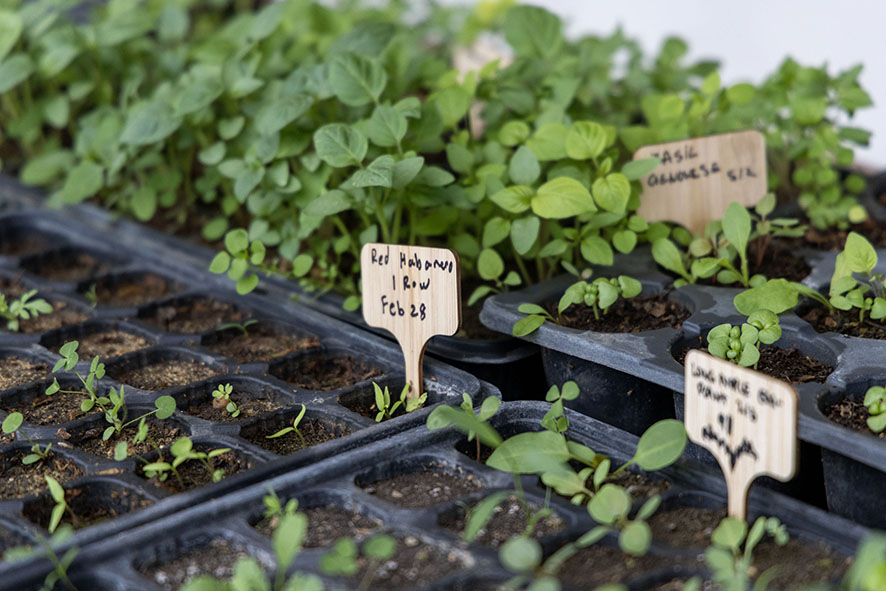 What Can I Do There?
Lost Ridge Inn offers various-length horse riding tours, wine and beer tasting, and all those lovely activities that Kakheti first brought to the market – tone bread baking, churckhela making, cooking masterclasses and more. All of these should be agreed on in advance when you book.
Nearby are numerous hiking opportunities. The Lost Ridge Inn looks down on the Bodbe St. Virgin Mary Temple, a few kilometers walk away through the fields (or reachable in 26 minutes by car via the St Nino Spring Road which loops down into Tsnori and back up again). Less than a kilometer away is the St Nino (Bodbe) Monastery, boasting a cathedral, two churches, a gift shop and vast, well-maintained garden and woodland. Within the mid-size old church is the tomb of St Nino, a Cappadocian woman who brought Christianity to Georgia in the early 300s.
Beyond this monastery is Sighnaghi, a picturesque town perched on the hilltop, guarding over the spectacular Alazani Valley and the Caucasus Mountains beyond. Sighnaghi has been serving the international tourist community for decades. Renovated brick and stone, tiled-roof buildings with wooden balconies line cobbled streets. There is a small central park with play areas for children, a museum hosting a selection of works by the internationally renowned primitive painter Pirosmani, as well as archeological evidence of age-old settlements in the area. The town has a plethora of restaurants and bars to choose from.
The Takeaway
I can't recommend Lost Ridge Inn enough. It is ideal for couples looking to get away from the hustle and bustle, for those wanting a comfortable base to explore the Kakheti region, for craft beer connoisseurs, for small families, for those wanting to try horse-riding, and for small groups of friends simply needing to recharge. All will find a warm welcome, delicious and filling food, and professional service in a home-from-home environment.
You can book a room at Lost Ridge Inn online via their website (lostridgeinn.com), at + 995 599 795529, or on Booking.com.
Check out our interview with the founding team in May's GT Business magazine!
| | |
| --- | --- |
| Address | 8 Ninoshvili Street, Qedeli Community, Sighnaghi, Kakheti |
| Open | Year-round |
| Road Access | Easy, newly paved road |
| Accommodation | 6 rooms in the house, 2 restored 19th century cottages on the grounds |
Review by Katie Ruth Davies