Within the framework of the EU-supported project "Strengthening Civil Society for an Inclusive and Green Post-Covid Recovery", a study visit was held in the Czech Republic, the purpose of which was to study how social services operate in the Czech Republic. The study visit was organized for local government representatives and members of Georgian civil society from Kvemo Kartli and Samtskhe-Javakheti regions.
The study visit was organized by CENN, the leading organization of the consortium, whose large-scale project is being implemented in partnership with the Center for Consultation and Training (CTC), Kvemo Kartli Media (KKM), and First European (FE). In the Czech Republic, CENN was partnered with Caritas Czech Republic.
Giorgi Orkodashvili, CENN project manager, spoke to us about the goals of the study visit.
"We organized this study tour to allow the Georgian side to visit representatives of civil organizations and local authorities in the Czech Republic to learn about the provision of social services in their country. In addition to service providers, our study participants met with organizations working on a policy level," he said.
"Meetings were held with local authorities and the Ministry, which are directly responsible for this direction, with the goal that, after returning to Georgia, the municipalities will use this experience in the subsequent introduction of social services.
"We hope that local authorities and the civil sector will cooperate to set up new services and offer new types of services to Georgian citizens," Orkodashvili noted.
Together with the civil society organizations of Kvemo Kartli and Samtskhe-Javakheti, the local authorities of Dmanisi, Gardabani, Tetritskaro, and Akhaltsikhe participated in the study visit.
Moving forward, the project will support civil society organizations and local authorities to jointly create social services. A grant competition has already been announced and is awaiting initiatives from the target municipalities.
Megi Ediberidze, Head of Health, Social Protection, Child Care and Support Service of Dmanisi City Hall, spoke to us about the importance of the study tour to the Czech Republic.
"This study tour was very rewarding. We had the opportunity to meet and personally get acquainted with social services that do not exist in Georgia," she said.
"Heads of services should analyze together with people on the ground how much we can transfer services directly, or to implement modified versions in Georgia.
"We certainly see a need to introduce new services here. The differences between the social programs of Georgia and the Czech Republic were huge. We saw how advanced they are, and we know we must take the first steps to create new services for our vulnerable groups," Ediberidze affirmed, highlighting that Georgia's current social services tend to be aimed at the socially vulnerable population, and there is a clear need to expand the scope, particularly in terms of capacity development programs.
Nugzar Kapanadze, Head of the Public Health and Social Services of the Akhaltsikhe Municipality City Hall, also spoke to us about the study visit.
"I am grateful to CENN for bringing the non-governmental and governmental sectors together for such an extraordinary event," he said. "I was interested in home care services, in particular in the direction of children. All the meetings were very interesting, but I would highlight the organization working with former prisoners – their experience was very interesting and left a big impression on me.
"Now we move to a stage of preparing a project and submitting it to the CENN grant competition. In the meantime, I plan to make a presentation in our local City Hall, giving a short overview of the services that we discovered in the Czech Republic," Kapanadze concludes, noting that his City Hall is very interested in developing a service aimed at the economic empowerment of families with children.
"The study tour was very diverse and important," said Irma Zurabashvili, Director of the Bolnisi Adult Education Center. "We saw that perfect services have already been created that do not need to be created from scratch. We can share this experience – and create similar services in our municipalities. It was truly a unique experience for me to participate in this study tour."
Let's take a look now at the working services the Georgian side discovered in the Czech Republic.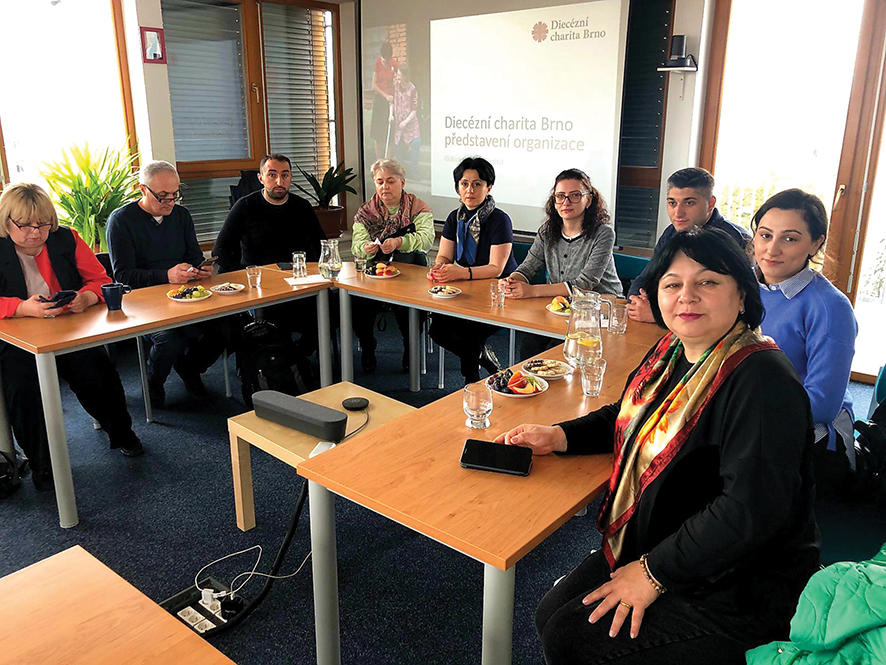 The Brno Shelter St. Margaret's House
The Brno shelter helps pregnant women and women with children who are in difficult living conditions as a result of losing their housing. Oftentimes, their health or even lives are in danger, or the upbringing and development of their children are at risk.
Currently, St. Margaret's House has 28 residential apartments with 1, 1+1, or 2+1 beds, a kitchen and bathroom, totaling 100 beds. These are well-furnished independent residential apartments with properly equipped kitchen and sanitary facilities. Larger apartments can accommodate large families with no more than eight children. It is also possible to use a wheelchair in the house with the help of an elevator.
Mothers and children can also use such common spaces as a yard, a garden with playground equipment, a laundry room equipped with washing machines, a room for drying clothes, a guest room, a recreation room with a TV, and a multipurpose room (gym). They can also use the family corner and computer room.
Diocese Caritas Brno
The asylum service in Brno was established in 2004. Until 2006, this activity was carried out within the framework of the project "Homeless day center and short-term shelter". From January 1, 2007, the service became independent, and a Men's Shelter was created. Together with the Social-Medical Assistance Day Center for Homeless People (1993), it forms a complex of social prevention services which help users to solve complex situations together in all directions.
Center Celsus
Celsus offers a range of services to people in need, among them social and legal counseling, help for people in social crisis, help for people with mental illnesses, provision of services to foreigners, debt counseling, and psychological counseling.
Slavkov U Brna Day Center
The mission of the Slavkov u Brna Day Center is to help the elderly and disabled who, due to old age or disabilities, cannot live fully independently in their natural environment and who are dependent on other persons or institutions. The center provides them with as much as possible in their natural environment.
The service is intended for people over the age of 18 who live in their own homes, persons with disabilities or chronic disabilities who have limited basic household skills and are unable to care for themselves or their families.
The goal of the daycare center is to provide services to help them meet their own needs and in this way to maintain their current quality of life within their home environment for as long as possible.
HOME FOR MOTHERS WITH CHILDREN HODONÍN
Shelter for mothers of children under 18, and pregnant women, who are in a difficult situation due to lack of housing or other social reasons. The shelter provides housing and assistance in food preparation, personal hygiene, in family affairs, and counseling. It helps residents there to not only protect their rights, but also to solve personal issues; they are helped to develop self and family care, leadership, and other skills that will help them integrate into society.
Caritas of Rno Diocese – Regional Caritas Hodonin
Social Medical Center Hodonin
The Social-Medical Day Center is a social service registered by Chapter 61 of the Law on Social Services No. 108/2006 Coll. It is a social-medical assistance center that provides outpatient services to homeless people. Serving 16 people at a time, the purpose of the day center is to provide basic social assistance and services to those in difficult social conditions; men and women who find themselves homeless and in difficulty after losing their housing, being released from prison, leaving institutional care, or being discharged from the hospital, and who are unable to solve these problems on their own. The center facilitates and helps them to make decision that will correct their difficult situation and allow them to live as other people in society live.
Hodonin Night Shelter
The mission of the Hodoninis Night Shelter for Homeless People is to help those men and women who have fallen into a difficult situation as a result of the loss of their housing and, who at this stage, cannot solve the issue on their own. The shelter provides them with personal hygiene products and overnight accommodation. Through the information and contacts provided within the framework of social consultations, the shelter helps them to solve their life problems.
Contact Center Vážka
Contact Center Vážka serves users of illegal drugs and alcohol, people at risk of drug addiction, people addicted to gambling, and their relatives. Assistance includes professional counseling, drug substitution programs, provision of hygiene products and food, testing for infectious diseases, testing for narcotic substances, etc. The service is free and anonymous. It is carried out both on an outpatient basis and at home. The service is provided to meet the individual needs of the service user, to correct their difficult social situation and to prevent further problems related to drug use.
LOW-THRESHOLD CLUB POHODA HODONÍN
LOW-THRESHOLD CLUB POHODA HODONÍN is the Law on Social Services No. 108/2006 Coll. A social service registered under Chapter 62 that provides outpatient and on-site services to children and young people.
The mission of the Hodonin socio-medical club Pohoda is to help and support children and young people in difficult life situations, identifying such children and reducing the risks associated with their lifestyles.
The target group is children, adolescents, and young people who are in a difficult social situation (problems with family, friends, school, institutions, who have experienced the death of a loved one, whose family is in a difficult financial situation, etc.), are at risk of negative social events (dropping out of school, drug testing, criminal activity, gambling, etc.), are 11-21 years old, and who live in the Hodonin district.
Center Rubikon
Center Rubikon is a non-governmental, non-profit organization that has been helping people overcome their criminal past since 1994, seeking to remove the obstacles that prevent them from doing so. The center works:
At the individual level, where they are involved in complex consultation and direct work with service users and their environment;
At the systemic level, where they test innovative solutions, share good practices with the state, run advocacy, and cooperate with relevant organizations;
At the community level, where they seek to raise awareness, run campaigns and events, and on a daily basis run the public center in Kotlaska Garden.
Rubicon has 7 branches in Prague and in the regions of Karlovy Vary, Moravian Silesia, and Central Bohemia. 32% of men and women employed in the organization have a criminal record.
Rubicon is the Czech office of RESCALED – Network for the Development of Penitentiary Community Institutions. It is also a member of the Association of Correctional Organizations (AOOV), a member of the PLATZ Platform for Employment Training, and the International Network of Penitentiary Reform.
HOME OF HOLY FAMILY
At HOME OF HOLY FAMILY, they care for people with mental and combined disabilities. The house has two buildings at two addresses. Life there is like living in a normal family. The house consists of apartments, and sees residents participate in family affairs to the best of their ability. When their situation allows it, they go to work in therapeutic workshops or in the kitchen.
The House looks after more than 70 people. Some are relatively independent; most need constant assistance, but all of them need warm, kind, and patient care. Such care is the life mission of the employees there, a quarter of whom have been working there for more than 10 years (some even remember the establishment of the house in 1991!).
The home provides people with developmental disabilities the opportunity to work, maintain their physical and mental abilities, and have normal human relationships that are as important to them as they are to healthy people.
By Manon Bokuchava