Regulations applicable to persons traveling from the occupied territories are about to be amended.
In particular, starting April 19, citizens from occupied territories, instead of the previously enforced 5-day quarantine, will instead be able to take antigen tests. They will also be able to voluntarily join the process of vaccination, based on their age groups, as defined in the National Action Plan. This decision was made during yesterday's online meeting of the Interagency Coordination Council, chaired by Prime Minister Irakli Garibashvili.
Citizens vaccinated with two-dose shots will no longer be obligated to take tests when entering the territory controlled by Georgia's Central Government.
During yesterday's meeting of the Interagency Coordination Council, Health Minister Ekaterine Tikaradze also presented a plan for expanding vaccination developed by the Ministry on the Prime Minister's instructions. Based on this plan, priority groups involved in vaccination will gradually be expanded, to ensure that the process of COVID-19 vaccination proceeds as fast as possible.
The Council, emphasizing the lately worsening epidemiological situation, reiterated the need to be scrupulous about observing regulations, to ensure against introducing tougher restrictions. Of enormous importance in this context are facemasks, social distancing, and avoidance of large gatherings, including social events prohibited by the law.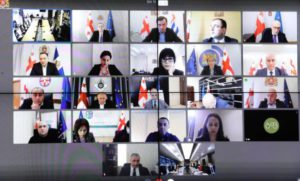 On the instructions of the Head of Government, relevant agencies are enforcing strict control over the implementation of all regulations designed to flatten the curve.
Since the first coronavirus case in Georgia, the country has seen 291,214 confirmed cases, with 278,683 recoveries and 3,901 deaths.
162 persons are presently under quarantine, 338 citizens are in clinical hotels, and 2,546 patients are hospitalized under medical supervision.
At the beginning of the month, four citizens of Georgia, residents of the occupied Gali region, were trying to cross the occupation line in the vicinities of village Shamgona and Tagiloni village via the River Enguri, into territory controlled by the central government of Georgia in order to avoid unlawful detentions established by the Russian occupation regime. All of them died in the water. One of the main reasons which forced them to cross the river was a 5-day quarantine imposed by authorities for citizens living in occupied territories of Georgia.
Movement on the Enguri Bridge is restricted and for more than a year, locals have not been able to move freely in the area controlled by the central government. The road was blocked by the de facto government of Abkhazia as soon as the first case of Covid-19 was recorded in Georgia.
The Enguri Bridge, the only way for the residents of occupied Gali to connect with the rest of Georgia, was opened only five times a year, for a few days each time. The Abkhaz side has opened the way for people living in the region, who were in the Georgian-controlled territory for medical or other purposes, for humanitarian purposes, so that the citizens could return to their homes.
Apsnypress reported that the de facto government of occupied Abkhazia from January 2021 to April 1, 2021, arrested 3,000 residents of the Gali district for crossing the so-called "border."
By Ana Dumbadze
Main Image: Enguri Bridge
Related Story: April 10 Declared a Day of Mourning by Gov't Decree