Georgia's culinary traditions run deep, with each region having its own specific dishes. As the food scene in the country has come into line with many of Europe's celebrated traditions, the palette of the nation has opened to a broader selection. Alongside Georgia's own iconic dishes are now elevated concepts from the world's most inspiring kitchens.
One chef has brought a wealth of experience, knowledge and vision to the South Caucasus. Chef Maris Maurins has worked in some of Europe's most elite kitchens, serving some of the most exclusive of clientele. Royalty, celebrities, and the continent's leadership have had the luxury of sampling this chef's unique creations.
Sitting down with GEORGIA TODAY, his passion is palpable. Like an artist describing his own painting, his striking blue eyes almost glaze over as he describes the emotions infused into his work, sharing with us a brief glimpse into the immense work invested in the trade as he came up under the tutelage of some of Europe's great chefs. Bringing this to Tbilisi Hills Restaurant, he shares some of his inspirations, his ideas, and what challenges the area faces culinarily.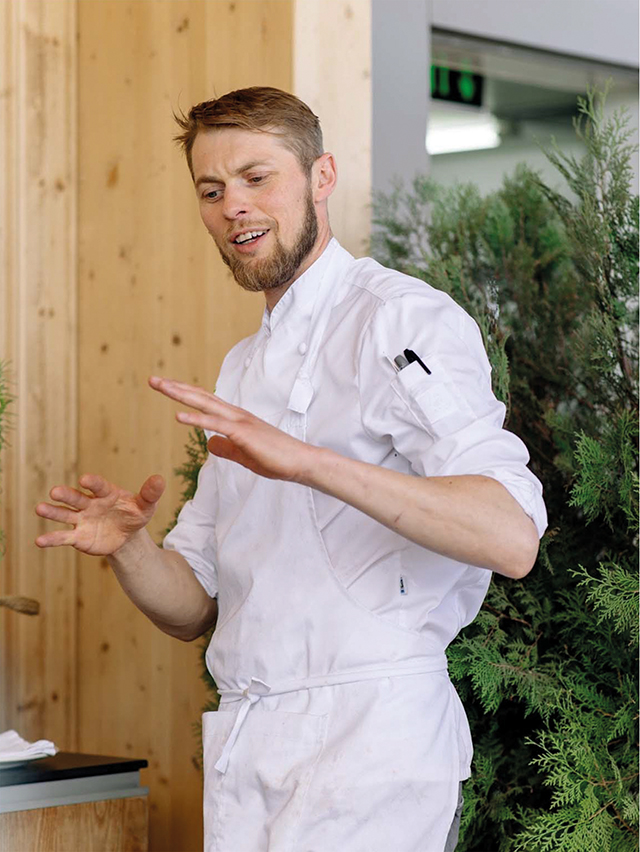 How and where did you get your start in the culinary world?
I started when I was a child, as both my parents worked very hard from early morning to late evening. When I came home from school, I would have to eat something, so I started cooking something like pancakes or eggs, and I found a love of the kitchen. After I finished my schooling, I went to culinary university.
After this, I went straight to work and never left the kitchen. For me, kitchens and restaurants are in my blood. If I was gone from the kitchen for more than three days, I would feel uncomfortable. I need to be inside and hear the sounds of the kitchen, the sounds of glass and cutlery, visiting the customers and speaking with them.
Is there any chef that you would say has been your greatest inspiration or mentor?
I think it comes from everyone I met in my life. There's always some good things to learn, but my last chef and friend Martins Ritins from Latvia made most significant impact. He gave me a lot of power. He told me one day, "Maris, today I am in your shoes. Do what you want in the kitchen, and I will follow you." At that time, he was a seventy-three year old man!
When I was a child, I watched him on television and said I wanted to be like him. After culinary school, I didn't look for his restaurant, deciding to follow my own path. I chose to challenge myself in London where, over five years, I gained various experience – kitchen work ethics, team dynamics, multiculturality, different mentalities and, most importantly, food traditions and several cultural codes. Then suddenly my role model came to London and for several hours he was watching me cooking. He didn't know that I was Latvian, but he was really curious. We had a long conversation, after which we agreed that we should go back to Latvia and work together.
How would you describe your cooking style?
I don't know. It's kind of simple. When people ask me what I'm doing in the kitchen, what food I'm making, I say I'm making the "outer-kitchen." The outer-kitchen means there is some piece of myself, some part of other chefs, and some from other books which I upgrade my way.
That's the outer-kitchen, it's about me and how I can tell stories about what I'm doing. I'm not one to put my dishes in one category, like European, Asian, or something like that. I take the best things I can find at that moment, and I use them and try to surprise my clients.
What sets your dishes apart and makes them so unique in Georgia?
When the food is not boring. When you enjoy meals and you experience flavors – you close your eyes and suddenly you have another flavor. I often tell my customers that if you come to my house, and you eat my food, and you don't feel emotions or you didn't find love, it means that something was wrong.
I try to surprise with flavors, spices, sourness, bitterness, sweetness, everything together. You'll never fall asleep from the food I prepare. With every meal, you must have some bitterness, some sweetness, something that when you see the food, you expect one thing but when you eat it, you find something you did not expect.
What would you say are the greatest challenges chefs in Georgia have?
The challenge itself. It's challenging to work in Georgia, as quality is unstable and I still lack personal connections with local farmers. I used to order ingredients from the outer islands – Sweden, Italy and France, the UK, but due to different obstacles, it is not possible to have these products all the time. Here, it is hard to find products of the same quality and the same suppliers.
It's also hard because not many people use these products. Maybe it's too expensive or rare, but I'm trying to find suppliers to find ingredients I want to see on my menu and in my kitchen. It's difficult, because fresh fish is not here, and it has to travel a very long way and it can go off. The beef meat is different here because the cows have to travel around so much to find green grass.
But Georgia has very nice and unique products too. The fruits here are very fresh, along with the vegetables and greens. But still some things are missing.
What would you tell traveling "foodies" or culinary tourists looking for something new?
I think that every chef is unique. If you follow yourself, and follow the flavors, always try to surprise your clients. I always use stories to describe the reasons why I use these products or why I mix the products as I do. I think the stories are most important for the customers – after the flavor and the look of the dish, the stories are the best.
When I do the wine pairing dinner 'Wine, Dine & Jazz' evenings here at Tbilisi Hills Restaurant, I always go out to the customers and share my stories about the ingredients, where they come from, why I use them. It is always about storytelling.
Exclusive Interview by Michael Godwin