It is a sad but deeply ingrained practice in offices across Georgia for employees to consume large quantities of plastic in their daily practices. Plastic files, cutlery, cups, bags, PET bottles and stationery are all widely used and then discarded in offices. Moreover, institutions, when holding public events and conferences, tend to opt for the "convenience" of single-use plastic within their offered catering services.
However, institutions are becoming increasingly more environmentally conscious, and are more and more often seeking out environmentally sustainable practices as part of their corporate identity and Corporate Social Responsibility strategies. According to a CENN survey, institutions show more readiness to reduce plastic usage if they have enough opportunities to do so, and are equipped with the knowledge to help them find the right alternatives. Workplaces have a lot of potential to reduce their consumption of plastic when it is made convenient, and along with this comes the ability to influence the relevant behavior of staff members by providing information and incentives.
46.6% of employees said that if multi-use equipment replaced single-use plastic in the office, they would "definitely use it," while 25.2% said they would "try"
In response to the abovementioned issues of single-used plastic consumption, which has a significant role to play in waste management in Georgia, CENN, with the support of the German Corporation for International Cooperation GmbH (GIZ), within the frames of the 'Be Innovative' program of the 'Prevent Waste Alliance,' launched a pilot project 'Plastic Waste Reduction in Tbilisi's Offices' which aims to reduce single-use plastic waste in the Georgian capital's offices.
The first to try out the project is the IRAO International Insurance Company, and this year, IRAO and CENN signed a mutual memorandum about plastic waste minimization and environmentally friendly practices, giving the company the chance to become one of most eco-friendly company in Georgia.
The project uses a new, innovative behavior-centered design that refers to the different behavioral levers of IRAO's employees and general management.
"Behavior-centered design allows us to better understand our target group; to understand their barriers, motivations and capabilities," – Nana Takvarelia, Communications and Outreach Specialist at CENN. "Based on this, we are able to leverage behavior change through various approaches, such as emotional appeal, material incentives, making the right choices available, and so on. We believe that sustainable change comes with approaches that change policies. For this reason, we aim to work with companies and employers to change their procurement policies and establish environmentally friendly practices, whilst also working with the employees to raise awareness."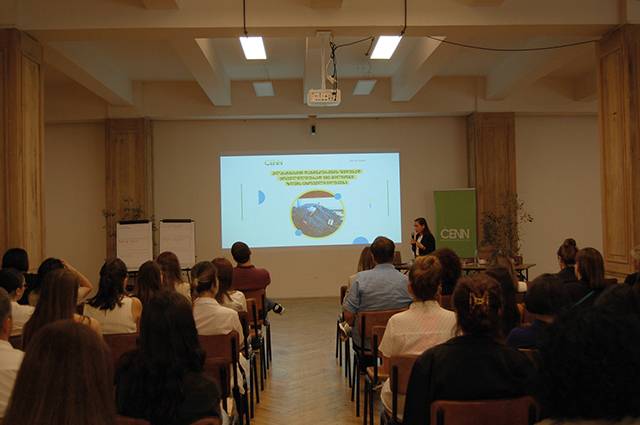 By establishing a behavior-centered design, CENN aims to strengthen the corporative environmental responsibility among the private sector and encourage its employees to become more environmentally conscious.
"Corporate Sustainability has always been very important for IRAO. We started collaborating with CENN in 2021 and organized trainings for our employees in order to raise awareness about sustainable development and to encourage eco-friendly behavior in the company," Elene Margishvili, Head of Integrated Marketing Communications at IRAO, tells GEORGIA TODAY. "These trainings were very successful and encouraged us to proceed with bigger steps and to join this program. Each employee in our company tries to reduce waste and to recycle, but still greater actions are needed to make the world a better place. The majority of waste in our office and in society is made up of plastic bottles, plastic bags and plastic disposable tableware. We believe that if we take a deeper look at how it affects nature, then our habits will change into more eco-friendly habits.
We believe that sustainable change comes with approaches that change policies
"IRAO has shown tremendous dedication in taking a strong stand on environmental and social issues. IRAO has now established a series of activities internally that will ensure real tangible results and, more importantly, lasting results," CENN's Takvarelia noted.
So how does it work?
Following two months of research and analysis, CENN spent one month setting out a plan of action, during which it wrote Waste Management Audit and Green Procurement Guidelines for the IRAO Insurance Company.
This next week will see intensive awareness-raising among the people working in IRAO, from top management down, on the plastic waste impact on the environment and human health, and the alternatives to single-use plastic available to them. When asked by CENN, 46.6% of IRAO employees said that if multi-use equipment replaced single-use plastic in the office, they would "definitely use it," while 25.2% said they would "try to use it." In short, it clearly comes down to convenience – if it is there, it will be used, placing in-office responsibility squarely on the shoulders of the employer. Yet, with time, it is hoped that mentalities will change, the impact of such behaviour adjustments will be better recognized, and our planet will begin to reap the benefits of a cleaner and more environmentally-aware society.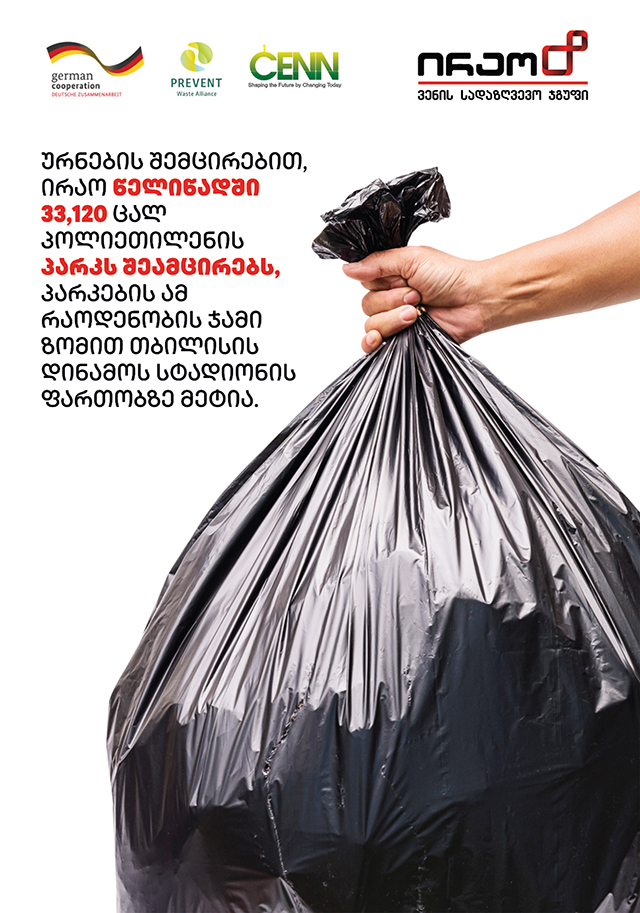 Each employee will be given their own personal reusable water bottles. The office has also reduced number of bins with plastic bags, which will lead to thousands less plastic bin bags being used within the company. The company will also install recycling bins in their offices whose contents will be collected by a recycling company.
"We expect to make a real change," Elene Margishvili tells us. "First, our employees' awareness will be much higher. We have already started the plastic bag minimization process in the office, which includes waste minimization. For instance, we swapped 150 small bins for eight 8 bigger bins in the office, which is equal to reducing annual plastic bag usage from 36,000 to 3840. This is a very important step. Waste reduction in offices is a strategy undertaken by many international companies, and IRAO, as a member of the Vienna Insurance Group, is very proud to be applying this concept here in Tbilisi. We hope that other companies will also join this initiative and step up for a green environment- we're always happy to share our experience and successes, having stepped up ourselves!"
By Katie Ruth Davies