Georgia, because of its warm social, political, and economic ties with key geopolitical players, has become ripe for investment and development programs. This drew Asian Infrastructure Investment Bank (AIIB) Vice President Konstantin Limitovskiy to visit Tbilisi for a series of high-level meetings. His visit underscores the growing collaboration between Georgia and AIIB, a multilateral development bank (MDB) and a development partner of Georgia.
Also during that week, Georgian Prime Minister Irakli Garibashvili visited China. On July 30, the Prime Minister, along with Vice Prime Minister and Minister of Economy and Sustainable Development Levan Davitashvili and Minister of Foreign Affairs Ilia Darchiashvili had a successful meeting with AIIB President Jin Liqun in Beijing on deepening the Bank's partnership with Georgia.
Against this background, AIIB VP Konstantin Limitovsky sat down with GEORGIA TODAY to discuss AIIB, its mission, and the importance of Georgia and the region in the Bank's forward-looking plans.
AIIB is the youngest MDB. Could you briefly describe the Bank?
AIIB is a multilateral development bank that was formally established in late 2015 and opened for business in early 2016 through a consensus of countries across all continents. The Bank is headquartered in Beijing. Therefore, we are still relatively young as an international financial organization. To date, AIIB counts over 100 member countries including Georgia and Azerbaijan, both of which were founding members of our Bank.
Our core mission is focused on developing Infrastructure for Tomorrow (i4t)
Our core mission is focused on developing Infrastructure for Tomorrow (i4t), combining the Bank's firm commitment to sustainability with a clear operational focus on Green Infrastructure, Connectivity and Regional Cooperation, Technology-Enabled Infrastructure and Private Capital Mobilization. As an Asian development institution, we promote the development of the Asian continent at large, as well as interregional relations between Asia and our members in Central Asia and the Caucasus, South America, Africa and the Middle East.
What kind of infrastructure projects do you support?
Our mission of financing i4t means we focus on projects that will contribute to the sustainable development of our Members over the next decades. Within the Bank, we have four priorities. The first one is green infrastructure, such as renewable energy, clean transport and climate change mitigation and adaptation. We have ambitious targets; we aim to have at least half of our investments under climate finance by 2025. Second, we promote cross-border connectivity, building infrastructure that enhances logistics and trade. Third, we are closely looking at technology-enabled infrastructure. By this we mean improving digital connectivity and closing the digital divide between countries—particularly in Asia where there are significant differences in digitalization. For instance, AIIB co-financed a satellite launch that took place on June 19, 2023 in Indonesia.
Finally, we are very keen to encourage private sector co-financing in our projects. We aim to have, by 2030, at least 50 percent of the mobilized investments for our projects to be from private sector capital.
We support business through credit mechanisms including partial credit guarantees, partnerships with banks, on-lending bonds such as Panda bonds, USD/EU bonds and CHF bonds. In Georgia, we provided a credit line for $100 million to TBC Bank to provide liquidity as part of our COVID-19 Crisis Recovery Facility, a facility designed to help members respond to the pandemic.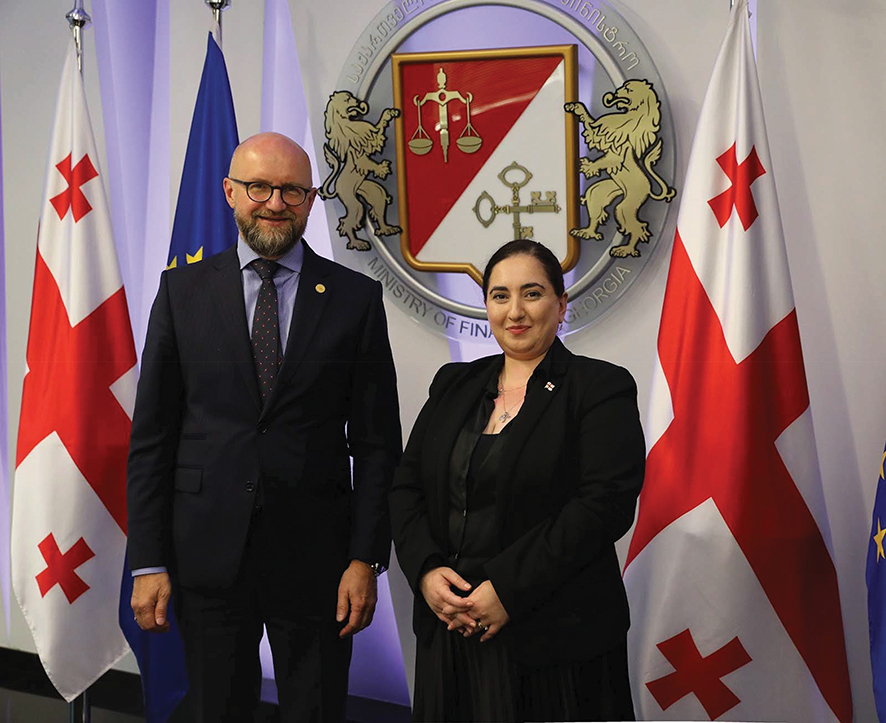 Why does the bank focus on infrastructure as the main development tool?
The development of strong, sustainable and resilient infrastructure is fundamental in how countries can both develop internally and interact with their neighbors and trade partners. It improves the living standards of people and contributes toward solving global problems such as climate change.
As an MDB, we see ourselves playing two major roles:
The first is to stay focused on our vision and mandate of financing i4t to build resilient infrastructure so our Members can better withstand future crises and achieve sustainable development, including their net zero transitions, and The second is to provide countercyclical financing to support our Members through a difficult and unpredictable macroeconomic environment, consistent with AIIB's mandate.
We are very keen to encourage private sector co-financing in our projects
We can see many examples of where our financing has generated impact across Asia and beyond, where well-planned infrastructure investment has significantly contributed to growth in recent years (such as in India, Türkiye, China, Bangladesh and Indonesia).
What is the significance of the Caucasus region for the bank?
With its unique position at the crossroads of Europe and Asia, well-planned strategic infrastructure investment can transform cross-border connectivity. This in turn will help strengthen the ties between neighboring countries, facilitating the movement of goods, services and people, and thus promoting economic integration.
Moreover, the Caucasus region presents a compelling opportunity for the development of digital infrastructure. As the world becomes increasingly reliant on technology, investing in digital connectivity and modernizing communication networks can unlock new avenues for economic growth, trade and innovation. By bolstering digital infrastructure in the Caucasus, AIIB can help foster a more digitally connected region and enable the efficient exchange of information and services.
Overall, the Caucasus region's strategic location—combined with the potential for cross-border connectivity, digital infrastructure development and green initiatives—presents a compelling case for our future involvement in the region.
We assume you have had quite a busy schedule, meeting with government officials during your visit to our country. Please tell us more about those meetings.
I have had a series of very productive meetings in Georgia. I was pleased to meet with the First Deputy Minister of Finance, Mr. Giorgi Kakauridze, and Ms. Ekaterine Guntsadze, Deputy Minister, along with the Minister of Economy and Sustainable Development, Mr. Levan Davitashvili. During our discussions, we explored various opportunities for further financial cooperation and investments, particularly in green infrastructure initiatives that aim to drive Georgia's sustainable economic development and prosperity.
The Caucasus region presents a compelling opportunity for the development of digital infrastructure
I am particularly impressed with the Georgian government's engagement in initiatives to enhance regional infrastructure. Our meetings with the Deputy Minister of Regional Development and Infrastructure, Ms. Mzia Giorgobiani, and Ms. Salome Tsurtsumia, Deputy Head of the Roads Department, were also very productive. We delved into projects that focus on improving transportation infrastructure like roads, ports and railways, with a mutual vision of enhancing the resilience of the country and promoting sustainable economic growth across Georgia.
I am delighted with the country's commitment and dedication to promoting economic development and I look forward to expanding and deepening our partnership. Our collaboration will undoubtedly continue to yield positive outcomes for the nation and its people.
Are there any existing projects or collaborations between AIIB and Georgia?
Yes. So far, we have five approved projects in Georgia totalling approximately $400 million. A key project is the financing of the Batumi Bypass Road. The project will construct a new 14 km long highway around the Batumi port city, which—given the mountainous terrain—presents multiple complexities. It will include the construction of five tunnels and 19 bridges and four grade separated interchanges. This project will have a dramatic impact not only on logistics, but on limiting the impact of traffic on mountainous communities.
We also approved three projects in Georgia that help mitigate the COVID-19 crisis. The first two are the Emergency COVID-19 Response Project and Management and Competitiveness program, which aims to strengthen Georgia's public health preparedness and mitigate other impacts of the pandemic. In the third project, we worked with TBC Bank to provide liquidity to TBC and assist COVID-19 affected SMEs in Georgia. Also very recently, AIIB approved the Georgia Capital Sustainability Linked Financing Facility. This marks the AIIB's first bond investment into the local capital market and will support a successful placement of the bond that contributes to climate mitigation and encourages participation of institutional and retail investors in the local capital market.
On my visit I have been pleased to see the impact of our investment, showcased in the country's strong recovery from the pandemic. I am also delighted to see the development of the country's digital infrastructure, both in the banking sector and in various areas of government. I think there are multiple areas in which we can further cooperate and strengthen and deepen our partnership.
What does the further future of your plans in the region look like?
I think for such a young institution as AIIB, we are highly engaged and actively involved in the region. In Caucasus, we plan to expand significantly in the coming years, driven by ambitious plans for sustainable economic development in these countries and a strong partnership with the Bank.
We are guided by our members in identifying projects that meet a country's most pressing needs. In the mid-term, we anticipate a significant increase in energy demand and countries' commitment to transition toward a low-carbon economy, which is likely to require a substantial increase in investments particularly in renewable energy development and green infrastructure.
Furthermore, we will continue to encompass a strategic focus on sustainable economic development, digital infrastructure improvement and promoting cross-border connectivity. We look forward to working closely with regional governments, private sector players, and other stakeholders in developing projects that will support the region's journey toward a more prosperous, inclusive and sustainable future.
Interview by Michael Godwin