Well, I don't have that bucket list anywhere except in my head: the list from the film of the same name, of things one wants to do before "kicking the bucket" or dying. So my list gets things added to it, and then crossed off, sometimes while they're happening. Such was the case a few days ago.
We were hosting three couples from Korea, and they requested to be driven to Ushguli and guided to the glacier at the base of Mt. Shkhara, Georgia's highest mountain. We set up the driver and I offered to be the guide, having walked towards the mountain several times but never having reached it yet.
We set off at 8:30 am, with only three short photo stops on the way, as Shkhara's competitor for awesomeness, Ushba, was making spectacular appearances in the clear hot summer weather. (When your guide is a photographer who knows the region, you will get some great locations.) Then our driver dropped us off above Lamaria Monastery at the top of Ushguli, and we set off, skin covered or otherwise protected against the sun in the thinner atmosphere of over 2000 m.
The bad road towards Shkhara has been vastly improved since I drove it last year, losing my front license plate in the bumpy process. Much smoother this time, but we were on foot… along with between 50 and 100 other like-minded tourists from all over the world going to and from, fortunately well spread out so there was no crowding. My guests ranged in age from late 40s to early 60s, but they were in pretty good shape considering, as was I.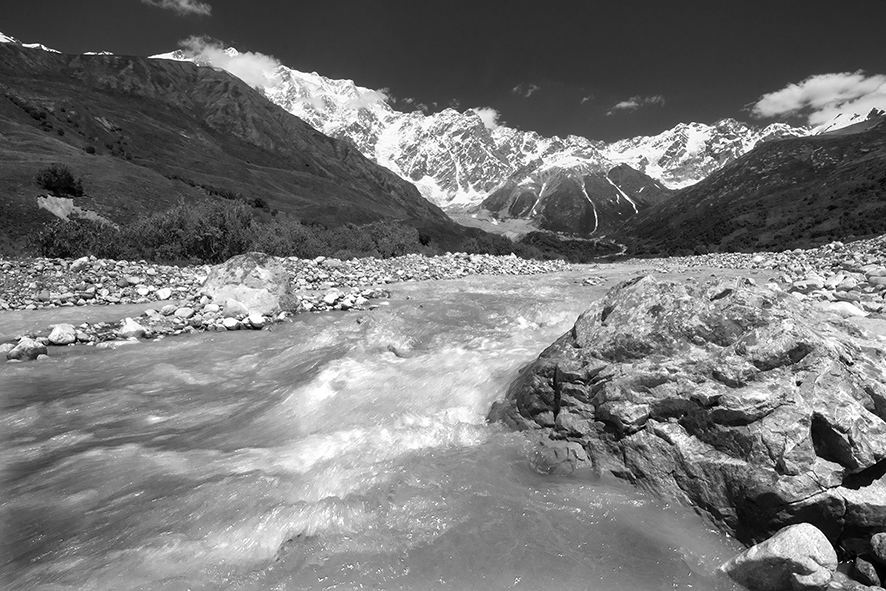 It was a hot, cloudlessly sunny day, with the mountain was perfectly visible the whole time. While Shkhara is not, in my opinion, as dramatic as pointed-peaked Ushba, nor apparently nearly as hard to climb, its long form spread out above Ushguli is still a dramatic sight, and it does have that undeniable "highest in country" status which ensures its popularity. I had warned my guests, though, that it's much further away than it seems from the top of the village, its height and the clear mountain air making you can think you can almost reach out and touch it. Sorry, no. The first signpost told us we had 8 km to go.
I do have some iconic shots of Shkhara from my two winters living in Ushguli, starting in 2007. They include sunset turning it pink and orange; sunrise giving its own colors; and even moonlight. For these, my equipment and I had to cope with temperatures down to -20 C. But these were all taken from within the village, and today was my first time to expect to reach the mountain's foot, a totally different experience and perspective.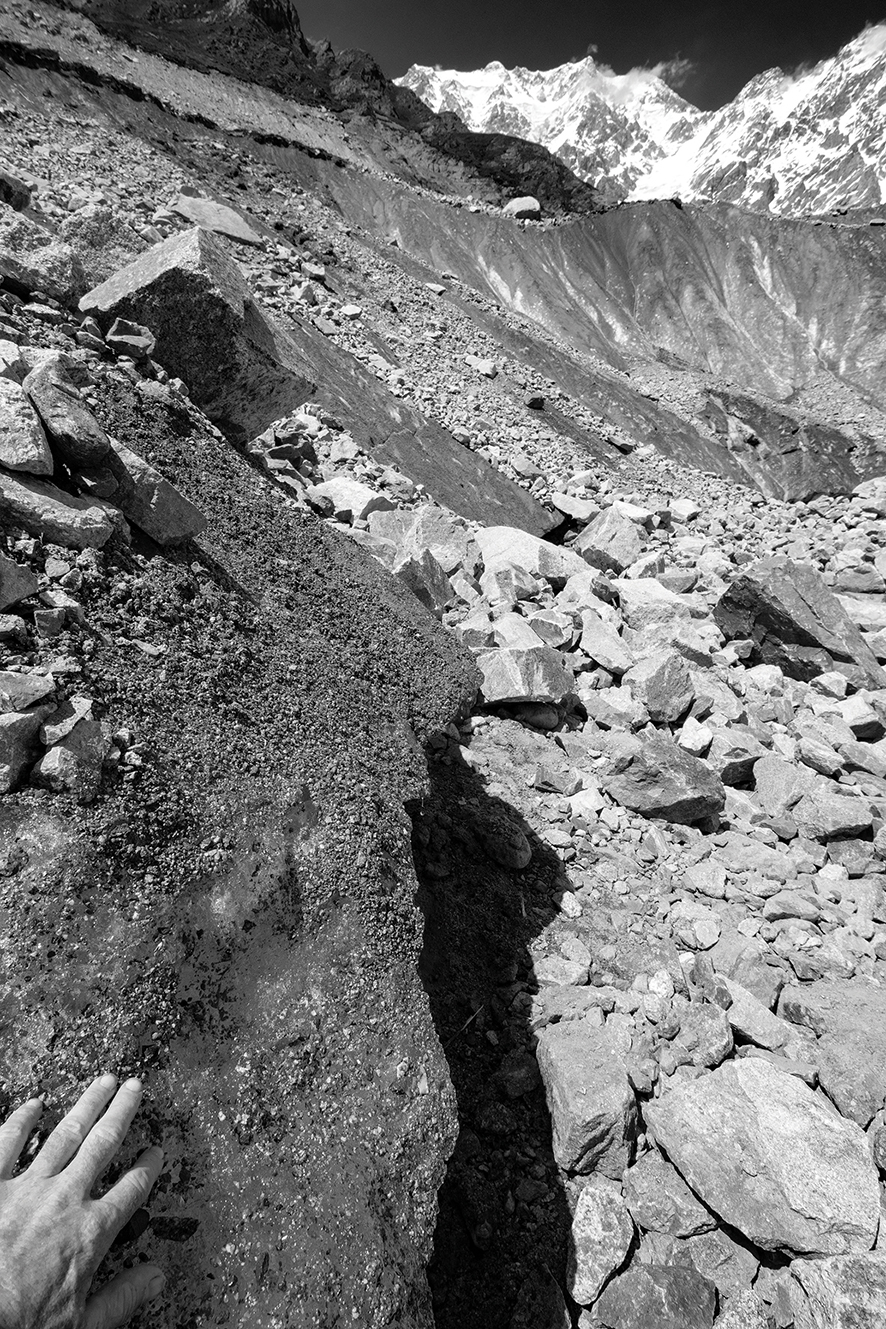 We reached the perfectly located Cafe Shkhara Glacier as the vehicle road petered out to a single-file foot track. This is the place to get rehydrated with water or other cold drinks, use a bathroom, have something to eat and just rest before the last few km to reach the mountain. It has electricity only by generator, and the fuel for this, as well as all the food items and ingredients, have to be brought in all the way from Mestia, now more than 80 km away. Thus the prices. Cellphone contact is gone too, to return closer to Ushguli. But its location is just right. They are also building a small hotel complex in this unique place.
Moving on, I had to exchange my longer lens for a medium-wide one and eventually for the super-wide as the mountain loomed closer, step by step. Only three of my party of seven made it to the end, as the altitude and heat wore the others down. But finally we were there.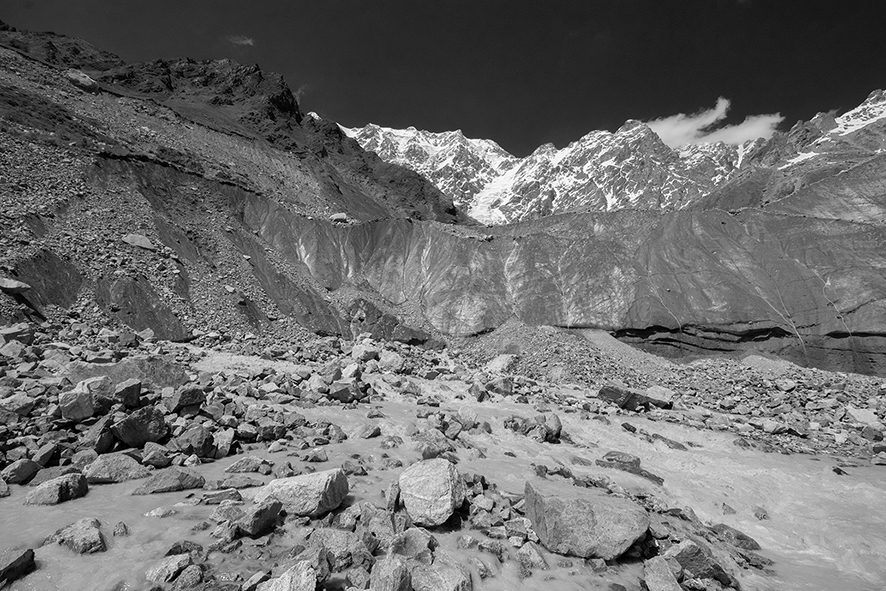 A huge wall of ice, dirtied by sand and stones, is what you find, with Shkhara towering over it in the background. The wall has more than 20 little streams pouring down it as it constantly melts, and several roaring torrents too, which are exactly where the Enguri River begins. It replenishes itself every winter with new snowfall and ice compaction, and we hope that given current climatic conditions, this will not stop; because if it does, so, ultimately, will the Enguri itself. I touched the ice; put my shoes in the freezing flow; filmed myself taking two small stones from it, one for a friend who collects rocks. We celebrated our arrival, rested up a bit, then began the 8 km return hike, which is fortunately a gentle downhill. Bucket list: check!
BLOG by Tony Hanmer
Tony Hanmer has lived in Georgia since 1999, in Svaneti since 2007, and been a weekly writer and photographer for GT since early 2011. He runs the "Svaneti Renaissance" Facebook group, now with over 2000 members, at www.facebook.com/groups/SvanetiRenaissance/
He and his wife also run their own guest house in Etseri: www.facebook.com/hanmer.house.svaneti