This year, Carrefour, owned and operated by Majid Al Futtaim in Georgia, celebrates 10 years of operating within, serving and championing Georgian communities. Since launching in 2012, one of the largest hypermarket and supermarket chains has delivered value through every experience to elevate retail across the country.
Undoubtedly, it is quite a feat to successfully meet the demands of the present whilst continuing to anticipate future trends over the course of a decade. However, on the 10th anniversary of Carrefour's operations in Georgia, we can proudly say that we have done just that.
Carrefour has celebrated many milestones over the past 10 years, including:
Contributing to the employment of locals countrywide
When entering a local market, one goes through a "start-up mode," discovering a country and its culture and adapting to that. What we have discovered in Georgia is an incredible talent pool. Despite being an international brand, 99.5% of our 3000 employees in the country are Georgian, with the majority being women.
Throughout our tenure in Georgia, we have found and trained local talent to help upskill Carrefour's colleagues. We even have a Retail Business School for Georgian managers, and are proud of the progress and growth they have achieved.
Supporting the employment of locals countrywide, we encourage people to consider a career with us. We've had many examples of employees starting at cashier or stocker positions, climbing up the ladder to high-ranking managers in our network.
Today, Carrefour operates 5 hypermarkets, 13 supermarkets, and more than 50 convenience stores in Georgia
We have technical jobs in the digital sphere, as well as in the fields of logistics, finance, marketing and more. Along with supporting Carrefour colleagues, we do everything in our power to create new and exciting experiences that customers will love.
Strengthening local farmers and suppliers
To continue to strengthen the Georgian economy as a whole, our brand actively supports local farmers to shed light on their products. Since entering the Georgian market, Carrefour has worked with more than 800 suppliers, contributing to the local economy as well as the development of agriculture. Many local farmers and suppliers grew and gained experience along with us, which makes us happy and proud.
We're now working more and more with local farmers to bring high quality and affordable products to Georgians, which is one of our key priorities. This helps strengthen our supply chain, bolstering the national food chain as well as the local economy.
Introducing local private label made in Georgia: 'My Choice'
A year ago, we also introduced a local private label made in Georgia called "My Choice," offering the best value among its categories. This affords yet another opportunity for Georgian manufacturers to be present in our stores, so that we can sell their products at the most affordable price to customers.
Our loyalty programme, MyCLUB
Carrefour's loyalty programme, MyCLUB, is yet another important achievement of ours, allowing customers to earn and accumulate points while shopping.
Collect more, save more! – This is the main motto of MyCLUB, which was launched in Georgia on Carrefour's 7th anniversary. Carrefour decided to reward its loyal customers by offering them the opportunity to earn and redeem points and discover the best offers and exclusive rewards.
MAF Carrefour — Carrefour's delivery service app
We try to make shopping more rewarding and accordingly offer a variety of alternatives for customers. Importantly, this year, we introduced a new application: our own delivery service.
Accelerating Georgia's e-commerce industry, MAF Carrefour, Carrefour's delivery service app, offers customers the option to shop online with ease and get 5000+ products delivered at home or your desired location. The app provides shoppers access to a convenient service.
The combined app and delivery service, MAF Carrefour, is a digitised solution that allows consumers to shop from the comfort of their own homes or whilst on the move. One of the significant benefits is that loyal customers can use the brand's loyalty programme MyCLUB in this new app. Our rewards program gives more tailored promotions to customers as well as the opportunity to spend and collect MyCLUB points, which can be redeemed against any product from our assortment.
Our activities are based on a common goal: to support and strengthen the communities we serve and to strengthen the country's economy and agricultural sector
What's more, we are expanding "Carrefour City," our convenience format, which offers an assortment of essential items, closer to people's homes and neighbourhoods.
Introducing a self-checkout system to ensure maximum safety
Saving the time and money of our customers has always been a priority for Carrefour. That's why we introduced self-service cash desks for much quicker, flexible, and safer shopping during the pandemic.
We plan to expand this service in more and more stores across Georgia to provide maximum comfort for customers and prevent long lines.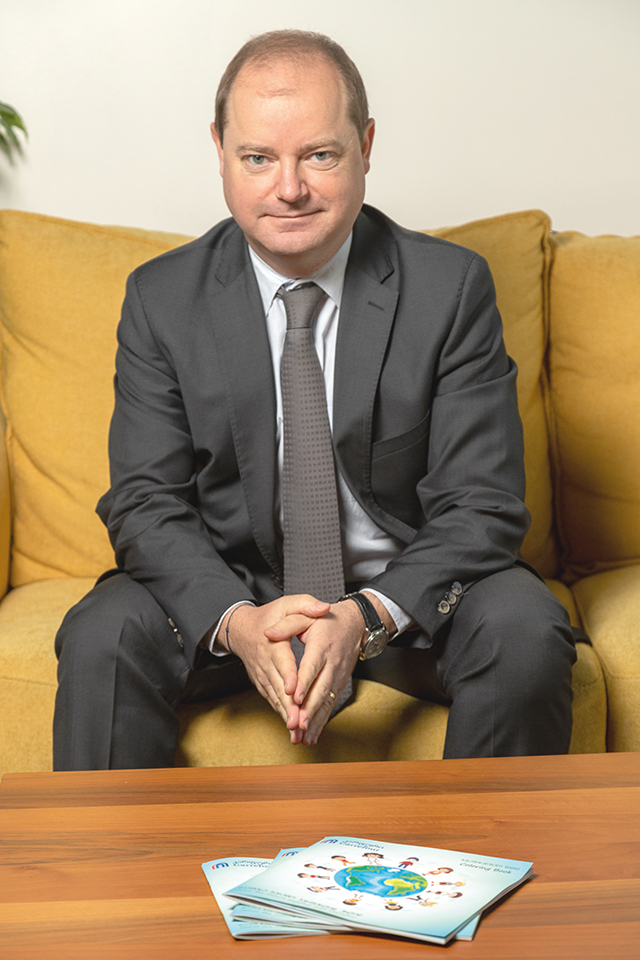 Rapid physical and digital expansion
We are rapidly expanding both physically and digitally. Today, Carrefour operates 5 hypermarkets, 13 supermarkets, and more than 50 convenience stores in Georgia. The strategic plan is heading in multiple directions to meet the needs of all our stakeholders.
Firstly, we will continue to expand into regions to continue serving our communities as best we can. Soon, a large new hypermarket will open in Gori and we plan to open a small hypermarket in Zugdidi. We continue our expansion in various regions and increase employment prospects, which is of utmost importance for local talent.
CSR Projects – helping those in need
Over the years, our team has carried out a number of community engagement projects, giving customers the chance to improve the lives and wellbeing of the vulnerable groups living in Georgia.
Carrefour has partnered with organizations such as the Ministry of Education, Ministry of Environment protection and Agriculture, Tbilisi City Hall, the Autism Research foundation, Red Cross Society in Georgia and Emmaus Georgia, different NGOs and Charity funds. We played a major role in helping people with disabilities, single mothers, socially vulnerable families, orphans, war veterans, children with serious illnesses, and the elderly. We try our best not to limit ourselves to one-time charitable projects, but instead we are focused on sustainable campaigns.
By initiating and actively participating in various events, Carrefour not only cares about raising awareness, but takes actual steps towards social integration of people with special needs, by employing them in the company.
Just recently, Carrefour became a member of Business Advisory Council initiated by UNICEF – an innovative platform aiming to support the realization of children's rights in the context of the workplace, the labor market and the community. We believe that through joint efforts, we will make a significant contribution to the better future of children living in Georgia.
Caring for the environment: The brand's sustainability strategy
Carrefour is guided by its desire to operate in an environmentally and socially-responsible manner.
Carrefour Georgia was the first to introduce locally produced reusable bag – MADE IN GEORGIA. Later, it also launched reusable bags with wheels as part of its Honour Nature campaign, launched to educate Carrefour customers on the environmental harm of single-use plastic and the advantages of using reusable bags.
Since the launch, sales of Carrefour reusable bags have increased up to 120%. As an added incentive, Carrefour rewarded all customers who chose to use a reusable bag. During the campaign, over 1.5 million customers were offered rewards. The launch of these campaigns in Carrefour stores have since marked an 80% reduction in the use of single-use plastic.
Educating youth about the importance of environmental protection
We are actively working in a green direction to increase awareness about the importance of environmental protection, especially among younger generations.
For this reason, Carrefour released the first Georgian coloring book about the harmful effects of plastic on the environment. Brand representatives distributed these coloring books to school children and public-school students.
To conclude, we are proud that Carrefour has managed to bring its international shopping experience and modern retail, already tested in various countries, to Georgia. Since our establishment in the country, even our competitors have been trying to improve and develop based on our example. Healthy competition is good and helps us push harder. In the end, our activities are based on a common goal: to support and strengthen the communities we serve and also to strengthen the country's economy and agricultural sector.
Blog by Jerome Akel, Country Manager of Carrefour Georgia