The background: autumn is coming in Upper Svaneti, as the bushes and deciduous trees lose their chlorophyll and their leaves turn their actually natural reds and yellows. Covid is now, only now, raging through the village, along with the whole gamut of responses from conspiracy theories and fatal silliness to mask-wearing and isolation. School, here as everywhere, is online only, with groans all around and a new decision marked for October 4 if anything has changed by then. Elections loom, which also means that local infrastructure (gravel on the roads) is being improved in a hurry to make the Dreamers somehow look good.
The foreground: This is what 800 cement blocks look like, each weighing 13 kg, for a total of 10.4 tons. They came by dump-truck (itself weighing over 12 tons empty) from the factory just outside Becho, 10 km up the road from us, a leftover from the Saakashvili years of frenetic renovation in Svaneti. It can hardly keep up with the demand for blocks, such is the ongoing pace of house- and hotel-building in the Mestia region. Better a trip of 10 km to us than, say, 100 km from near Zugdidi! We did that once, when building the garage; the "blessed" truck arrived at 4 am, and Lali's father, brother-in-law and I had to unload 2000 of them at that ungodly hour.
This time we were dodging rainy weather and trying to coordinate block-making, transport and local help for unloading this new load. Finally, a dry enough window opened, and some phone calls began to set the thing in motion. Blocks ready, check. Transport confirmed, check. Blocks loaded and on the way to us, check. But we were running into problems with our pool of young men (most still in grade 10-12 of school) at our end, a crucial last step. And afternoon was turning into evening.
The 22-ton vehicle and cargo arrived and pulled into our yard from the barn-end gate, which I had newly remade since the last load (gravel) had been, delivered, and destroyed that old gate without anyone telling me; I was away at the time. They sort of propped it up and hoped silently that the cunning local bovines would not test its now-rickety mode, smelling our irresistible grass and barging silently though to wreak havoc. I got to it beforehand, though, replaced it, and we were once again safe from marauders.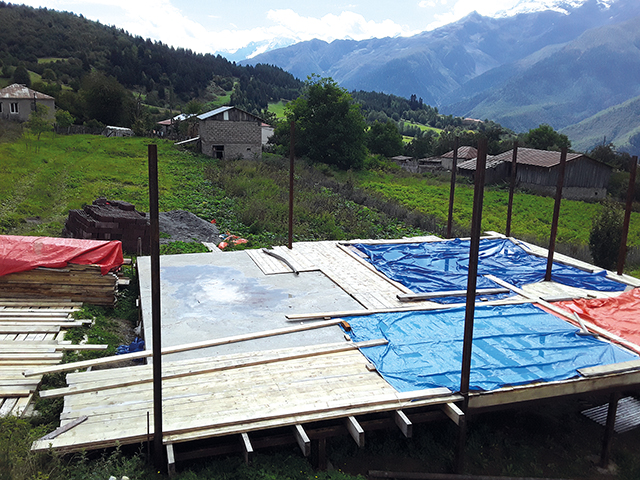 Two of our help showed up early, with a third joining them soon after the truck arrived. As the sun set, the nearly full moon rose, and by its sufficient light we began unloading at about 7:30 pm.
I realized after a few minutes that someone must get inside the box of the truck to move bricks to its edge for the three boys to take from there. This became my job. The driver, soon seeing that our efforts to summon even one more helper had failed, also pitched in next to me, a great help.
Two of the boys and the driver took a 13-kg block in each hand for the entire run; one younger boy and I took one each in both hands. My two-cow milking days are a few years behind me now, and all that strength I built up from fingertips to shoulders has returned to its norm from that zenith, sadly. But I did what I could. We stopped for a break of Coke, ice cream and a smoke for the driver at the halfway and ¾ points, but got it done in about two hours.
Apparently, the blocks will actually be made harder if some rain douses them, otherwise we would have covered them with a tarp from the shop. The last, similar size load comes in a few more days and, as I write this the next day, I can honestly say that my upper body isn't as sore as I had feared it would be. I can DO this, not alone, but at least as one of the crew. Better by sunlight than moonlight, true, but at least the weather's cool enough to not make us break into a melting sweat.
Then the workers will return from near Zugdidi to block in the kitchen and bathrooms of our new café (which is what all this effort is for) and get the roof on before winter comes. Enough for this autumn's building season!
BLOG by Tony Hanmer
Tony Hanmer has lived in Georgia since 1999, in Svaneti since 2007, and been a weekly writer and photographer for GT since early 2011. He runs the "Svaneti Renaissance" Facebook group, now with nearly 2000 members, at www.facebook.com/groups/SvanetiRenaissance/
He and his wife also run their own guest house in Etseri: www.facebook.com/hanmer.house.svaneti