The first round of Putin-Biden talks in Geneva has finished.
Second round talks will begin shortly and will include foreign ministers, security advisers and others, the BBC's Will Vernon reports.
"With deep disagreements likely and expectations of solving them low, US President Joe Biden and Russian President Vladimir Putin sat down in a lakeside Geneva villa on Wednesday for their first summit since Biden took office,' Reuters reported.
Tensions are high on a number of issues, from alleged Russian cyber-attacks to Russia's role in Ukraine.
The jailing of Kremlin critic Alexei Navalny is also likely to be among the key issues discussed at the meeting.
Dozens of activists rallied before a meeting between Putin and Biden in Geneva, demanding the release of Alexei Navalny and other political prisoners. Protesters carried Putin masks and banners reading "Release Political Prisoners," "Save Navalny." In addition, the AP says that before the summit, graffiti with the image of Navalny, with the inscription "Modern Day Hero" appeared in the city.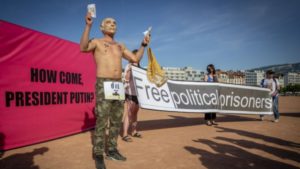 Putin has said US-Russian relations are at their "lowest point in recent years"
The two are scheduled to hold separate press conferences after the meeting.
By Ana Dumbadze
Sources: The BBC, Reuters, AP