One of my pleasures in traveling outside Georgia is the comparison between my long-adopted home and the new country, especially as I write for GT. Nepal is no exception.
Nutshell: An ancient landlocked country with eight of the world's highest mountains among its Himalayan peaks, the birthplace sometime around 500 BC of the Buddha, and the world's only Hindu monarchy from the 18th century until this status was changed to that of a secular republic in 2015. One of the world's poorest countries too, with a population of about 28 million. Never colonized.

My wife and I are here for just 6 days for a conference on humanitarian aid, flying through Dubai. We know that it's the monsoon season, so, completely the wrong time to see Everest, at 8848m the world's highest mountain, at all. There are just too many rainclouds intervening, and while the rain itself is not constant, the peaks are hidden almost the whole of this season. We will have to buy the photographs of others, and save our own views for later. It's the 43rd country for both of us.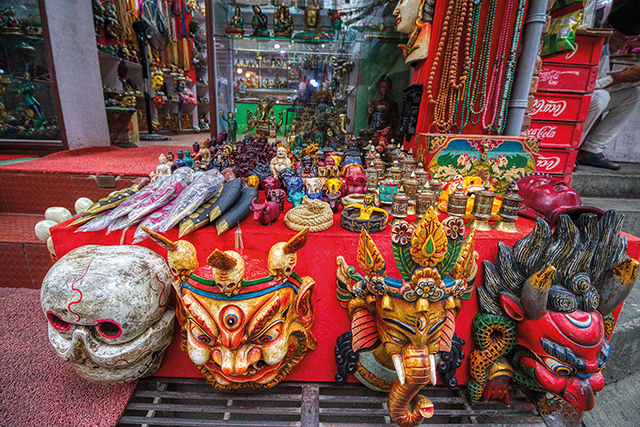 We must content ourselves, in the free hours on certain days, to exit our Radisson Hotel splendor and walk around the capital city of Kathmandu. The gorgeous textiles in silk and cashmere… sculptures, some demonically scary but many simply fascinating… Hindu temples everywhere… people in national dress of both their own country and neighboring Tibet… the alphabet… architecture in wood and brick… insanely busy streets half-dominated by motorcycles or scooters, but never a crash seen. Overwhelmingly beautiful and also sometimes desperately squalid side by side.

Learning to press our palms together as in prayer and greet people with "Namastè", which I like a lot. Loving the local food, heavily influenced by gigantic neighbors India and China. Learning that there are 123 native languages here…all either Indo-European or Sino-Tibetan. Trying to cope with the idea that flags fluttering, or vertical wheels turning, in the wind, carry prayers to heaven, whether anyone is actually there and offering them or not. Many, many gods just in Hinduism; then add the systems of monotheistic Islam and non-deistic Buddhism. There is a small Christian presence here, too.

The mountains must be glorious, although very forbidding, when they appear. Many of the best views of Everest, for example, are to be found from altitudes higher than the top peaks of the Caucasus, which you must first reach to even get those views. Trips by helicopter or plane, in the right season, offer another, much faster and less strenuous but more costly way into the skies. Even these possibilities, if available now, would be a waste of money given the clouds, and likely much more risky for the same reason. Another time, when the visit dates are up to us.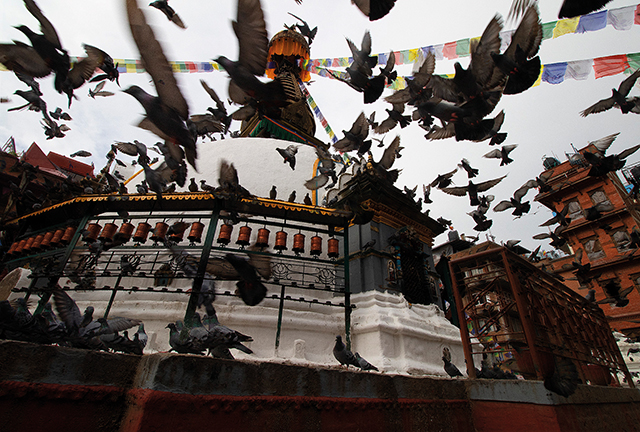 It's good for a first taste, but I'm well aware that we are just scratching the surface of a small part of even this city, and leaving the rest entirely unscathed for the future. Better than not coming at all, and enough to whet our appetites to indeed return. We feel most privileged to have had these days here at all. Covid realities at the moment required a full vaccination/booster certificate, and masking at all times on the planes; so, certainly easier than the period in which we simply stayed in Georgia. This is our first trip abroad in nearly three years. We both got visas on arrival at the airport, with no invitation letter needed, costing $30 each. Easy.

Thank you, Nepal, for the introduction, and may our friendship only increase and deepen in the not too distant future! You have so much more to show us, of this I am sure.
BLOG by Tony Hanmer
Tony Hanmer has lived in Georgia since 1999, in Svaneti since 2007, and been a weekly writer and photographer for GT since early 2011. He runs the "Svaneti Renaissance" Facebook group, now with nearly 2000 members, at www.facebook.com/groups/SvanetiRenaissance/
He and his wife also run their own guest house in Etseri: www.facebook.com/hanmer.house.svaneti