The Swiss Agency for Development and Cooperation, the Austrian Development Cooperation and UNDP in March wrapped up a robust program being carried out in Georgia's regions.
Four regions, 23 municipalities and over 14,000 direct beneficiaries are the key numbers for the $5.5 million initiative advancing sustainable and inclusive local economic development in Georgia.
The 'Fostering Regional and Local Development' (FRLD) program was implemented over the last four years (2018-2021) by the United Nations Development Program (UNDP), with funds from the governments of Switzerland and Austria, in partnership with Georgia's Ministry of Regional Development and Infrastructure.
Some of the program highlights include:
• Twenty municipal initiatives supporting tourism, trade, infrastructure, entrepreneurship and public-private partnerships were implemented through the direct US$501,330 assistance provided to local self-government.
• 50 local initiatives, benefitting over 400 small enterprises and 8,150 people, were rolled out by civil society organizations and local businesses with $711,500 support,
• In partnership with the European Union, the program contributed to establishing community centers in Chrebalo (Racha) and Kachagani (Kvemo Kartli), ensuring easy access to over 200 public and private services for local communities.
• A three-year public information campaign 'Engage and Rule' reached out to municipalities across Georgia, informing people on how to engage in local governance and what tools and mechanisms are available for citizens to influence local decisions.
• To spur the engagement of communities in the local development and decision-making process, the program helped establish SMS platforms in four mountainous municipalities in the Racha-Lechkhumi-Kvemo Svaneti region.
The program played a crucial role in promoting decentralization and policies supporting inclusive growth in Georgia's regions
• Amid the pandemic lockdowns, when municipalities struggled to overcome the economic and social consequences of the crisis, UNDP, Switzerland and Austria provided targeted assistance to the local civil servants and vulnerable social groups – rural women and girls, people with disabilities, IDPs, ethnic and religious minority groups and residents of the remote mountainous regions.
• On the policy level, the program contributed to adopting two key national strategies – Georgia's first-ever Decentralization Strategy and the Strategy for Development of High Mountainous Settlements.
• The program also contributed to adopting the Public-Private Partnership Law and increasing access to funding and investments at the local level by enabling direct funding to municipalities.
• Over 170 legislative amendments were adopted to harmonize the legislation with the Local Self-Government Code, supporting the decentralization of governance and the delegation of some competencies to the local level.
• A methodology for designing Municipal Development Documents with a special focus on local economic development and gender was developed in partnership with the Government of Denmark. The document has been already approved by the Georgian Government and introduced to 37 municipalities.
• Eleven municipalities created bespoke investment profiles and three municipalities developed spatial planning documents, aiming to diversify their local economies and attract targeted investments.
• A performance management system and a corresponding e-platform were developed for two municipal services – waste management and public area cleaning.
• The program helped develop 10 learning modules on local economic development that were delivered to 306 public servants.
• 23 municipalities received electronic equipment (laptops, portable scanners and multi-function printers) needed for effective delivery of electronic public and private services.
On 24-25 March, UNDP Resident Representative in Georgia Nick Beresford and Deputy Minister of Regional Development and Infrastructure Mzia Giorgobiani travelled to Guria, and the Samegrelo-Zemo Svaneti and Racha-Lechkhumi-Kvemo Svaneti regions, to discuss the tangible results of this support with representatives of the regional and local authorities, civil society, the private sector and communities.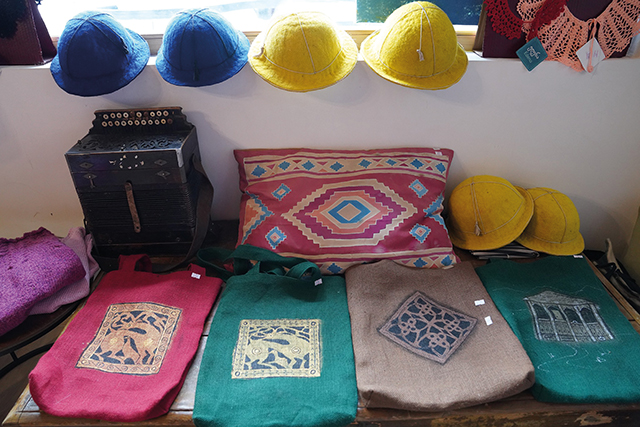 "The program played a crucial role in promoting decentralization and policies supporting inclusive growth in Georgia's regions," Beresford noted. "It has spurred legislative and policy changes, such as a special government decree that enabled municipalities to receive direct funding from international donors, which considerably contributed to increasing local financial resources. It established innovative partnerships and helped create business-friendly environments and much-needed employment opportunities, bringing direct benefit to over 14,000 citizens."
"Through this assistance, we promoted effective managerial performance at the local level, improved public service delivery, introduced innovative solutions to local challenges, and fostered important partnerships with private and public institutions," Deputy Minister Giorgobiani said "These are all critically important assets on which we will build further the process of Georgia's sustainable and balanced territorial development."
"Local development is at the heart of Switzerland's support to Georgia," said Danielle Meuwly, Regional Director of the Swiss Cooperation Office for the South Caucasus, Embassy of Switzerland. "Our long-standing support to Georgia's regions and cooperation with MRDI, UNDP and ADC, brought significant changes that strengthen the process of decentralization and respective policy-making, improved the quality and availability of local services and, most importantly, made positive changes in the livelihoods of local citizens in more than 20 municipalities of Georgia."
"This complex intervention introduced new models and solutions for local development in Georgia and successfully promoted the concept of decentralization among the wider public. Strong local self-government, engaged local community and sustainable local economy are key preconditions for building a democratic and resilient society, gaining even greater importance in these challenging times," said Alexander Karner, Head of the Coordination Office for Technical Cooperation of the Austrian Embassy in Tbilisi.
UNDP support for regional and local development in Georgia will continue through other initiatives focused on promoting sustainable and inclusive growth, democratic governance and social inclusion.