Zaza Purtseladze has been awarded an Honorary OBE from Her Majesty Queen Elizabeth II for services to UK-Georgian relations, especially for his services to UK Georgia cultural relations. He is the first ever Georgian recipient of the British honorary award OBE.
The award is in recognition for Zaza's tireless work in support of UK-Georgia cultural relations over many years.
Zaza is Director of the British Council in the South Caucasus and Georgia. He has been working for the British Council in various roles since 2001, before becoming the Country Director Georgia in 2011 and taking up the role of Director South Caucasus in 2018.
Since 2011, Zaza Purtseladzehas led on several change projects in the British Council Georgia and developed the major strategic partnerships between the key Georgian and UK stakeholders. In Autumn 2012 Zaza and his team Managed to open the British Council Teaching Center in Georgian. Under his leadership, the British Council Georgia team became the runner-up in the British Council's Entrepreneurial Public Service Award Competition in 2015. In the same year, Zaza received the British Council Global Leadership Award for his contribution to the development and enrichment of educational and cultural links between Georgia and the UK.
Speaking about the award, the British Ambassador to Georgia Mark Clayton said:
"I was overjoyed by the award of an Honorary OBE to Zaza – my heartfelt congratulations to him. This award has been made in recognition of the exceptional contribution he has made to the work of the British Council in Georgia, and for all his work to promote closer relations between Georgia and the UK in the fields of education and culture. Well done Zaza!"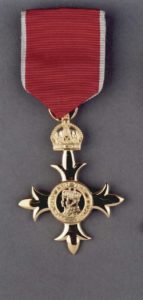 OBEs are awarded for having a major local role in any activity, including people whose work has made them known nationally in their chosen area.