Georgia's frigid winter comes alive during the holiday season with the arrival of Christmas. While much of the country observes the religious holiday in January, there are still festivities in December and into New Year's Day. In spite of the cold weather and snow, people celebrate in an almost nonstop parade of holiday cheer.
The Georgian Orthodox Church notes that the Christmas day is on January 7th, according to the Julian calendar. However, due to the immense influence from Western rite practitioners and the presence of an increasing number of tourists, December 25th is still seen as a day of celebration, feasting, and merriment. To the outsider, it can seem as if the Christmas season is extended from early December to mid January.
While this Western influence is highly visible, Georgians still celebrate the holidays in their own traditional way as well. This includes the unique Georgian tree, small parades, and the arrival of their own Father Christmas figure. For locals, these mainstays of the season often bring back childhood memories.
The Georgian Christmas tree is, unlike its Western counterpart, not an actual tree. Walking through almost any part of the country, particularly near the markets, one will find a merchant selling small wooden creations that resemble a tree, albeit with shaved wood. These 'Chichilaki' (ჩიჩილაკი) are made by shaving hazelnut or walnut branches into a tree shape. The long shavings of wood twilled around a main stick invites the common reference to the beard of Saint Basil.
While these are usually small in size, they can be much larger in some instances. Most often sold bare, they are adorned in a similar fashion as their Western versions, as well as with dried fruit and berries, candy, and homemade ornaments deposited in a small basket at the top. Interestingly, this tree is not packaged away at the end of the season, but rather burned as a way of leaving the past behind on January 19th, the day of the Georgian Orthodox Epiphany.
In small towns and communities, groups of people led by children can be seen parading around in unique costumes and eating sweets. These parades, known as 'Alilo', often involve children dressed in white and being treated to sweets and candies. Additionally, they sing songs, chant, and hand out candles while waving Georgian and Orthodox Church flags. Western visitors may see them vaguely similar to Christmas Carolers, though the Georgians bring more to the equation once again.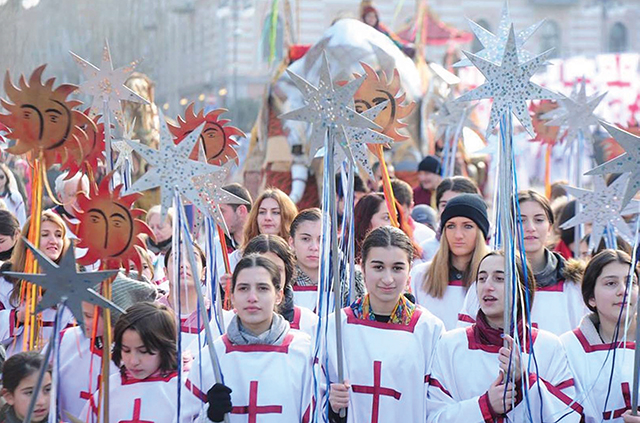 Georgia also has its own hefty patriarch to usher in the season of giving and merrymaking. Tovlis Papa (or Tovlis Babua in western Georgia) is a white-bearded counterpart to Santa Claus, with his name literally translating to "Grandfather snow." Like any proper Santa version, he delivers presents to Georgian children on New Year's Eve, clad in sheep's wool that is reportedly as white as the freshly fallen snow. His cape, known locally as a "nabadi," is notoriously white, while other nabadis worn in traditional Georgian attire are brown, black, or other dark colors.
Along with presents, Tovlis Papa hands out churchkhela. The hearty treat, known for its long shelf life, is a creation of wine juice, flour, and nuts in the shape similar to a sausage. After delivering his presents and sweets, he returns to the mountains he calls home and waits for the next Christmas season.
With so many delicious dishes, the center-piece for the Christmas and New Year's holiday is often a large turkey. The bird is often seen on the dinner tables of Westerners in more autumnal settings, particularly with the American and Canadian Thanksgiving celebrations. However, for Georgians, this makes its appearance in the end-of-year feast, usually in pieces in a walnut sauce, surrounded by other seasonal dishes such as the honey-nut "kozinaki," and the ubiquitous homemade wine.
For outsiders, Georgia offers a new holiday experience with connections to familiarity. With a mixture of Western and traditional Georgian motifs, the country still has a warm and inviting feeling in spite of the cold Caucasian winter. This holiday season, decorate your own chichilaki tree, enjoy churchkhela from Tovlis Papa, and settle in with the soft tones sung by children on their Alilo procession.
By Michael Godwin