I don't know how YOU get ready for the cold season, perhaps in your apartment or house in Tbilisi, or in a village house in the Georgian countryside. Up here, at 1600m altitude in the mountains of Svaneti, there are certain things one needs to achieve before the snow forecast becomes reality. It's been such a mild and non-white winter so far, but now we see about a week of the white stuff projected, and at least there was sufficient warning to prepare for it.
Get all the firewood under cover (if you were smart, you would have cut and split it long ago to dry for as long as possible, like last year). Until recently, "cover" meant "under a tarpaulin outside". Thankfully, those days are behind us. It's now stacked or sacked in the barn; stacked under the huge floorspace of our new café; or stacked in the basement of the house itself, with handy trapdoor access. This one thing has been the biggest and best change to regular winter life. No more digging for that tarp under feet of snow to get at the wood! Plus, it's all 1-2 years old, which means nice and dry: better for the health of the huge hand-built Svan stove which burns it, and without which we would suffer in winter. The chimney pipe has a magnetic thermometer on it, showing me the ideal temperature range to burn wood at for minimizing creosote buildup. Creosote is a fire hazard in the chimney, so avoid as much as possible.
The wood does include categories, but especially kindling, the smallest stuff, for starting the fire with, and cut lengths of thicker stuff to go on top of that. Plus, I use cardboard from our shop's boxes, and a splash of diesel to get it going with one match. Why struggle? We hardly use the stove outside winter, doing as much of our cooking as possible using electricity (free) or a gas bottle. But now we'll be running the stove a few hours a day at least, more if the power goes out, which it tends to do more in winter. So, wood and stove prep are vital.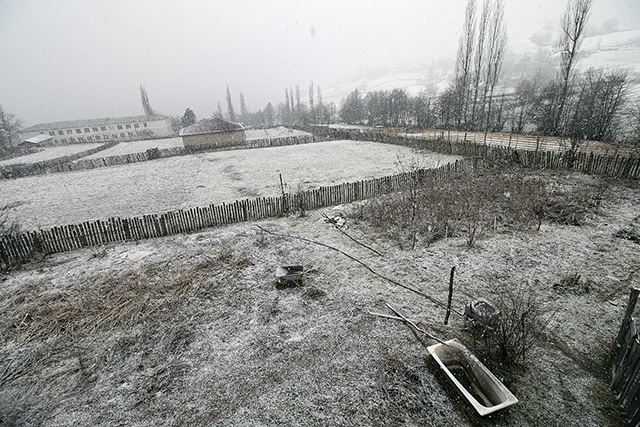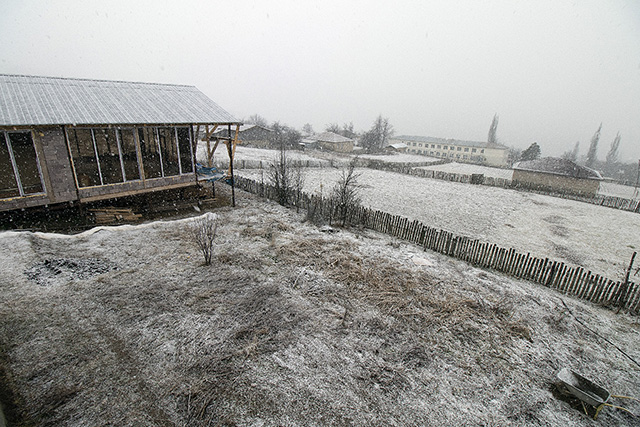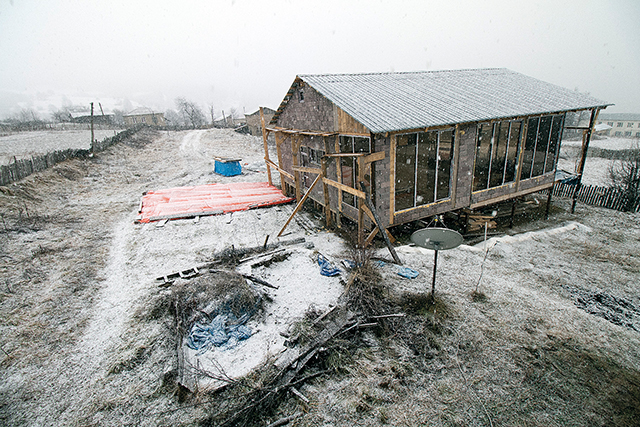 One more wintertime stove use step: install a roughly 3m wooden 2×2 rod upstairs in the deluxe bedroom. From its window you can use this to bang the stove's outside chimney, which is a pipe of thick steel. This is the easiest way to dislodge snow buildup covering the top of the pipe, which (as we learned very early) will otherwise simply smoke you out of the house when you start the fire! You can't wait for smoke under that cap to melt it: you have to get rid of it before you begin.
Keep a shovel indoors, because there might come enough snow in the night that you'll have to dig down to the top step to get out of the house!
Rearrange the garage's interior, which up until now has had bags of cement and stucco for café construction on its floor. It's time to move the car back in, so I don't have to sweep and scrape it off every time I want to use it.
Do a last big shop-restock run to Zugdidi before the big snow begins and before New Year's big demand, with nice clean roads to travel on. I still had a few nasty slips on a 1mm thick layer of black ice, but was ready for these and the car survived with no injuries. Where the combination of a close Enguri river and a sunless day happens, river fog builds up and freezes on the cold road, making life interesting.
Tighten the wood and wire fencing, especially where its posts into the ground are loose, so it can withstand snow's weight without falling over. Tools and supplies: extra posts, wire and slats, a solid steel hole-digging bar, locking pliers, and a sledgehammer. While you're at it, put away everything outdoors which shouldn't spend a few months under snow.
Dig up the soil around the temperate fruit seedlings, if you have any, and add a bit of old cow manure. This will help them along in spring.
Be ready to go around with a strong stick or something and bang on tree branches sometimes bent double with snow, to let them bounce back and not break under its weight.
Have winter clothes ready: more layers, winter boots, gloves, scarf, coat, &c. I live in at least 1 pair of long johns, if not two, and two pairs of socks, during this season. Might as well be comfortable.
Set up water to be running a bit outside, so it minimizes the chance of freezing, always a risk. One has to get used to the idea of the waste, and think that it'll all go either into the ground or eventually back into the Enguri. I've also added an electric heater outside at the point where the pipe enters the house, covered. This is a new experiment to see if we can have ONE winter without that point freezing, making life miserable for any and all within in the absence of indoor running water. Fingers crossed.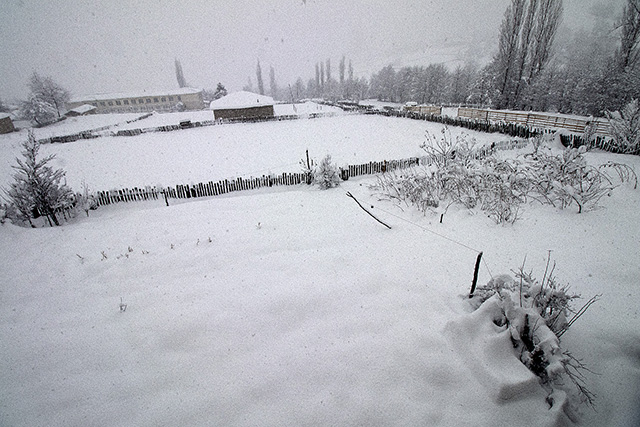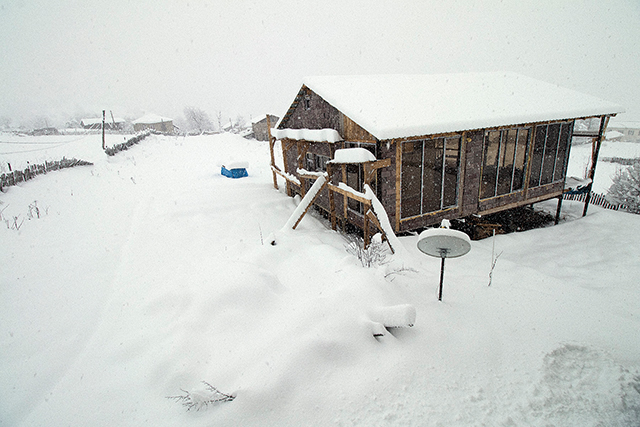 Stock up on both diesel (for wood stove fire starting) and gasoline (for running the 5kw generator if things get desperate blackout-wise). The generator isn't enough to run the whole house, but it will keep all the four fridges, two chest freezers and a laptop running, which are really the essentials. We have charging banks for phones and flashlights anyway, and keep all these topped up.
Dig out the tire chains and store them and a shovel in the back of the car, along with the all-weather set of: steep towing cable; massive but easy jack; car-battery-run air compressor for the tires; tire nut iron; and a few other things. I haven't actually needed the tire chains even once since putting on winter tires, as opposed to all-weather ones, a couple of years ago. But I feel much more at ease having them ready just in case.
Finally, keep new GT stories brewing both in my mind and a bit earlier than usual on my laptop, aiming to have something ready to send if the power's out soon before deadline!
So, the season does demand adjustments and readiness. Might as well do it and then relax a bit.
And…as always at the moment, in Georgia's current political season, #mishavs means: "It matters to me"!
BLOG by Tony Hanmer
APOLOGIES to our readers that we were unable to print Tony's blog in this week's GT newspaper. He will be back next issue!
Tony Hanmer has lived in Georgia since 1999, in Svaneti since 2007, and been a weekly writer and photographer for GT since early 2011. He runs the "Svaneti Renaissance" Facebook group, now with nearly 2000 members, at www.facebook.com/groups/SvanetiRenaissance/
He and his wife also run their own guest house in Etseri: www.facebook.com/hanmer.house.svaneti