The triumvirate of the South Caucasus has once again been shaken. While Georgia, Armenia, and Azerbaijan each possess their own distinct aspirations on the larger world stage, they are also intricately woven together by geopolitics. However, it seems Yerevan is being left out from the region's defense and security assurances, all while facing impending conflict with Baku.
In late April, Georgian Defense Minister Juansher Burchuladze and his Azerbaijani counterpart Colonel General Zakir Hasanov inked an agreement that sees the two nations deepening their military collaboration. According to the Ministry of Defense, the renewed agreement is aimed at strengthening strategic-level meetings, military education, additional training exercises, and an Azerbaijan-Turkey-Georgia "trilateral cooperation format". Burchuladze said the partnership "confirms the readiness to strengthen ties for the benefit of the countries and the region."
However, it is immediately clear who is left in the cold following this warming of Georgian-Azerbaijani relations. Armenia, left to its own devices, seems to be again discarded in favor of more lucrative friends. With its extensive energy production and links to NATO members Turkey, Azerbaijan simply has more to offer Georgia.
Yerevan has long toed a precarious line between Russia, who still maintains a significant permanent military presence in the country, and the West, to include Georgia. Backed into a corner after generations of conflict with its Turkic neighbors, it has grown wary of friendships. While the perceived weakening of Russia in the region due to its Ukrainian debacle has caused leadership in Yerevan to begin to look elsewhere, its immediate neighbors seem to have moved on.
Georgia, who has tirelessly worked to maintain a role of neutrality and even peacemaker between Azerbaijan and Armenia, has made more overt signals that its preference is with the inseparable duo Azerbaijan and Turkey. The reasons for this are simple.
Azerbaijan, with its vast oil and gas production, offers Georgia a way to not only diversify but also limit or even remove its dependence on Russian energy sources. The value of this cannot be understated, as Tbilisi could strike an immense blow to the Kremlin should it remove dependence on Russian imports virtually entirely. Additionally, this would certainly win Georgia the praise and adoration of its Western allies in light of increased calls for additional political and economic pressure on Moscow.
However, it's not all about energy. Azerbaijan and its big brother Turkey offer Georgia far more in potential investment. Both in part due to Baku's cash-printing energy industry and Turkey's considerable investment potential, Georgia stands to gain from the duo's deep pockets. Infrastructure projects, business investments, and commercial expansion have already whetted Tbilisi's appetite for further cooperation.
Then there is the defense and security aspect, highlighted by the recent agreement renewal. Azerbaijan and Turkey are significant players in the realm of military technology, research, and development, particularly in the latter's unmanned combat aerial vehicle (UCAV) programs. Turkey's famous, or infamous depending on one's position, Bayraktar line of UCAVs made short work of Armenian units during the 2020 Nagorno-Karabakh War, and continue to make waves in Ukraine, among other conflicts.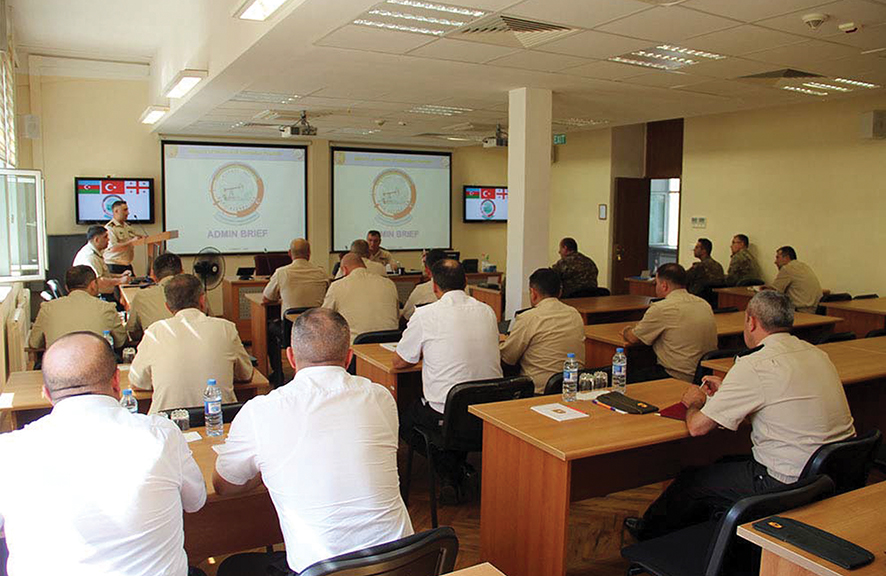 For Georgia, access to this cutting edge technology, as well as Turkish doctrine and military science, could elevate the nation's defense framework to new heights. With the ever present abusive ex-husband of Russia to the north, this benefit carries considerable weight for Tbilisi military planners. In addition, the potential of having the Kremlin think twice about further entanglements with Georgia due to the possibility of angering Ankara would pay dividends for national security.
But where does this leave Armenia? Despite a history of keeping Russia as its own big brother against the predations of Azerbaijan and Turkey, that sibling has been rather lackluster in its performance of the anticipated protective duties. Azerbaijan has crept into Nagorno-Karabakh, taking back territory Armenia claimed in the First Nagorno-Karabakh War during the 1990s.
While this has caused Yerevan to look elsewhere for military allies, it is surprising to see Georgia turn its back. Georgia, despite receiving immense economic benefits from its Azerbaijani connections, still receives almost $152 million in imports from its southern neighbor, according to the United Nations COMTRADE database. Tbilisi should not hesitate to use its close connection to Yerevan to play a larger role in regional peace and stability.
Leaving Armenia out of military cooperation projects outright is unlikely on the table for Georgia, but the cozying of relations with the Turkic brothers does not paint a hopeful picture. As Armenia searches for new friends, Georgia has an opportunity to extend its hand, and the proverbial olive branch, in brotherhood and be the 'cooler head' between Baku and Yerevan. As cross-border incidents between Armenian and Azerbaijani troops seem to be increasing in recent days, the time is riper than ever to embrace a realistic, actionable, and sustainable peace plan by way of Tbilisi's role of moderator.
By Michael Godwin