The world, and indeed Georgia, is slowly re-emerging from the latest lockdowns. While many companies, either due to personal choice or to ongoing travel restrictions, are still working, training and promoting themselves remotely, thoughts are turning once again to the ever-more effective face-to-face interaction.
Numerous hotels in Georgia offer the facilities needed to host those guests most important to the growth of your business, expansion of your ideas, or sharing of your company's experiences. And of the many, the hotels we've picked out below, in particular, can be trusted to uphold the latest hygiene and safety standards during your visit.
Hilton Batumi
At Hilton Batumi, there are various meeting spaces with different set up styles possible.
Hilton has developed a brilliant events program called EventReady™, a global meeting designed to create event experiences that are clean, flexible, safe and socially responsible.
Hilton EventReady with CleanStay provide curated solutions with creative food and beverage, thoughtful technology resources, elevated standards and practices, with redesigned spaces for physical distancing, and reimagined ways to meet and gather.
Hilton Batumi Meetings Simplified™ package is specially designed for meetings of up to 35 people. Book with their online express offer and get free cancellation up to 24 hours in advance.
The Hilton Batumi venues include:
• Extensive event space choices with natural daylight.
• Light-filled function suites and a pillar-free ballroom.
• Disinfection of conference spaces 30 minutes before the event.
• Signs to aid social distancing.
• Hand sanitizers in the hall and at the entrances to the conference spaces.
• Regular air ventilation of meeting spaces.
• Themed coffee breaks and individual menus for your attendees.
40 Rustaveli Avenue, Batumi
Email: Batumi.info@hilton.com
Tel: (+995) 422 22 22 99
The Silk Hospitality hotels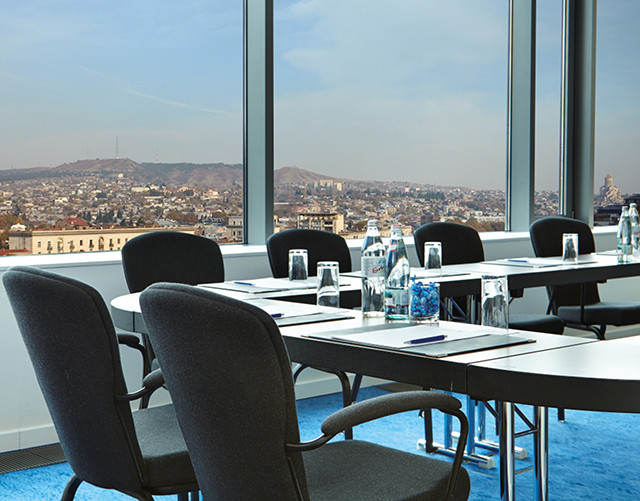 Silk Hospitality is a tourism and recreation company managing a variety of assets, ranging from upscale hotels to local restaurants, casinos, and other leisure facilities. Found at three key touristic destinations, Tbilisi, Batumi, and Tsinandali, each offers bespoke accommodation and entertainment for guests, in order to create a truly world-class experience.
In order to help stop the spread of the virus and keep people safe, the Silk Hospitality group has carefully reshaped its traditional offerings and fully adapted to the new reality, promising to host events in the safest way possible.
The team of Silk Hospitality is happy to get back on track by the reopening the meeting and event venues, according to the regulations. Meetings, conferences and events being a key driver of hotel revenue.
Radisson Blu Iveria Hotel Tbilisi, Radisson Blu Hotel Batumi, Radisson Collection Hotel Tsinandali Estate, Park Hotel Tsinandali Estate, and multi-functional space Republic have a new, in-depth cleanliness and disinfection protocol, created in partnership with the world's leading inspection, verification, testing and certification company SGS. The protocol is specially designed to ensure guests' safety and peace of mind during a visit to the venues.
"We will work in partnership with every client to meet the needs of each special event," the Group says. "The professional team at each venue aims to fulfil all possible requests and wishes, including special design and set-up of the zones, technical requirements for hybrid meetings as well as a selected menu of canapes and lunch breaks, that are vital for each event to be successful. According to the regulations, a limited amount of guests is allowed in one room. Yet, if you need more space for more people, we are happy to offer a simple solution- our spaces can facilitate the movement of people to different conference rooms, according to the regulations, and also offer guests the opportunity to take PCR tests. We are glad that we can be very flexible, when it comes to the satisfaction of our precious customers."
Silk Hospitality
Tel: (+995) 599 531 177
Being in line with Covid-19 regulations, the team of each Silk Hospitality property, with SGS, have implemented 10 special key standards, among them:
1. Ensuring the safe handling of personal belongings in designated areas.
2. Installed stations with alcohol-based hand sanitizer and gloves in hotel public areas and meeting and event spaces.
3. Increased the cleaning and disinfection frequency of all hotel areas, paying special attention to high-touch items.
4. Improved the air circulation processes to improve air quality.
5. Displayed door hangers with cleaning and disinfecting information in each meeting room.
6. Placed a "disinfect box" in meeting rooms for used stationary items to be disinfected after events.
7. Ensured physical distancing in meeting and event facilities.
8. Ensured the hotel event manager is available for contact directly through clients' own devices, to assist with requests during the event.
9. Adhered to strict safety procedures while serving all food and beverages.
10. Frequently cleaning and disinfecting coffee machines.
Republic Event Hall
Republic is a multi-functional space, located in the center of Tbilisi, that combines restaurants and a venue for events with an interior design by contemporary Georgian architects. Republic Event Hall covers 534 square meters, which is a valuable opportunity for holding miscellaneous events and conferences within the pandemic restrictions. On top, the natural ventilation system makes it appropriate to hold several meetings per day.
Republic Event Hall offers guests a spacious two-storey area. The ground floor is designated for guest reception, promo material allocation, photo-shooting, etc, while the main floor is designed for events/conferences and lunch or coffee breaks. A large projector screen (3/4) is installed in the main area; however, any additional technical supplies may be provided upon request.
6 Republic Square, Tbilisi
Tel: (+995) 599 425 555
Tsinandali Estate, Kakheti
The history of Tsinandali Estate, as one of the most important centers of cultural life in Georgia, extends more than two centuries into the past. In the time of Alexander Chavchavadze, it was a must destination for musicians, writers, poets and other prominent foreigners visiting Georgia, as well as for local public figures, and its cultural traditions are still upheld today. The place regularly hosts festivals, exhibitions, concerts, library events, fantastic weddings and has the opportunity to serve simultaneously more than 3000 people.
Tsinandali Estate offers 13 spaces for different events in both the Radisson Collection Tsinandali Estate & Park Hotel Tsinandali Estate Hotels.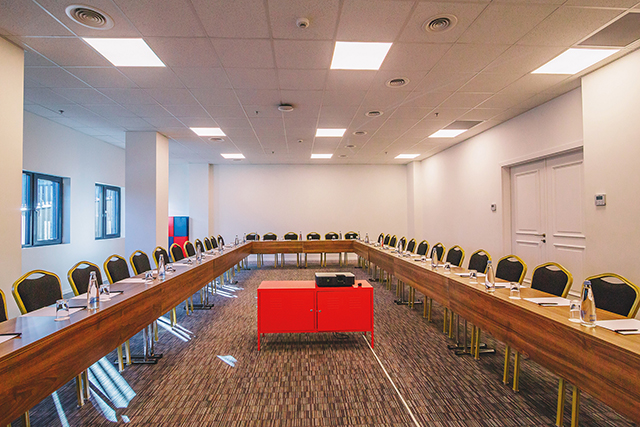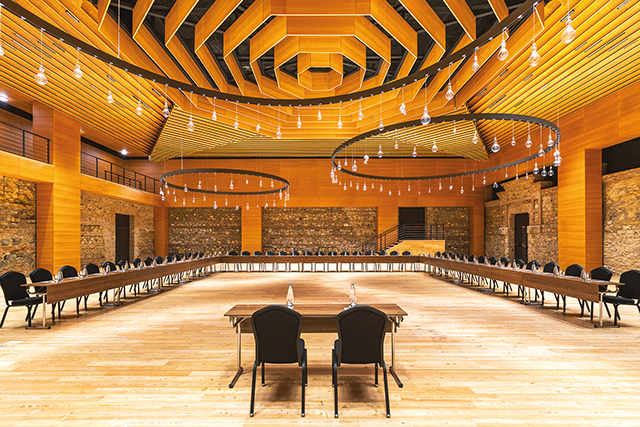 Radisson Blu Hotel, Batumi
With the beautiful Black Sea in the background, the hotel meeting rooms here make ideal venues for both business and personal events. They offer seven flexible meeting rooms, which include two boardrooms that can host up to 12 people, and a ballroom that spans 350 square meters. The ballroom accommodates up to 350 people in general, but within the pandemic regulations can be divided into three separate spaces depending on guests needs. All rooms come with large windows for natural daylight, free high-speed Wi-Fi, and great views of the sea and the charming city.
1 Ninoshvili St., Batumi
Tel: (+995) 577 790 049
Radisson Blu Iveria, Tbilisi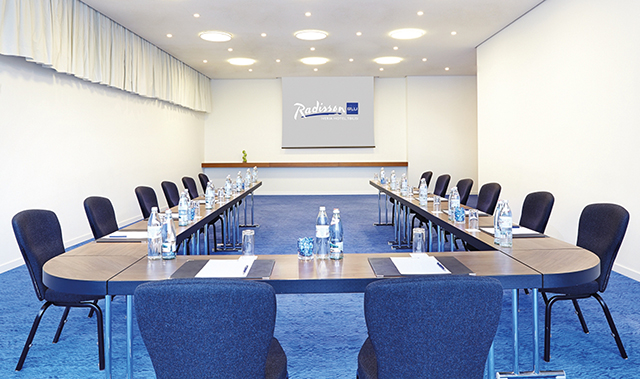 Be inspired by their meeting venue's views of Tbilisi and the nearby mountains, with a spacious ballroom and nine flexible meeting rooms, ideal for both corporate and private events. The ballroom can be divided into three sections within the pandemic regulations, depending on guest needs. If you want natural daylight for a meeting, you can choose from six of the rooms that offer large windows and lovely views of the capital.
1 Republic Square, Tbilisi
Tel: (+995) 599 736 367
Mercure Tbilisi Old Town, Tbilisi
Mercure Tbilisi Old Town provides the perfect setting for all kinds of meetings in a warm and locally inspired atmosphere, in Conference Room 'Gorgasali.'
The hotel collaborates with the world leading company Bureau Veritas to provide high standards of safety and a hygiene protocol aimed at reassuring customers and employees, and to foster a fast, trustworthy resumption of activity.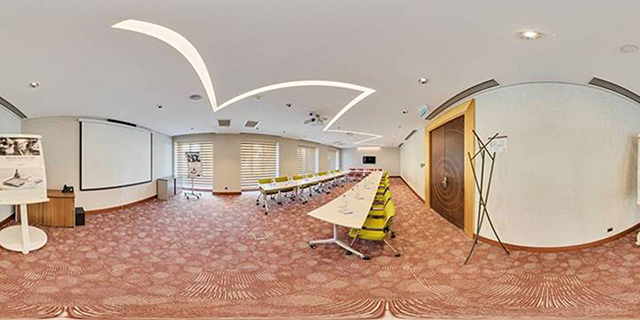 The daily rental fee includes: Laptop, notepads, pencils, cordless microphone, flipcharts, projector, screen, and a clicker.
9 Vakhtang Gorgasali St., Tbilisi
Tel: (+995) 32 200 60 60
Tbilisi Marriott Hotel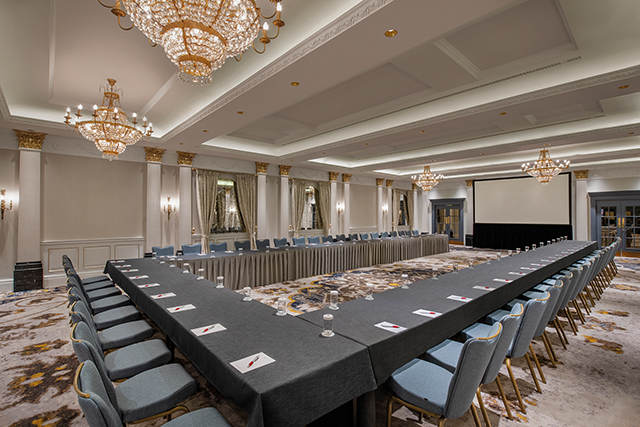 Located on the central avenue of the capital, Tbilisi Marriott Hotel boasts not only more than a century of history, but also completely renovated conference facilities.
Tbilisi Marriott Hotel is once again open to host all kinds of business meetings, conferences and trainings in fully renovated spaces, taking into consideration all the hygiene and safety regulations. Marriott offers its loyal customers a full package of conference services, including all the necessary technical equipment. It is possible to hold full or semi-hybrid conferences there.
"Marriott International has been recognized as a hospitality leader for 92 years due to its commitment to quality, exacting standards, and rigorous training," the company states. "The company has rolled out a multi-pronged platform to elevate its cleanliness standards and hospitality norms and behaviors to meet the new health and safety challenges presented by the current pandemic environment. We will continue to monitor the situation, as well as to follow the recommendations of the World Health Organization, Centers for Disease Control and Prevention and local health authorities."
For group events, the hotel offers a PCR testing service to its guests. All guests who book a conference room with full whole service before April 1, will be able to take advantage of a special 30% discount.
13 Rustaveli Avenue, Tbilisi
Tel: (+995) 32 277 92 00
Sheraton Grand Metechi Palace, Tbilisi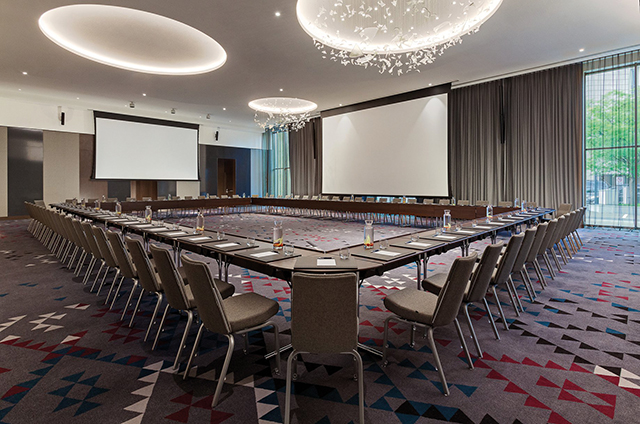 Sheraton Grand Tbilisi Metechi Palace, one of the most popular hotels in the capital, is distinguished by its 11 large conference halls suitable for a variety of different purposes, from business meetings, to weddings or social gatherings. At Sheraton, from seamless preparation and expert support, to flexible layouts and cutting-edge technology, inventive ideas, and smart tools are guaranteed, so your company can deliver forward-thinking results.
The Kavkasioni Ballroom, for example, is the largest ballroom in Tbilisi, at 2000 square meters, with an every-day capacity of over 1,000 guests in theater-style seating arrangement, or 600 in a classroom or banquet-style. Today, of course, no more than 30 participants of a training/conference can be allowed. Each participant should wear a face mask and keep a social distance of two meters while attending an event.
At the entrance of each conference hall, disinfectant stations allow guests to clean their hands before entering, and disposable gloves are available.
The hotel management guarantees regular cleaning and airing of the ballrooms several times a day to create maximum safety for those making use of the facilities.
20 Telavi St., Tbilisi
Tel: (+995) 32 277 20 20
By Team GT