Being the title of a current solo exhibition (running until the 27th of February) of a new friend of mine, Nika Khabelashvili, 23 years old. At the Gamrekeli Modern Gallery (details below), curation by Natalia Nickatsadze. My wife and I and some other friends were among the many people present at its opening where, to the soundtrack of amazingly fitting and atmospheric music by Ketevan Giorgadze, we took in the 35 paintings, produced over two years.
Nika's work here in his 4th solo show is almost all in acrylic on canvas, and ranges in size from 20 or 30 cm in length to about 2 m. The paintings are all untitled, but are part, as he explains it, of one piece of art, working together.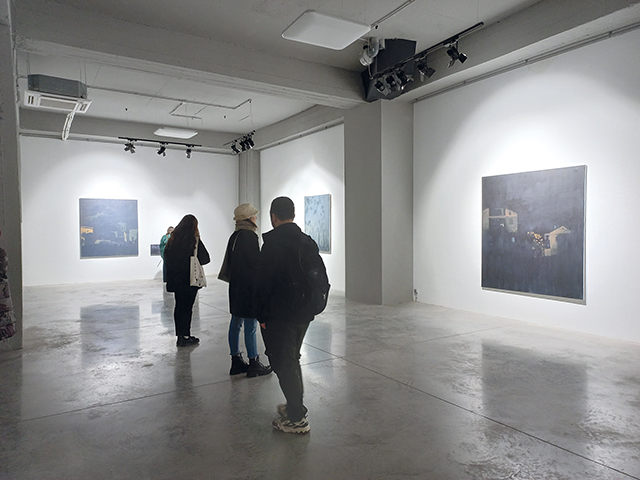 There are landscapes and cityscapes, in daylight and at night; some with animals or people in them to give vast scales. Moody, dramatic, evoking powerful feelings like the memories with which they are meant to be connected. When we remember a place, Nike says, that's not the same as the place itself. We never feel the same about a memory as the "actual" event or place we are remembering. All of these paintings are connected with places Nika HAS been to, contrary to the exhibition's title. But being there and remembering having been there are two very different things for him.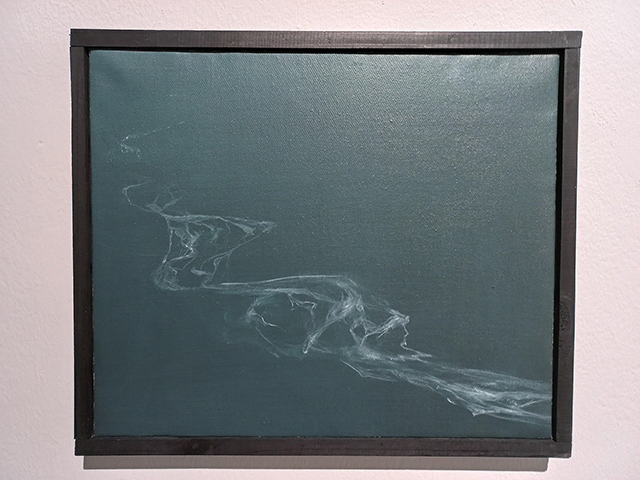 I am still in my art-buying phase, fulfilling my lifelong dream of living in a gallery of works by others and myself. I will not buy just anything, by anyone, for the sake of covering walls. No, every piece of art I frame or buy will be something to which I will return again and again, never tiring of it. I can say the same for the music I listen to and the things I read: they all bear multiple takings-in, even though I change over time in relation to the world and each piece. So it is with pleasure that I walk around the gallery and consider certain paintings.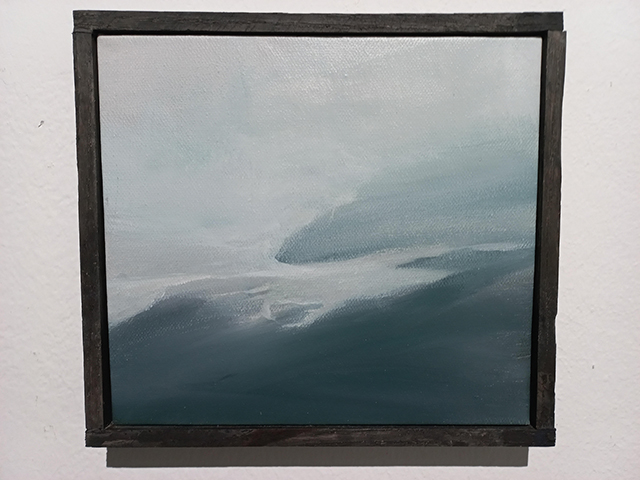 I don't, actually, automatically go for the one painting (on paper) which features Mt. Ushba in the background. Svaneti this might be, but other pieces nonetheless draw my eye more.
The largest ones are beyond my budgets of both money and space; but the smaller ones are all free of these constraints. Vacillating between two landscapes, I finally settle on one, check the price, and ask to buy it. This will be done by bank transfer to the gallery's account, and I can collect my chosen painting once the show is over, at the end of February. My piece is just a river winding and branching, crossing itself, most chaotically, almost smoke-like, though a featureless background of a single color (indeed, my wife thought it was smoke at first). I love it already, and this love will only grow over time. Very simple and stark, but not abstract: I can see what's there, and will pick out the details as I continue to live with it.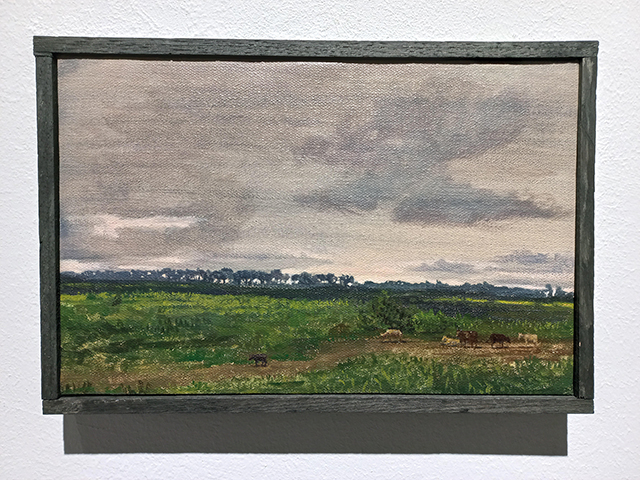 Of course, it's the unconscious dream of many a collector, myself included, to have bought early something which in future will be worth a fortune. But for no main reason other than that I see so much talent here and that it resonates powerfully with my esthetic. I want to see this artist succeed.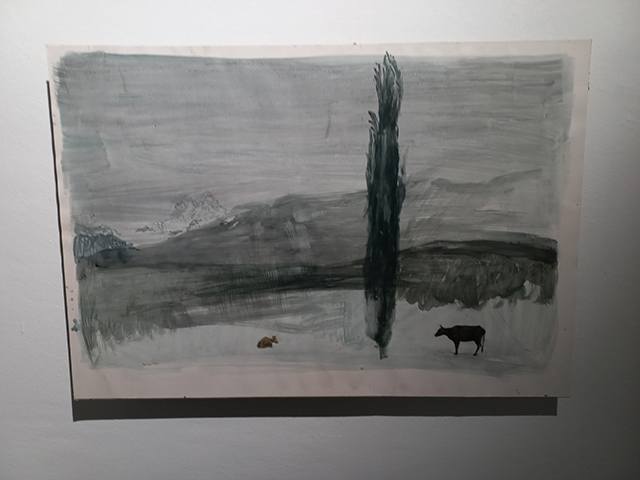 DETAILS:
Gamrekeli Modern (Contemporary)
Open daily from 10 am to 6 pm
83 Ilia Chavchavadze Avenue, Tbilisi (go towards Tskneti, then double back and turn right, go up the hill to the end. It's on the ground floor of an apartment complex; ask for the gallery if you have to)
https://gamrekeli.com/
gamrekeligallery@gmail.com
Tel. +995 322 995723
BLOG by Tony Hanmer
Tony Hanmer has lived in Georgia since 1999, in Svaneti since 2007, and been a weekly writer and photographer for GT since early 2011. He runs the "Svaneti Renaissance" Facebook group, now with nearly 2000 members, at www.facebook.com/groups/SvanetiRenaissance/
He and his wife also run their own guest house in Etseri: www.facebook.com/hanmer.house.svaneti