Being a lawyer is both interesting and challenging. The word "lawyer" itself is somehow associated with a sense of hope, security and a highly intelligent professional in the service of the public; however, there is an even greater depth to this profession and the responsibilities associated with it.
Being a lawyer in Georgia was considered something prestigious for many a year, evidenced by the impressive number of young people who want to master and study it. But is it still thought of as so? Just what does it take to become a professional lawyer in Georgia? Delving into the topic for the interest of its readers, GEORGIA TODAY spoke to lawyer Mariam Levidze.
"My mother was strongly committed to my education and personal development," she tells us. "She kept me busy, and I think this established the responsibility I have for everything I do. I knew from a young age that I'd not end up in a simple profession, although I never thought about law; I was focused more on music, dance, and poetry. All I knew and understood was that whatever I chose, I had to work hard for it, all the way; to love my job and be number one in that job.
"And when it came time to choose, I thought about journalism, but on the advice of my father-in-law (I got married at a young age), I chose law.
"I knew it wouldn't be easy to get an education in parallel with taking care of my family. But I passed the national exams successfully, though pregnant with my first child at the time. I was taking on two huge responsibilities in parallel: motherhood and starting out on my career. My family actively helped me to excel in everything that contributed to my high scores at university. I'm very grateful to the University of Georgia, where highly professional lecturers taught me and gave me great theoretical knowledge. I started internships from the very first year, among them positions at the Ministry of Economy and Sustainable Development of Georgia, and the Civil Registry Office. After graduation, I worked in the Kutaisi House of Justice, where I also gained great practical knowledge. Most importantly, I learned to communicate with people with a smile and a warm attitude.
"Because of my ability to make decisions quickly, I decided to pursue a master's degree while working at the House of Justice and taking French language exams. I also passed the bar exams with good results, which pushed me to leave my job and embark on a very difficult path: the protection of violated human rights and interests. I also took some courses at the University of Strasbourg in the field of healthcare.
"After passing the qualification exams to be a lawyer, I did an internship at the Ledi Tukvadze Law Office in Kutaisi, which taught me a lot of things. Ledi is still my closest and dearest advisor in my professional activities. I've been a lawyer for about five years at the Ledi Tukvadze Law Office, specializing in civil and administrative law. I'm also licensed in children's rights.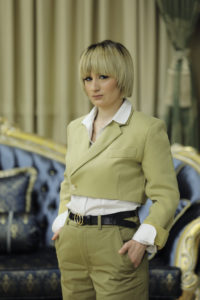 WHAT DOES IT TAKE TO BE A GOOD LAWYER? AND IN GEORGIA IN PARTICULAR?
Although I find advocacy to be an extremely difficult activity, I think I would go the same way again, I love my job so much. We, women, have double the work, combining our jobs and family, but I believe that hard work makes you a leader. If a person wants to get an education, our country has the resources to fully develop an interested person in the desired profession. Being a good lawyer means being able to shape yourself daily, work hard, fight, dare and believe in achieving your goals.
WHAT IS THE MOST IMPORTANT THING FOR YOU PERSONALLY WHEN DEALING WITH CLIENTS AND PROTECTING THEIR INTERESTS?
I attach great importance to the interdependence of me and my client, especially in terms of trust. I need to feel that my client trusts me and believes in my ability, and I do everything I can to gain that trust. My client will always see that I study every point of the case and respond accordingly; they will always see that I am impartial and do my best to get results in good faith.
FROM THE REPRESENTATIVES OF YOUR PROFESSION, WE OFTEN HEAR THE TERM "A CLIENT UNDER MY DEFENSE." EXPLAIN HOW IT FEELS FOR A LAWYER WHEN A PERSON IS "UNDER THEIR DEFENSE," AND OFTEN EVEN DECIDES THEIR FATE.
For me, the most valuable terms used at trial are: "Your Honor" and "Under my defense." The judge is the bearer of the greatest moral values for me, interpreting the law on the basis of justice, and not by its verbal transmission; a judge is the one who restores people's degraded dignity. Regarding your question, my clients become like family to me. I experience and feel the case as my own, sometimes even at the cost of my health. I always consider my client's feelings during the trial. Winning a case is a happiness that can't be described in words; it gives you the confidence that you can justify people's expectations.
FOR YEARS, WE HAVE BEEN HEARING ABOUT THE SHORTCOMINGS IN THE JUDICIAL SYSTEM IN GEORGIA. DO YOU THINK THERE IS ANY PROGRESS IN THIS REGARD TODAY, IN TERMS OF THE INDEPENDENCE OF JUDGES?
I think there are some flaws in the judiciary, and I myself have been witness to obvious bias from judges, which is why I have thought many times about quitting my profession. But those judges who wear the robe with dignity give me the strength to keep moving forward.
DO YOU THINK THAT BEING A LAWYER IS PROPERLY APPRECIATED IN GEORGIA NOWADAYS?
The state should provide more positive promotion in terms of legal education, because Georgian society still doesn't know its rights. While the public still fails to understand their opportunities, the institution of "lawyer" cannot be properly understood. The public should be used to settling legal issues with the involvement of lawyers, which unfortunately rarely happens nowadays.
WHAT ARE YOUR FUTURE PLANS?
At this stage, I want to gain more practical experience, and in the future I'll continue my studies for a PhD. It's important for me to share experiences with young people interested in this profession, so I want to be ready for any questions they may have.