The third week of Russia's invasion of Ukraine has seen Russian forces continuing to bombard several cities, including the capital, Kyiv, Mariupol and Kharkiv.
On the 22nd day of Russia's invasion of Ukraine, the UN figures showed that more than three million Ukrainians have fled the country and a further two million have been internally displaced.
The confirmed civilian death toll in Ukraine is 691 people killed and 1143 wounded, the United Nations human rights office reported, adding the true figures were probably "considerably higher."
Ukraine's Prsident Zelensky says 100 Ukrainian children have died since the invasion began.
Entering the third week of the devastating invasion, all the big cities of Ukraine apart from Kherson are still being controlled by the Ukrainian forces.
Here are some key developments from week three of war on the ground:
March 13
On Sunday, March 13, Russia began a deadly assault in western Ukraine. Russian forces launched an air strike near Lviv and fired eight rockets at the International Peace and Security Center. A Russian attack on a Ukrainian military site located some 15 miles from the Polish border brought the war dangerously close to NATO territory. The attack left 35 dead and wounded 140.
March 14
A senior US defense official said Russia's weekend airstrikes against a Ukrainian military base near Poland, a NATO member, have had no impact on efforts to assist Ukraine. The UN also announced that it would allocate $40 million in additional funds to Ukraine.
Meanwhile, a fourth round of talks held online between Ukraine and Russia ended without a breakthrough. Negotiations were expected to resume Tuesday, also by video.
Ukraine's Deputy Prime Minister for European and Euro-Atlantic Integration said Russia was escalating attacks in the western part of the country.
March 15
On Tuesday, the Russian Defense Ministry announced that it had taken control of the entire Kherson region, giving Russian forces a significant foothold in southern Ukraine. Kherson was the first (and so far, only) major city to be fully taken over by Russian forces.
March 16
Ukrainian forces carried out counter-offensives against Russian positions on Wednesday, seeking "maximum losses."
In Mariupol, an airstrike destroyed a theater where about 1,000 people, including children, were said to have taken shelter. Local officials said they had yet to estimate the number of casualties. The strike came as 11,000 residents evacuated Mariupol on Wednesday, where it is said there is not a single building left that has not been damaged or destroyed.
In a video address to Ukrainians early Thursday morning, President Volodymyr Zelensky called for more sanctions against Russia and said it was a "terrorist state."
"Our hearts are broken by what Russia is doing to our people, to our Mariupol," he said.
The next morning, the Ukrainian Rada announced: "We finally have good news from Mariupol. The bomb shelter of the theater was able to hold. The rubble is beginning to be cleared. People are coming out alive."
The same day, Ukrainian troops tried to gain some momentum through counterattacks on Russian positions outside of Kyiv and in the Russian-occupied city of Kherson, in Ukraine's south, a senior Ukrainian military official said.
A TV tower in the central Ukrainian city of Vinnytsia was hit by Russian rocket fire, knocking out the city's broadcasting facilities, the latest in a series of communications towers to be hit by Russian forces, including structures in Kyiv, Kharkiv, Vynarivka, and most recently in the northwestern city of Rivne.
Authorities in Rivne say 21 people were killed in the strike.
Wednesday's TV tower strike is the second significant targeting of Vinnytisa since the war began. Ten days ago, Russian missiles destroyed the city's airport.
On Wednesday, President Volodymyr Zelensky called on US Congress to provide air defense systems to deal with Russian planes and missiles if the West does not want to impose a no-fly zone over Ukraine.
"The talks between Russia and Ukraine are difficult, but there is hope we can reach a compromise," Russian Foreign Minister Sergey Lavrov said the same day.
"Russia's negotiating position in talks with Ukraine is becoming 'more realistic,'" Ukrainian President Volodymyr Zelensky reported.
The Death Toll
American intelligence officials on Wednesday said their conservative estimate of Russian losses was at least 7000. Western defense and intelligence agencies estimated that Ukraine has also suffered thousands of combatants killed.
The first and last time that the Russian Ministry of Defense spoke about the casualties among the Russian military was on March 2, when it was reported that 498 Russian soldiers had been killed.
March 17
The US and its NATO allies announced they were sending several surface-to-air missiles systems to Ukraine to aid in its defense.
According to a senior US official, these additional systems include the Soviet-era SA-8, SA-10, SA-12 and SA-14 mobile air defense systems, giving the Ukrainian forces the ability to hit cruise missiles.
The systems have been sourced from NATO partner nations and are "on the way," according to the same official.
To conclude, neither side can be said to have made much progress militarily. The Institute for the Study of War, which has been tracking developments closely, noted in its assessment that over the past two weeks, the Russian forces have not been conducting the kind of extensive simultaneous attacks that might allow them to seize control of multiple areas at once, "and they are unlikely to do so in the next week," it predicted.
Yet, in the absence of significant military gains, Russian forces are continuing a campaign of terror against Ukrainian civilians.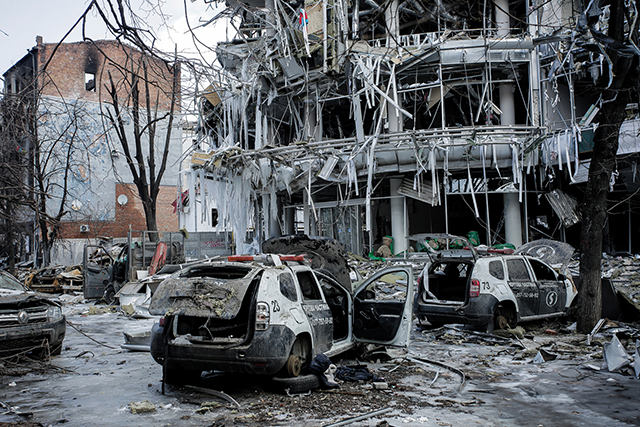 Ukraine and Russia Draw up 15-point Neutrality Plan to End the War
Various media sources report that Ukraine and Russia have made significant progress on a tentative 15-point peace plan, including a ceasefire and Russian withdrawal if Kyiv declares neutrality and accepts limits on its armed forces.
The deal would involve Kyiv renouncing NATO ambitions in return for security guarantees, reports the Financial Times. However, Ukrainian officials remain skeptical towards Russia's fulfillment of any agreement about peace. They question whether Vladimir Putin is fully committed to peace and worry that Moscow could be buying time to regroup its forces and resume its offensive.
Mykhailo Podolyak, a senior adviser to President Zelensky, told the Financial Times that any deal would involve "the troops of the Russian Federation in any case leaving the territory of Ukraine" captured since the invasion began on February 24th, namely, southern regions along the Azov and Black seas, as well as territory to the east and north of Kyiv.
By Ana Dumbadze