Ukraine's counteroffensive in the east and south of the country continues to build momentum, with President Zelensky announcing this week that there were "new liberated settlements in several regions."
On Monday, Ukrainian forces saw more successes on the battlefield, pushing through Russian defenses in the south of the country, as well as consolidating their hold on territory around Lyman in the eastern Donetsk region, and looking to push further into neighboring Luhansk.
President Putin announced Russia was annexing both regions last Friday, as well as Kherson and Zaporizhzhia in the south, but Moscow's hold on them looks increasingly fragile, with none of the regions fully occupied by Russian forces.
Russia no longer has full control of any of the four provinces of Ukraine it says it annexed last week. The Russian military has acknowledged that Kyiv's forces broke through in the Kherson region. It said the Ukrainian army and its "superior tank units" had managed to "penetrate the depths of our defense" around the villages of Zoltaya Balka and Alexsandrovka.
Ukraine "fully cleared" Russian forces from the key eastern city of Lyman, a day after Moscow admitted its troops had pulled out after they were encircled. Lyman's recapturing by Ukrainian troops is Russia's largest battlefield loss since Ukraine's lightning counteroffensive in the north-eastern Kharkiv region in September.
Russia's Ministry of Defense spokesperson, Igor Konashenkov, said Russian troops had occupied what he called a "pre-prepared defensive line". His comments are an admission that Ukraine's southern counter-offensive is dramatically gaining pace, two months after it began. Ukrainian brigades appear to have achieved their biggest breakthrough in the region since the war started, bursting through the frontline and advancing rapidly along the Dnipro River.
President Zelensky said Ukraine is not just experiencing military success in Lyman, but also in Kherson. In his nightly statement, he said Ukraine's forces have liberated the small Arkhanhelske and Myrolyubivka settlements in the Kherson region. Vladimir Saldo, head of the Russian-imposed authority in the region, admitted that Ukrainians had gained some ground.
Ukraine's military has said its forces also recaptured the village of Torske near Lyman in the Donetsk region on Sunday. Russian forces who have been forced to retreat towards Luhansk's city of Kreminna were hit "with fire" by Ukrainian missile units, artillery, and air forces.
The Kremlin is still determining which areas of occupied Ukraine it has "annexed", Vladimir Putin's spokesperson said. Putin has vowed to protect Russia's newly claimed territories using "all means at its disposal", indicating a potential nuclear strike.
The Kremlin also said Russia favors a "balanced approach" to the issue of nuclear weapons that is not based on emotion. The remarks by Kremlin spokesperson Dmitry Peskov come after Ramzan Kadyrov, the Kremlin-appointed leader of the Chechnya region, said Moscow should consider using a "low-yield" nuclear weapon in Ukraine.
The head of the Russian-occupied Zaporizhzhia nuclear power plant in Ukraine has been released, according to the head of the International Atomic Energy Agency (IAEA), Rafael Grossi. Ihor Murashov was detained last Friday by a Russian patrol as he travelled from the Zaporizhzhia plant to the town of Enerhodar, according to the state-owned company in charge of the plant.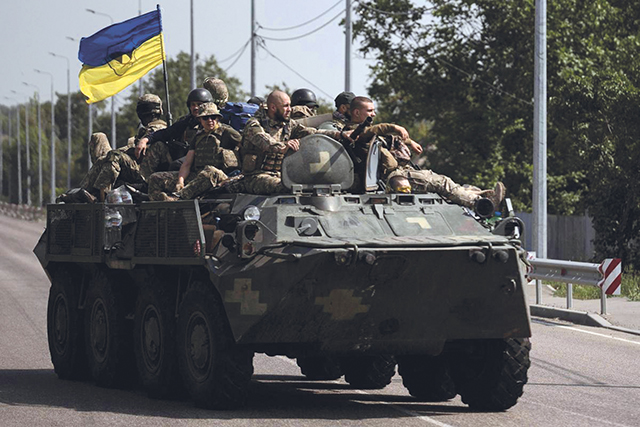 On the referendums and joining NATO
The EU has summoned Russia's top diplomat in Brussels in protest at President Vladimir Putin's "illegal annexation" of four Ukrainian territories. The move is part of a coordinated exercise with EU member states, Peter Stano, a foreign affairs spokesperson for the bloc, said.
A record 83% of Ukrainians would like their country to join the NATO military alliance, according to a new poll. Only 4% said they would vote against joining NATO and 9% said they would not vote.
Earlier on Friday, Ukrainian leader Volodymyr Zelensky said that Ukraine has made an "accelerated" bid to join NATO.
The announcement came on the same day Russia annexed four Ukrainian territories after a series of referendums that most western governments have labeled a "sham."
"We are taking a decisive step by signing Ukraine's application for accelerated accession to NATO," Zelensky said on his Telegram channel.
However, it wasn't immediately clear what an "accelerated" application would mean, as ascension to NATO requires the unanimous support of the alliance members- 30 in all, and Ukraine is unlikely to join anytime soon, as being a country already at war complicates the request.
The heads of nine European NATO members on Sunday issued a joint statement backing a path to membership for Ukraine in the US-led security alliance, calling on all 30 NATO nations to ramp up military aid for Kyiv. The nine NATO countries in Central and Eastern Europe are fearful that Russia could target them next if it isn't stopped in Ukraine, and urged a response to the annexation.
The leaders of Czechia, Estonia, Latvia, Lithuania, North Macedonia, Montenegro, Poland, Romania and Slovakia published a statement on their websites Sunday saying: "We support Ukraine in its defense against Russia's invasion, demand (that Russia) immediately withdraw from all the occupied territories and encourage all allies to substantially increase their military aid to Ukraine."
It said the leaders "firmly stood behind the 2008 Bucharest NATO Summit decision concerning Ukraine's future membership." At the 2008 summit, NATO members welcomed Ukraine and Georgia's aspirations to join, but declined to provide a clear timeline for the two countries' possible ascension. Sunday's letter didn't mention a timeline.
Asked Friday about Zelensky's application for accelerated NATO membership, the White House national security adviser Jake Sullivan said the application process in Brussels "should be taken up at a different time."
NATO Secretary-General Jens Stoltenberg was noncommittal when asked about the Ukrainian appeal to join.
Dmitry Medvedev, deputy head of Russia's Security Council chaired by Putin, derided the move, saying that Zelensky's request amounts to "begging NATO to accelerate the start of World War III."
Spurred into action by security concerns over Russia's invasion, Finland and Sweden officially applied to join NATO in May using an accelerated procedure. Most member countries have already ratified their applications and the two Nordic nations are on track to join in record time.
By Ana Dumbadze