From Odessa – With Love is the name of journalist and author Vladislav Davidzon's recently published book. Davidzon has been researching Ukraine and the wider post-Soviet space for years, and writes for the French 'The Tablet' magazine and the Atlantic Council. Odessa was the starting point of the Radio Free Europe interview with him as he offered his insights on the war in Ukraine and the contrasting images of the leaders of Russia and Ukraine.
Odessa – why is Russia not attempting to take it from the sea?
First of all, until yesterday, the weather was terrible. Now the weather is good, they might attempt to do so. Also, they are expecting their guys to take Mariupol so they can pull troops and artillery over from the other side. They are afraid of a direct assault on the beaches, because it would be very bloody and the Ukrainians have mined the beaches. They could bomb Odessa from ships at sea, but that would mean destroying the city center, and the point of Odessa is that it is both beautiful and of great historical and symbolic value. I don't think Russians want an Odessa that has been turned into a wreck.
The gap between the Russian capacity and the Ukrainian army has been narrowed down by the sheer stupidity and incompetence of the Russian army
Why didn't Ukraine fall in three days, as US intelligence so helpfully predicted?
The gap between the Russian capacity and the Ukrainian army has been narrowed down by the sheer stupidity of the Russian army, and the corruption of the Russian army, and their own belief in their extraordinary capacity to do things that they were not capable of. And they disregarded a Russian military doctrine, which is to blow things up first with heavy firepower and only then send in troops, as they did in Chechnya and, later, Georgia.
Further, they did not expect this level of resistance. They did not in a million years expect this level of hatred from the Ukrainian people towards them. Ukraine's Russian speakers thought the Ukrainian army would run away. They did not expect there to be this many anti-tank weapons given to Ukraine by the West.
In the West, they did not expect this level of competence on the side of Ukrainians in defending their homes. They thought they would fall down and lay over.
Then factor in the Russian police officers and conscripts that have been smuggled in: they never signed up for this. The Kremlin refused to prepare those Russian boys for what they needed to do, so of course those boys are demoralized and are deserting.
And finally, bad decision-making by the civilian leadership based on delusional expectations of what the Russian Armed Forces were capable of, and the Russian generals who have stolen so much that their capacity is not what they promised their civilians.
You wrote: "Putin himself also understands that the West wants him in The Hague, or in prison, or exiled, or killed. So it's all or nothing for him." It's the zero-sum game that Putin has become so adept at and that West has been unwilling to play so far. What cards does he still have in hand?
He has very few cards because he made an extraordinarily bad set of decisions in order to go all in. He didn't need to do this. There were other ways to get what he needed. But he decided that he was going all in, gambling everything. It was extraordinarily reckless. He had bad information. He had a delusional strategy. And he did not bring enough of the wealth that has been held abroad back to Russia. Had he known what the costs were going to be, he would never have done this. So he absolutely misread the the opponent's hand and he misread the costs.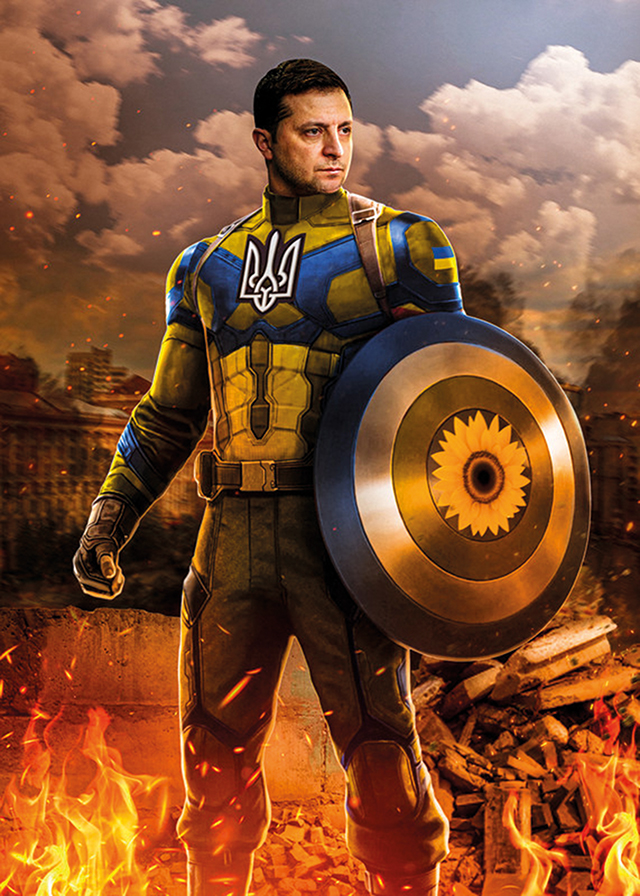 What is the offer that Zelensky could give that the Russians would be willing to take?
With every battle that the Ukrainians survive, the level of minimum demands increases and the maximum demands decrease. And the Ukrainians are still winning and surviving, not having lost anything major, except probably Mariupol in the coming days, Mariupol and the Sea of Azov are probably gone at this point, barring some major Ukrainain counter-attack that would be, even if successful, very costly. The Russians haven't even touched Odessa, Kharkiv stays on, and Chernihiv has yet to fall. It's entirely possible that in two-three weeks, the Russian army will be spent, and will be ineffective combat wise.
But still, at some point, Ukraine will have to make a deal, and it's going to be very unpleasant. There will be a deal sooner rather than later: in weeks, rather than months. They will lose some land in any endgame, I'm afraid. Whether it also involves neutrality, I don't know, it depends if Ukrainian society can swallow a neutrality deal. But Zelensky knows the average Ukrainian and mindset, because he is one of them, which is why we love him so much: he's a man of the people in every sense.
Ukraine will have to make a deal, and it's going to be very unpleasant…They will lose some land in any endgame
You also compare Ukraine to the Wild West. Yet one could argue it seems more a superhero movie, with Zelensky as Captain Ukraine. What's the Secret of Ze phenomenon?
I had dinner with Zelensky when he was about to become president, and he didn't strike me as a great man. I saw him then as an actor, charismatic and bright, but way over his head. He felt like he wasn't ready for this. He knew at this point that he was going to be president, so he was excited. He was on top of the world, but also afraid, and rightly so. His was a mediocre presidency until three weeks ago, at best, but now, something deep inside of him, which I wrote about in my article, represents a deep heuristic for the deep resilience of the average Ukrainian: their better nature, their better qualities, the fight for life as opposed to a fight to the death. Russia has a death cult, and is in a death spiral, being led by a decomposing old man afraid of Covid and sitting deep in a bunker in Ural, who no longer understands reality around him and doesn't talk to the people and doesn't even talk to his own advisers, he doesn't talk to them, you know. The televised meeting of the Security Council was all about getting them trapped with him. And they all knew that it was about ending up in The Hague with Putin. It was a public move, a mafia thing, stating "You guys are with me." And meanwhile, Zelensky is hugging his men in front of the presidential palace, under the eye of Russian drones, who could bomb him easily at this point, filming in front of the presidential palace as opposed to being literally entombed. With Zelensky, you have man who is literally the picture of virility. He's been preparing this for his entire life. And he knows he might die at this point. He knows that he will go down in history, one way or another, whether he wins or not. There will be statues of Zelinsky. The question now is will they be in Manitoba and in Chicago and in Toronto? It's not clear whether he will survive this. And he knows it. He looked this choice in the face. He said "I could run and the country could collapse, or I could stay and I could fight and I'm going to go down." And he found deep, deep inside of himself the will to do it, to stand and fight despite the overwhelming odds, and that embodies Ukraine.
This is the greatest role of the 21st century anyone will ever have. Zelensky is a hero
What actor can dream of a bigger stage than this?
Indeed. This is the greatest role of the 21st century anyone will ever have. He is the greatest hero. Look at the elites that the West produces. Look at the paucity, the horribleness, the mediocrity, the oligarchy of Western elites. Zelensky and Ukrainians are really much healthier than Western Europeans and Americans and Canadians.
Are the Westerners seeing in Ukrainians and Ukraine's leadership what they want their leader and themselves to be?
Absolutely. There's an absolute reverence the world over, the reverence that people feel in the presence of something sacred and something which is bigger than themselves. And the Western cynicism falls away when you see Ukrainians fighting to the death, when they're outmanned, outgunned, out flown, out bombed. And they're standing with this Jewish actor who's playing Churchill, except he has much more empathy and much more charisma than Churchhill ever had.
Interview by Vazha Tavberidze for RFE