Our second camping experience at our friends' secret location near Ureki on the Black Sea, a year later, was quite different from the first one. Although it was already much cooler in the heights of Svaneti, with nights down to 10 C, the lowlands were still pleasantly hot.
First factor was the weather, but we were bound by shared schedules with two other families this time, rather locked in as to dates in mid-August. So all we could do was look at the forecasts and hope for the best.
Also, I had had some time to think, along with my wife, about how to improve the camping experience. I made a list of the site's strengths and weaknesses, and also wrote down what we could do to improve on the latter. For example: no toilet or washing facilities? Take the plastic camping toilet seat set I have installed in our Svaneti outhouse. Put up a tarpaulin outside the camp around 4 poles, dig a hole under the seat, add a simple "flag" to indicate free or busy. Quite easy. And such a better experience than… nothing! We could do a similar thing for a shower, but didn't this time.
No fresh water on-site? Take lots of plastic bottles, up to a 20L one, to fill and refill in Ureki. Ultimately, though, I'd like to take at least a 100L container with a spigot, and keep it in the back of the 4×4 to use and then refill less often.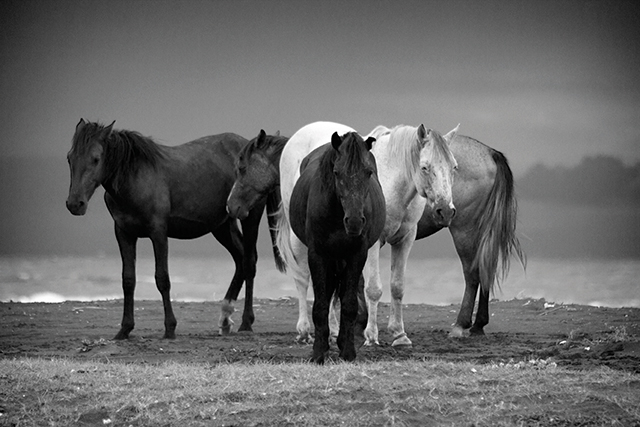 A main new item was something which has been in my family since about 1977, when we returned from Rhodesia to Canada and continued our camping summers there. My father arranged for the welding of eight U-shaped bits onto four pieces of iron rebar, and added two more cross-pieces which sat on these at 1 of 2 levels. When the four pieces were hammered vertically into the ground over one end of a campfire spot, a big steel drum would sit on the cross-pieces, lidded, and give us hot water all day long. I had the whole thing remade by welders in Zugdidi on our way to Ureki: it took 10 minutes, cost 10 GEL, and gave me more happiness than I can easily describe. The bars and pot, blackened after first use, go into their own bags for storage.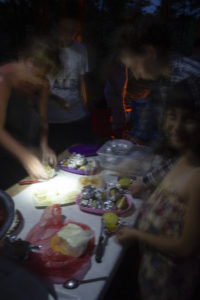 The weather was not nearly as sunnily cooperative as last year, and much windier too. After a howling, pouring, overhead-lightning night, next morning one of the other fellows and I drove to Ureki's big new hardware store to buy an 8x8m tarp, as the two I had brought both were now wrapped around the outhouse. A very important and traditional item on my family's very thorough camping list! We first set it up between four appropriate trees over the camp's main common area, and tried our best with lots of extra ropes to stop it from flapping madly, noisily in the wind; the rain at this point was virtually horizontal. Not yet ideal. I also tied a knot into each of its 4 corners to attach the rope to after the first metal eyelet ripped free. Amazingly, the thing held together in the gale after this, but the din was frightful and the effect less than helpful.

The second iteration was a windshield instead of a roof, 8m wide and four high, the tarp folded in half. This was better, but we still needed some rain cover. The third try unfolded it into both wall and roof, with a long pole, end-cushioned with a rag, in the middle to stop the rain from pooling. Another cats-and-dogs night reduced this all to a joke, and we took it down. Some of our tents were better than others at keeping out the rain; the little two-person one my wife and I have got wet at the feet end but stayed dry elsewhere once we added a sheet of plastic in the middle of the night.
My wife and some of the others were having strong second thoughts about this camping lark I had introduced her to last summer, now that the elements were displaying themselves less cooperatively. My pointing out that my family had once camped in the Rocky Mountains at -10 C, in the snow, in TENTS, did not help except to demonstrate to her that I am perhaps… less than properly balanced when it comes to the outdoor life and Coping with Adversity at All Costs (We will Laugh it off Later). They persuaded me that we must decamp off to friends in nearby Ozurgeti, capital of Guria province; our mattresses and sleeping bags would do just as fine on floors as on the ground, and we would be in a House, with Permanent Walls and a Roof. Expecting protests, they were rather surprised when I gave in straight away, realizing that I was in the Menshevik (minority) camp. Two nights of relative comfort followed.
Then we could see by the forecast that the sun was returning and the wind dying down, so we bid our hosts a fond farewell and re-established our camp, minus tarps. All better! Foil-wrapped fire-baked potatoes, grilled fish and chicken on skewers, Brazilian coffee thanks to my "sock on a wire" filter from there, even marshmallows.

Life became good again; the ladies of our group composed a song in honor of the whole experience. We even managed a second trip to Mr Ivanishvili's Dendrological Park with its wonderful collection of imported flora and less appreciated but more photographed fauna in large cages. Back on the beach, the four horses of some impending Apocalypse gathered one evening and allowed me to take nearly 100 photos of them as they posed, meditated, and waited for their riders, who thankfully did not appear.
The evaluations and reiterations continue until our next tenting adventure.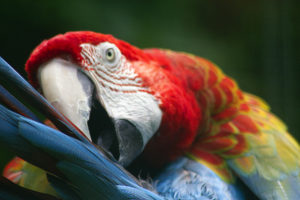 BLOG by Tony Hanmer
Tony Hanmer has lived in Georgia since 1999, in Svaneti since 2007, and been a weekly writer and photographer for GT since early 2011. He runs the "Svaneti Renaissance" Facebook group, now with nearly 2000 members, at www.facebook.com/groups/SvanetiRenaissance/
He and his wife also run their own guest house in Etseri: www.facebook.com/hanmer.house.svaneti