Ukrainian President Volodymyr Zelensky spoke to the United Nations Security Council on Wednesday, urging the group to support the Ukrainian peace formula following a wave of Russian missile strikes that the President dubbed "the Russian formula of terror."
"I emphasize yet again: it is high time to support the Ukrainian formula of peace. There should be no room for terror in the world," Zelensky said.
He emphasized the need for "modern and effective air and missile defense systems" after detailing the series of Russian air strikes that destroyed critical facilities, including energy infrastructure, residential housing, and a hospital, where a newborn baby in the hospital's maternity ward was killed.
At least three people have been killed and six injured after a Russian missile strike in the Ukrainian capital of Kyiv, the city administration reported. A 17-year-old girl was among them.
This large-scale assault on energy infrastructure also led to widespread energy blackouts in Ukraine and neighboring Moldova, an act Zelensky said was "analogous to using weapons of mass destruction."
US Ambassador Linda Thomas-Greenfield was one of several representatives to reiterate their support for Ukraine, with emphasis on condemning Russian attacks on Ukrainian energy infrastructure.
"Putin's motive could not be more clear and more cold-blooded. He is clearly — clearly —weaponizing winter to inflict immense suffering on the Ukrainian people. He has decided that if he can't seize Ukraine by force, he will try to freeze the country into submission," Greenfield noted.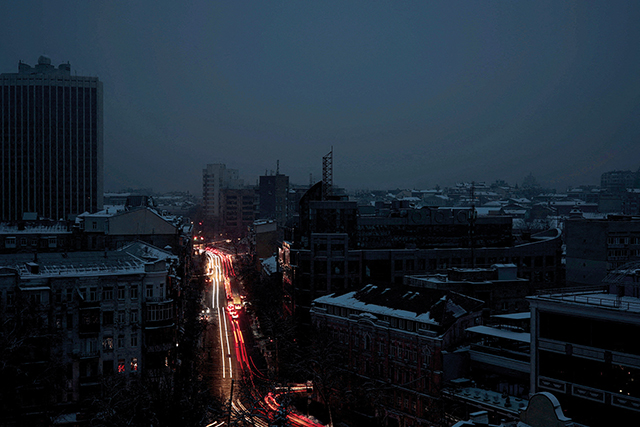 Almost all power restored to Ukrainian city of Lviv and other regions hit by Russian strikes
Power has been restored to almost 90% of the Ukrainian city of Lviv, officials said Wednesday, following another barrage of Russian strikes which knocked out electricity throughout much of the country.
In a telegram statement, Lviv Mayor Andriy Sadovyi said that scheduled blackouts, which have become regular during the invasion, will continue due to country's war-damaged energy infrastructure, "so some houses may be without electricity." Water and heating have also been restored and all city services are working, he added.
The situation in Odesa is similar, with water and heat restored, according to Kyrylo Tymoshenko, deputy head of the Office of the President of Ukraine.
"Power supply — the region is supplied, consumers are being connected," he said. Electricity in the Zaporizhzhia region has also been restored.
According to the Ternopil region military administration, the power system there is "being stabilized" with customers "gradually being connected to the grid."
About one third of the region has electricity, with critical infrastructure facilities being connected to the power supply first.
Biden Administration Condemns Russian Strikes on Ukraine's Power Infrastructure
The Biden administration on Wednesday condemned Russia's strikes on power generating infrastructure across Ukraine.
National Security Council spokesperson Adrienne Watson said in a statement that Russia "is increasingly turning to horrific attacks against the Ukrainian people, with punishing strikes damaging energy grid infrastructure, and deliberately doing so as winter approaches."
Watson said that the strikes "do not appear aimed at any military purpose," but "instead further the goal of the Putin regime to increase the suffering and death" of Ukrainians.
The US also warned that the actions show "Russia is willing to increase the risk of a nuclear safety incident that could not only further harm Ukraine, but affect the entire region as well."
IAEA Director Warns about "Potential Consequences" at Zaporizhzhia
Negotiations between Kyiv and Moscow on the establishment of a safety zone around the Zaporizhzhia Nuclear Power Plant continue — but in the meantime the director of the UN nuclear watchdog is warning about potential consequences.
"We cannot continue counting on good luck to avoid a nuclear accident," International Atomic Energy Agency (IAEA) Director General Rafael Grossi told CNN on Wednesday.
Grossi said negotiations are "moving forward" but "this is an active combat zone, therefore getting to agreed parameters for this is not such an easy thing to do."
The IAEA director said he met with a Russian delegation in Turkey earlier Wednesday and spoke with Ukraine's Foreign Minister Dmytro Kuleba on Tuesday.
"I am having consultations with both. I would not agree with the assessment that we are not making any progress, I think we are," Grossi said. "Of course, we are talking about something which is very difficult. This is war. This is real war and the protection zone that I am proposing is precisely on the front line, on the line where both adversaries are in contact."
Later on Wednesday, the Zaporizhzhia Nuclear Power Plant "once again lost access to external electricity" and was instead relying on its emergency diesel generators for the power it needs for reactor cooling and other essential functions, IAEA said in a statement.
US to provide $400 million in additional security assistance to Ukraine
The US will provide $400 million in additional security assistance to Ukraine, the White House announced Wednesday in a memo.
According to a statement from US Secretary of State Antony Blinken, the drawdown "includes additional arms, munitions, and air defense equipment from US Department of Defense inventories."
A White House official said that the package has "additional munitions for National Advanced Surface-to-Air Missile Systems (NASAMS), 150 heavy machine guns with thermal imagery sights to counter Unmanned Aerial Systems (UAS); additional ammunition for High Mobility Artillery Rocket Systems (HIMARS), 200 precision-guided 155mm artillery rounds," and more.
Total US military assistance for Ukraine has amounted to approximately $19.7 billion since the beginning of the Biden administration, Blinken's statement added.
"We will continue to support Ukraine for as long as it takes, so it can continue to defend itself and be in the strongest possible position at the negotiating table when the time comes," Blinken said.
By Ana Dumbadze