Russia has continued to shell cities across Ukraine as the war rages on. Ukraine's President Volodymyr Zelensky said in his annual address Wednesday to the Ukrainian Parliament that the war Russia has waged on his country has strengthened Europe's unity, and that "no-one in the West is afraid or will ever be afraid of Russia."
"For the first time in history, some European countries have reconsidered the notion of staying neutral, and are resisting aggression together with us, together with Ukraine," he said. "We helped Europe and most of the world to feel that being neutral now is simply immoral."
Zelensky also thanked Ukrainian servicemen, calling them "heroes," and said the powerful weapons Ukraine has received have strengthened its advantage.
Russia struck numerous cities, including Kherson and Oleshky in the south and Kharkiv in the east. The shelling in Oleshky killed at least one man, injured five others, and damaged a high-rise building and kiosks on the town's market, says Mayor Yevhen Ryshchuk.
As fighting near the key Ukrainian city of Kreminna in the eastern Luhansk region continues, Russian civilians who had come to the city have stopped their work and left, according to the head of Luhansk's military administration. If the Ukrainian military is able to dislodge the Russians from Kreminna, the Ukrainian military could then proceed in two directions, Serhiy Hayday, head of the Luhansk region military administration, said Wednesday in a television interview.
Hayday said two of the larger cities in Luhansk region near Kreminna, Severodonetsk and Rubizhne have been "practically destroyed" by Russian forces over four and a half months of occupation and "therefore, these cities cannot serve as big defense bases."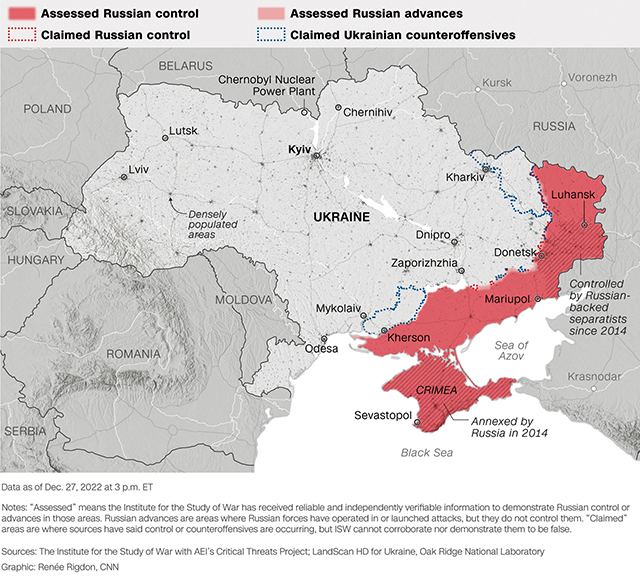 "Accordingly, as soon as the major cities are de-occupied, the next step is the countryside. The Russian forces will not be able to hold out there for long," he said.
Meanwhile, Ukrainian officials have called on residents to evacuate Kherson, as the city was impacted 23 times over the last 24 hours.
A district of the northeastern city of Kharkiv was hit with rockets on Wednesday, injuring one civilian, according to Oleh Syniehubov, the head of the Kharkiv regional military administration.
Russia captured swathes of Kharkiv in the early days of its invasion, before Ukrainian forces retook most of the region in an offensive in the autumn.
Ukraine's power grid electricity deficit grew on Wednesday due to the shelling of gas infrastructure in eastern Ukraine, state power utility Ukrenergo said in an update. Ukraine, which has faced a wide assault on critical infrastructure and power sources since early October, will not experience further power restrictions because of the growing deficit, Ukrenergo said. However, the power utility added that "all regions were informed about consumption limits, the excess of which leads to the need for emergency outages."
In the last three months, the power grid has suffered nine missile and 12 Russian unmanned aerial vehicle (UAV) attacks, Ukrenergo noted.
By Ana Dumbadze