The Russian defense minister, Sergei Shoigu, has ordered the country's troops to leave Ukraine's city of Kherson, the only regional capital captured by Moscow since the invasion began in February.
As details of Russian troop movements remain unclear, some Ukrainian senior officials cautioned against celebrating too soon until a fuller picture of the situation on the ground could be assessed.
The retreat came as Ukrainian forces pressed their advantage on Russian positions on the western side of the Dnipro River, including around the key town of Snihurivka, and after a key Russian-installed official in Kherson was reported to have died in suspicious circumstances.
In televised comments, Russian General Sergei Surovikin, overall commander of the war, said he had recommended the withdrawal of Russian troops from the west bank of the Dnipro River, citing logistical difficulties.
"Kherson cannot be fully supplied and function. Russia did everything possible to ensure the evacuation of the inhabitants of Kherson," Surovikin said.
"We will save the lives of our soldiers and the fighting capacity of our units. Keeping them on the right (western) bank is futile. Some of them can be used on other fronts," Surovikin added.
In recent weeks, Russia has been transporting civilians away from Kherson as the Ukrainian troops move ever closer to the Russian-occupied city.
Their retreat marks a major victory for Kyiv in the battle for south-east Ukraine, one that robs Moscow of its biggest military achievement of the war and changes the calculus for both sides as the conflict heads into winter.
By retreating from the city, which sits on the northwestern (right) bank of the Dnipro River close to its Black Sea delta, Russia aims to reinforce its defences on the other side of the river, where it has been building defensive lines for weeks.
As such, Western officials expect that while Ukraine will be able to recapture the Dnipro's north-western bank by the end of November, Russia will be able to hold the other side.
Kherson's recapture will give Kyiv leverage as it lobbies Western governments to step up supplies of arms, ammunition, and financial support.
"It is encouraging to see how the brave Ukrainian forces are able to liberate more Ukrainian territory, the victories, the gains the Ukrainian armed forces are making belongs to the brave, courageous Ukrainian soldiers," NATO Secretary-General Jens Stoltenberg said on Wednesday. "But, of course, the support they receive from the United Kingdom, from NATO allies and partners is also essential . . . We will continue to support Ukraine."
US asks Ukraine to show openness for peace talks to calm fears of long war
The Biden administration is said to be quietly encouraging Ukraine to publicly show a willingness for negotiations with Russia in order to calm fears in some countries over the broader fallout of the grinding war, the Washington Post reported Saturday, citing officials familiar with the developments.
The Biden administration is not pushing Kyiv to actually sit with Putin, but wants to assuage global concerns over the war's impact on the cost of living, the Washington Post noted.
Ukrainian President Volodymyr Zelensky has said repeatedly that his country won't enter talks to end the conflict as long as Russian President Vladimir Putin remains in power.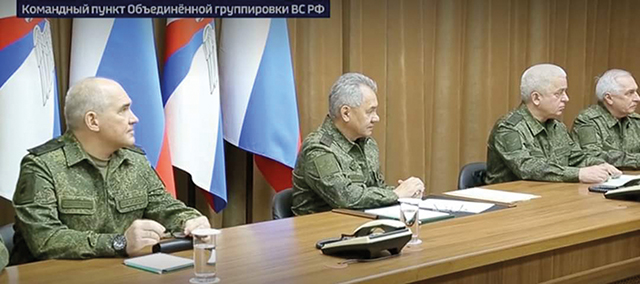 According to the report, while Washington is not trying to persuade Ukraine to open negotiations, it hopes to preserve continued support for Kyiv from countries that fear the consequences of a lengthy war.
Officials said Washington agrees with Ukrainian officials that Putin is not serious about negotiations, but Zelensky's ban on holding talks has worried some countries in Europe, Africa and Latin America that are feeling the impact of the war through rising food and fuel costs.
In the US, rising inflation has been tied to the war, according to the report.
Polls have shown that support to continue financing Ukraine's war effort is dropping among Republicans in Washington, and midterm elections this week could result in pushback against further aid packages that have already amounted to over $18 billion since the war started in February.
A survey published Thursday by the Wall Street Journal found that 48% of Republicans think the US is doing "too much" to help Ukraine, compare to just 6% in March.
Some progressive Democrats have also called for diplomacy to avert a drawn-out conflict.
National security adviser Jake Sullivan was in Kyiv on Friday, where he declared that the administration intends "to ensure that the resources are there as necessary and that we'll get votes from both sides of the aisle to make that happen."
He also placed responsibility for ending the war with Moscow, saying "Russia could choose to end it by ceasing its attack on Ukraine, ceasing its occupation of Ukraine, and that's precisely what it should do from our perspective."
A spokesperson for Zelenksy did not respond to a Washington Post request for comment, while a US State Department spokesperson said: "Actions speak louder than words. If Russia is ready for negotiation, it should stop its bombs and missiles and withdraw its forces from Ukraine.
"The Kremlin continues to escalate this war," the spokesperson said. "The Kremlin has demonstrated its unwillingness to seriously engage in negotiations since even before it launched its full-scale invasion of Ukraine."
When Putin annexed some occupied Ukrainian territory in September, Zelensky said he will only negotiate with a new Russian president.
And his presidential adviser Mykhailo Podolyak warned Friday: "Any 'concessions' to Putin today — a deal with the Devil. You won't like its price."
"If Russia wins, we will get a period of chaos: flowering of tyranny, wars, genocides, nuclear races," he said, according to the Post.
By Ana Dumbadze