On Wednesday, Russian President Vladimir Putin signed a decree on partial mobilization in Russia. Mobilization began on September 21. The decree provides for additional measures to implement the state defense order. Based on the presidential decree, only those citizens who are in the reserve and served in the armed forces, and who have a certain military specialty and relevant experience, will be subject to military service.
Putin claimed that "the decision on partial mobilization was made to protect Russia, its sovereignty, territorial integrity, and to ensure the security of the Russian people."
Shortly after Putin's speech, all air tickets from Russia to Istanbul and Yerevan for September 21 were sold out, media outlet Meduza reported.
The publication reads that shortly after the broadcast of the video message, during which the Russian President announced the partial mobilization, tickets for all flights to Turkey and Armenia were completely sold out. Russian citizens can travel to Turkey and Armenia without a visa.
The statement of the Minister of Defense of Russia, Sergei Shoigu, said that a total of 300,000 reservists will be called up as part of the partial mobilization announced by Vladimir Putin on September 21. Russia says it has the resources to mobilize 25 million people.
Russia started the war in Ukraine in February of this year and attacked with an army of about 200,000, although it has not achieved its goals so far.
Following Putin's statement on announcing partial mobilization, President Joe Biden called on the UN General Assembly to stand in solidarity with Ukraine and oppose Russian aggression, condemning the Kremlin's invasion as an attack on the global body's founding principles.
"A permanent member of the United Nations Security Council invaded its neighbor, attempted to erase a sovereign state from the map," Biden said. "Russia has shamelessly violated the core tenets of the United Nations Charter."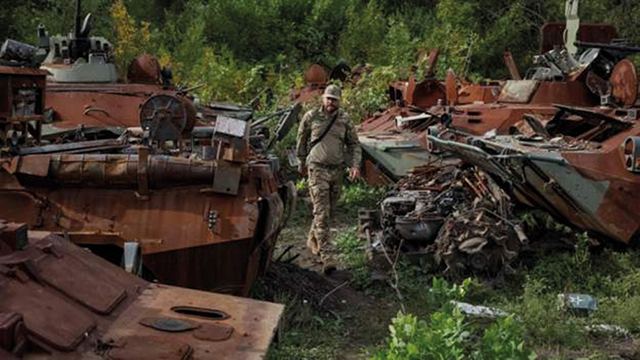 Biden's call also responded to Putin again blaming the West for the conflict in Ukraine and saying it "wants to destroy our country."
Partial mobilization puts Russia on a firmer war footing (it has not yet declared war on Ukraine, despite appearances) and could mean that businesses and citizens have to contribute more to the war effort.
President Joe Biden also warned UN member states that the Kremlin's invasion of its smaller neighbor threatened the independence and sovereignty of nations around the world.
"This war is about extinguishing Ukraine's right to exist as a state, plain and simple, and Ukrainians' right to exist as a people," Biden told the UN General Assembly. "Whoever you are, wherever you live, whatever you believe – that should make your blood run cold."
The US president said the nations of the world had an obligation to put their political differences aside and defend the global body's founding principles by standing in solidarity with Ukraine.
A top Ukrainian official has described Russia's announcement of a partial mobilization of its military as a "great tragedy" for the Russian people.
Serhiy Nykyforov, spokesperson to the Office of the President of Ukraine, told NBC's Erin McLaughlin that "300,000 of people who were conscripts just yesterday, will be sent to places where recidivist thugs, mercenaries, and vaunted Kadyrov [Ramzan Kadyrov, head of the Chechen Republic] fighters failed. It is clear what will happen to these guys there, whom, as we saw in the first days of the invasion, the army cannot properly train and provide for," he said.
Elsewhere, Russian-backed officials in several parts of Ukraine have announced plans to hold referenda on joining Russia. Ukraine has criticized the upcoming votes as an attempt to legitimize Russia's invasion and slammed the prospect of "sham" and "fake" ballots.
Ukraine's Foreign Minister Dmytro Kuleba said the "sham" votes on joining Russia, announced on Tuesday by Russia's proxy leaders and officials installed in occupied parts of the country, did not change anything.
Situation on the ground
Russia had managed to seize large areas of the south, east and north-east of Ukraine in the months following its February invasion, but in recent weeks, Ukrainian has made rapid gains and has recaptured territory in the eastern Luhansk region, which had been entirely occupied by Russia since July.
The cities of Izyum and Kupiansk, which Ukraine says were retaken on September 10, were both key supply hubs for the Russian forces. As such, these represent important strategic gains for Kyiv. Russia has confirmed that its forces retreated from the two cities, saying that this was a strategic withdrawal to "regroup".
Despite the gains, at this moment, Russian forces still hold about a fifth of the country – areas in the south of mainland Ukraine, as well as the Crimean peninsula which Russia annexed in 2014, and the eastern Donbas region – parts of which have been contested for years.
By Ana Dumbadze