As the invasion in Ukraine nears the 60-day mark, lessons from the battlefield are already making their way into strategy and brainstorming sessions across NATO. The beginning of studies and changes in doctrine are being discussed by many of the senior military leadership of the alliance. After seeing the reality of both manpower and technology on the ground, Georgia too should be taking notes.
Despite it being almost 14 years since Georgia last engaged Russian forces in open conflict, they are far from being out of the Kremlin's sights. With Russian ambitions in the South Caucasus potentially being questioned, it is likely the Russia Bear will not hesitate to violently remind the residents of the region of their power.
Georgia has been dealing with the occupied territories and the forces stationed there. The nation will need to go back to the planning board to reassess how they intend on keeping their sovereignty. Three key takeaways from the struggles of her Black Sea neighbor can help; the weakness of tanks, a refocus on junior leadership and warfighting basics, and awareness of electronic and informational warfare.
Armored vehicles have long been a hallmark of the modern battlefield. However, the image of the bastion of power and armor that the Main Battle Tank (MBT) one had has largely been shattered. Massive improvements in targeting and penetration capabilities for man-portable anti-tank tools have leveled the playing field.
In addition to other weapons, the United States-supplied FGM-148 Javelin has now become almost legendary, or meme status, in the Russo-Ukrainian war. Commonly seen on social media but also on clothing and other mediums, a stylized image of a saint dubbed "Saint Javelin" has even become a symbol for the staunch Ukrainian defense units. The unique top-down attack of the Javelin's missile allows it to strike the top of a target where the armor is weakest. This has led to scores of destroyed, damaged and captured Russian armor.
This, along with the British NLAW anti-tank rocket, has allowed small units of light infantry in urban or suburban terrain to become the main threat. These units are able to use the terrain, the distances, and their agility to strike decisively against Russian threats almost anywhere. In a rekindled conflict in Georgia, defenders will need to harness this ability. One matter of note is the terrain.
Central Georgia and the land around the capitol are particularly hilly, even somewhat mountainous and wooded. This is exceptionally difficult for heavily armored vehicles and favors a light infantry defender. The skillful employment of Georgian units with these anti-tank weapons and technology could stall a Russian attempt to take the city.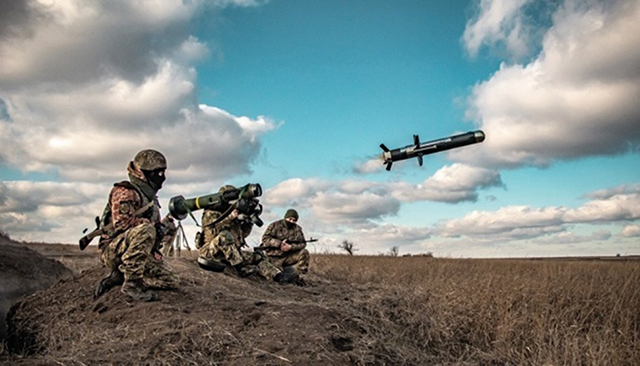 Since 2018, Georgia has received 118 Command Launcher Units (the targeting and fire control component) and almost 500 missiles from the United States. Compared with their numbers and performance in Ukraine, this would likely be insufficient in the defense of Georgia. Getting these systems into the hands of Georgian soldiers, as well as potentially to volunteer units as well, is imperative as a precautionary measure.
Another focus for Georgian commanders, and even the individual soldiers, is a return to fundamental warfighting tasks. The pillars of shoot, move and communicate are often overshadowed by advanced technology and a reliance on artillery. It is essential that battalion and below units are able to execute ambushes, layered defense, and exploit openings on the battlefield.
In Ukraine, commanders have been able to utilize these small unit tactics successfully against a larger, heavier force. A key component of this tactic is the decentralized leadership model, which allows smaller units to operate semi-autonomously on the battlefield. By delegating decision-making authority to junior officers and non-commissioned officers, these agile attacks become more deadly.
The Russian army, long steeped in its Soviet-era rank model, has been incredibly slow to develop their non-commissioned officer (NCO) corps. This has resulted in poor or a total lack of immediate decision making in combat. The United States, only one example in NATO, has notoriously poured immense resources into training and educating its junior leadership. Coupled with the earned experience an NCO brings, this ensures that doctrine is grounded by real-world examples.
Georgian NCOs should likewise be invested in and developed as the backbone of their units. Increasing the agility and speed of defense units against a Russian invasion, just as in Ukraine, is what decides victory. While Russian NCOs have neither the authority nor in many cases the experience to react properly, the initiative stays with the Georgians.
One of the latest developments seen on the modern battlefield is still being witnessed in Ukraine. The electronic warfare component is something that Russia touted prior to the invasion, but has only deployed in limited capacity. While it could be postulated that this is to limit their tactical exposure, it is more likely that it is because of the inadequacy of these systems in real combat.
Exploiting this, Ukraine has operated freely in the electronic space. From communications to loitering munitions targeting, many systems have had free reign to enable the Ukrainian defenders. On the Russian side, there have been shortcomings of which Georgia can take note. Open source intelligence has shared leaked Russian army radio frequencies. Among these leaks are recordings of everything from Ukrainian music to messages "trolling" the Russian soldiers on the receiving end.
While the enjoyment of sending music across military radiowaves is one strategy, others have taken to sharing leaked tactics and movements to Ukrainian leadership. This lack of radio encryption is a grave vulnerability for the Russians, or any army in such a predicament. For Georgia, the ability to read the Russian movements during a conflict could collapse any attempt to storm Tbilisi.
To exploit this, Georgian command needs to establish a special expeditionary group and invest resources into interception and jamming devices. NATO used these devices in Afghanistan to simultaneously jam and listen in on enemy radio communications. When this is coupled with other technologies, it can also triangulate the enemy position for targeting by artillery or ambush forces. This signals intelligence, often referred to as SIGINT, needs to become a component of the active defense of the nation.
While these three subjects are not a comprehensive list, it is a piece of the larger knowledge corpus. Georgia, ever learning from NATO and other friendly partners, has the material at hand. Ukraine, sadly thrust into this position by the ambitions of a dictator in Moscow, can provide lessons for other potential targets of the Kremlin. Georgia is still at the top of this list. Additional measures provided to reduce the threat of Russia's armor, developing the tactical decision-making body of NCOs, and SIGINT technologies on the battlefield are all highlights of the Ukrainian lesson.
This lesson is sadly still ongoing. Ukraine and Russia have little incentive to agree to each other's ceasefire offers. Ukraine refuses to cede its sovereign territory and Putin could never abandon his attempt at conquest for risk of losing political face. Despite this tragedy, Georgia has a unique opportunity to see the Bear in action and learn in real time. Command staff should not squander this opportunity to better prepare for a defensive action that is more likely to come again than not.
Analysis by Michael Godwin