Tsalka, a town and municipality center in southern Georgia's Kvemo Kartli region, is relatively less-known to tourists visiting the country, which seems unjustified when one personally visits the area and sees the amazing beauty and exotic landscape of Tsalka with their own eyes.
Tsalka (the town of), at the center of a volcanic basin and poised on the edge of the Tsalka Reservoir, which was created in the mid-20th century for energy generation, is a quiet settlement with a lot of prospects for development, under two-hours' drive from Tbilisi. It has a multicolored history, with Germans, Greeks, Armenians, Azerbaijanis and Georgians (mostly from Adjara and Svaneti) choosing to come here to farm the fertile volcanic earth (the biggest crop being potatoes), or to herd sheep or cattle. This makes for a mixed community of Orthodox Christians and Muslims.
In the past, Greeks used to be the majority of Tsalka, but now their numbers have considerably decreased due to emigration to Greece. Several thousand ethnic Georgians who had suffered from landslides in Svaneti and Adjara were settled in Tsalka in 1997–2006.
There are important historical monuments in Tsalka: the Kldekari Fortress (ninth century) and the church of St. George in Dashbashi (tenth-eleventh centuries). Dashbashi Canyon is also an interesting tourist attraction.
The EU & CENN for Socio-Economic Development of Tsalka
Back in March 2019, the European Union, together with its partner organization CENN, officially launched a rural development project in Tsalka, 'EMBRACE Tsalka,' aimed at providing support to smallholders, entrepreneurs, women, youth and other local actors by improving access to knowledge and innovation, introducing best practices, creating public-private partnerships and business linkages, as well as generating new employment opportunities by utilizing the development potential of the area.
This project is part of the EU's ENPARD program supporting agriculture and rural development. Since then, the 'EMBRACE Tsalka' project being implemented by CENN has significantly improved the socio-economic situation on the ground and contributed the development of tourism potential of the Tsalka Municipality.
As part of the project, a Local Action group (LAG) was established in Tsalka, which has been working tirelessly to improve the conditions of locals and establish higher standards of living across the municipality, known for its ethnic diversity and agricultural opportunities. The LAG is managed by Melano Tkabladze, CENN Projects Manager, who initially moved to Tsalka for work and quickly fell in love with its extremely beautiful nature and environment, and other highly qualified professionals. Thanks to their experience, Tsalka's tourism potential and the economic activities carried out in the municipality are developing and improving rapidly, and when seeing all these, one can hardly believe that it is the "same" Tsalka they knew a few years ago.
The activities of the LAG are founded on the European rural development model, the so-called LEADER approach, where a gender- and youth-sensitive Rural Development Strategy (RDS) is developed and incorporates specific needs of vulnerable groups (i.e. high mountainous communities, eco-migrants, ethnic minorities and IDPs).
Local business and public projects are prioritized by Tsalka LAG and financed in line with the Local Development Strategy to create employment and livelihood opportunities, especially for a poor and marginalized population, while socioeconomic integration of vulnerable households is improved by empowering women and youth.
Since its launch, Tsalka LAG has provided grants for many locals, thus helping them to implement their business ideas and letting their dreams come true.
Revitalizing Tourism & Economic Activities on the Ground
Thanks to the grants received as part of the 'Embrace Tsalka' Project, the locals having interesting business ideas managed to grow and develop personally and as business people, opening new tourism or agricultural facilities across the municipality and sharply changing the overall picture of Tsalka for the better.
Project beneficiaries proudly and happily share their success stories, expressing gratitude to the EU and CENN for their significant contribution and both financial and intellectual assistance.
A warm and friendly relationship between the LAG representatives and beneficiaries is especially noteworthy, just like one team working together for a common purpose, which is called a better future for Tsalka.
Just outside Tsalka town is Dashbashi Canyon, whose river can be reached via a steep, zig-zagging pathway in good weather, while a glass footbridge is in the making for future visits. CENN, as part of EMBRACE Tsalka project, contributed to the ongoing construction of this tourist attraction by arranging beautiful greenery on the ground. The process is still ongoing, and CENN is expected to do more in this direction until the end of construction.
A few years ago, Maria Mkrtichyan, who moved to Tsalka from Tbilisi, introduced her business idea to the local LAG, which was positively assessed, and she received a grant worth 30,000 GEL. With this amount, she purchased a piece of land and constructed ecologically clean, healthy, beautiful wooden cottages there to host visitors to Tsalka in a cozy and comfortable environment. Now, she manages several cottages with all the necessary comfort built in a beautiful yard, full of greenery. Maria Spares no efforts to further develop infrastructure. Notably, such cottages are the first of their type in Tsalka.
"I'm very grateful to CENN, they're very good people and I'm very lucky to have met them," says Maria, "Everything is better than I could ever have imagined.  Now, I host tourists in my beautiful family cottages and I'm very happy to implement my business idea successfully. Without CENN and their project, I wouldn't have been able to achieve this. For women, it's especially difficult to establish themselves in business due to the skeptical opinions of others. However, if you're strong and wish to do something with all your heart, then you'll be successful! Winning the grant covered the majority of expenses related to the construction process, as they granted 30,000 GEL for me as financial assistance. I like being here and hosting visitors so much that I don't even remember when I visited Tbilisi last time," she notes.
Another important business idea being implemented in Tsalka with the support of CENN is Ethno House, which is expected to preserve the samples of local traditions, architecture and lifestyle and introduce it to both foreign and local visitors.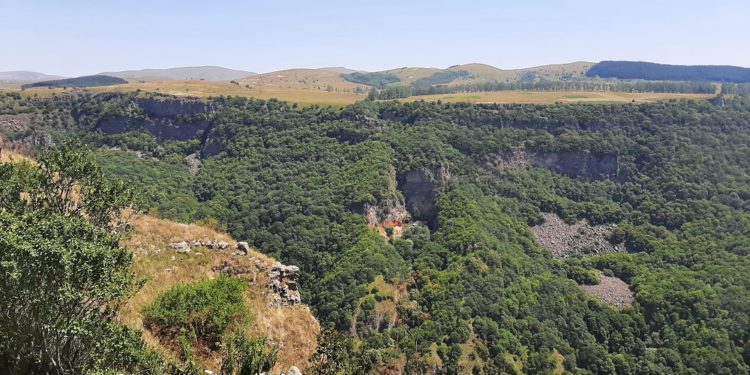 The 2-storey house was built in 1936. The idea of arranging a kind of ethno museum here belongs to Armen Mkrtichyan, who is very grateful to CENN for their immense support.
The process of reconstruction of the building is underway, which is expected to be a synthesis of old style and amazing views, where one will rest spiritually. In the yard, a fruit garden, small pond for fish, wine cellar and other exciting facilities will be arranged for the maximum pleasure of visitors, and it will also have the function of a family guesthouse, with its own kitchen and bar, where various events can be hosted.
It is also noteworthy that a 12th-century historic small church of the Virgin Mary is located directly next to the Ethno House, which represents quite an interesting sight.
Armen Mkrtichyan received GEL 96,000 from the EMBRACE Tsalka project to implement his brilliant business idea, and is very happy and enthusiastic about its expected completion by October 2021. His son, Elvard, is also involved in this process, making this work a family business.
Hotel Home + is a business-type comfortable hotel located in the center of Tsalka town. Such a hotel is a novelty for the local market. Its founder, Temur Mgeladze, is also a beneficiary of the EMBRACE Tsalka project. Temur received a 30,000 GEL grant from the local LAG for the implementation of his idea. Currently, the infrastructure of the hotel is being improved.
The 2-room small and cozy facility is expected to expand and grow in the near future and host more visitors, as a place of accommodation has been a problematic issue on the ground before, and now this situation is also gradually changing along with the overall development of the municipality.
Thanks to the project, a warehouse, enterprise and realization center for agricultural activities is also being constructed in Tsalka, which is expected to be completed by the end of the month.
Endi  Stephanian, a local farmer, received 180,000 GEL grant for his business idea and plans to employ up to 30 people once its operation starts, thus contributing to the employment of locals and further development of agriculture.
Dato Markoidze, a local farmer, received a 17,500 GEL grant for the arrangement of a greenhouse in Tsalka, which operates successfully and generates a solid income as a result of sales of seedlings and vegetables. Both its founder and the locals employed there are satisfied and happy to see the results of their hard work, grateful to the EU and CENN for implementing such an important and timely project in Tsalka.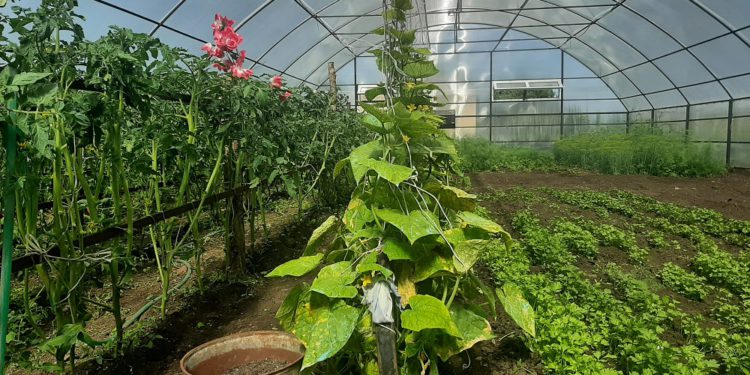 The above beneficiaries represent only a part of the satisfied locals involved in business activities and turning their dreams into reality thanks to the EU-supported ENPARD project and CENN. Their number is expected to further increase before its completion.
The EU-supported ENPARD project 'EMBRACE Tsalka' has already improved the well-being and socio-economic status of local communities, at the same time making Tsalka a more popular tourism attraction for visitors. A lot of kind work has been done, be it supporting various social, educational or economic initiatives, and once the ongoing projects are completed, the amazing transformation of Tsalka for the better will be even more clearly visible.
By Ana Dumbadze
Related Story: The Tourist Treasures of the Tsalka & Ninotsminda Municipalities