Total Charm is an international clinic of plastic and aesthetic surgery, and dermato-cosmetology, with branch offices throughout Georgia. To find out more about it, GEORGIA TODAY spoke to Total Charm's Plastic Aesthetic Reconstructive Surgeon, Dermatologist, and Cosmetologist, Dr Konstantine Sulamanidze and Executive Director of the Clinic, Ketevan Khukhunaishvili.
"This year, Total Charm turned 15," Dr. Sulamanidze tells us. "In 2007, we started working in the field of surgery and dermato-cosmetology, at first in just one office, where surgeries were performed and we had several dermato-cosmetologists. Over the past 15 years, we have built up both of these areas: all kinds of modern plastic surgery are available here now, and the dermato-cosmetology department was expanded from two dermatologists to seven. They work with special laser devices and the most effective injections. In addition, we have added two sections – Aesthetic Gynecology and Aesthetic Angiology. Our goal is to create a comfortable space for our patients, and we offer a modern laboratory, an in-house mammologist and otolaryngologist, and an ultrasound department. We also have a general surgeon who sometimes comes and helps us during operations. We have both intensive care and intensive care units. It gives us the ambition to be leaders in Georgia."
"It's not only business, it's an art of beauty," Khukhunaishvili says. "Even with the pandemic, our clinic has constantly had patients. The best surgeons work with us. A lot of patients come to us from other countries as well. We're proud to have certified dermato-cosmetologists and surgeons working with us. As for the drugs, they have been tested in Georgia and we are responsible for safety. We have experienced anesthesiologists, so we are not afraid to perform any procedure. Our equipment is bought from its country of manufacture, which guarantees quality."
What makes your clinic stand out?
"We only work with professional doctors who use modern equipment and licensed drugs," Khukhunaishvili notes. "As such, our patients are not afraid of procedures. Their confidence in us is often such that when they check in for one procedure, they often decide to go for other procedures too.
"As many doctors said they wanted to study with us, we set up a Total Charm school, where we teach surgeons and dermato-cosmetologists. We also opened the first Anatomical Course in the Caucasus, where a doctor can get practical knowledge on anatomical material," she notes.
When do you offer sales?
"We connect sales to different holidays, or when we open a new branch; or when we celebrate our anniversary, or before the New Year.
We offer a special program for stroke patients. We give them some procedures on the initiative of the Total Charm founder.
Tell us about your future plans.
"We will continue to offer patients beauty-related procedures – aesthetics, gynecology, dermatology, plastic surgery," Dr. Sulamanidze suggests.
"Our main future plan is a hotel that for our in-patients- those staying for long treatments or coming from another country. During this time they will rest and their nurse will be able to focus fully on them, which will speed up the rehabilitation process."
What would you recommend our readers in terms of seeking out the right treatment?
"Our main goals are to provide patients with a comfortable space, to have professional doctors, and to be responsible for safety," Dr. Sulamanidze says. "Every plastic surgeon with us is a doctor. Generally, I'd advise everyone that before deciding to perform a certain procedure, they should not be shy to ask their consulting doctor about their experience, so as to be their sure of their reliability and avoid complications."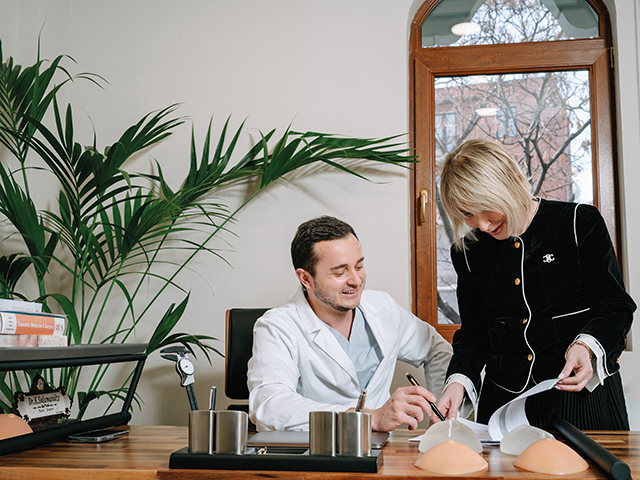 By Mariam Mtivlishvili