Sairme Resort and Evex Hospitals' Covid Rehabilitation Program has won the prestigious European ESPA Innovation Award. The main goal of the competition was to identify hotels operating in the medical and healthcare directions that have developed new, distinctive and effective approaches to improving quality of life following infection by the new Coronavirus. Maia Sanikidze, head of Sairme's medical department, stated that the key to the success of their program is its unique, complex approach which combines the clinical and balneological directions.
Sairme is the first Georgian brand to become a member of the European Spas Association. The fact that such an award could be won lead to their decision to present a project implemented in cooperation with Evex Hospitals. This approach proved to be a success – the joint program of the Georgian resort and medical center won the nomination of "Innovative Medical Spa" among 100 spas from 20 European countries.
"I would like to welcome Sairme as a new member of the European Spas Association network," said Csilla Mezosi, Secretary General of the European Spas Association. "There, along with mineral and thermal waters, the nature is also distinguished. We live in the Covid era, and Sairme and Evex Hospitals rightly won the Innovative Medical Spa nomination unanimously. In their joint program, the combination of the clinical and balneological sectors was vital to treating post-Covid complications. I would like to congratulate them once again on this important award."
It all started a few months ago when Sairme and Evex Hospitals, based on the knowledge gained during pandemic management, decided to develop a rehabilitation package for post-Covid complications. A joint program was developed that provides treatment, diagnostic and recovery procedures.
Within the frames of the program, a primary health examination is conducted at the Caucasus Medical Center, following which, Sairme Resort provides medical-healing procedures, including underwater massages, mineral water baths, inhalation with mineral water, halotherapy, as well as active and passive climatotherapy.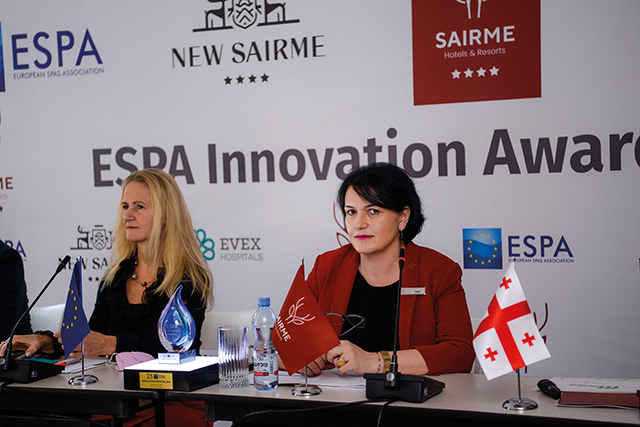 According to Maia Sanikidze, head of the Sairme clinical department, the award and becoming a member of the European Spas Association is very important for them.
"This year, Sairme Resort became the first and so far the only resort in Georgia to become a member of the "ESPA Spas Association". Being a member of an association of this rank allows our resort to share European experience and to align with European standards in the development and implementation of balneological services. This is important not only for Sairme, but also for the development of the balneological sector countrywide.
"We are being given a unique opportunity to make Georgia known to European tourists, not only as a provider of gastronomic and adventure tourism, but also as a major resource provider of medical tourism. As for the program itself, such a complex approach is in fact a new word in the management of the post-Covid situation," she noted.
The team of Caucasus Medical Center is also proud to have received such an important award.
"This award will help the development of medical tourism in Georgia," said Marika Toidze, head of the treatment and diagnostic hub at Caucasus Medical Center. "Up to 100 spas from 20 European states took part in the competition. I'm sure they will offer programs for treating further post-Covid complications. Among competitors there were very famous medical resorts. Against this background, it was highlighted that the highest level of medical services and spa treatments are available in Georgia."
Sairme Resort and Evex Hospitals will continue their post-Covid rehabilitation program and are planning to implement new joint projects in the clinical and balneological sectors next year.