The United Kingdom and Georgia have quite the interesting and historic relationship, particularly
with regard to many other Western European nations. At the formation of the first Democratic Georgian Republic in 1919, the UK maintained both political and military ties, including a contingent of troops in the nation with the aim of deterring the growing Bolshevik threat. In the modern era, the two nations have rich and intertwined economic, social, and military ties.
Today, these military cooperative missions fall under the purview of Lieutenant Colonel Tony Brumwell. GEORGIA TODAY talked with Lt Col Brumwell about the UK-Georgia defense relationship, regional conflicts, and NATO membership.
What are today's key goals for the UK's mission with the Georgian Ministry of Defense?
Defense and security forms a really central part of the UK's relationship with Georgia. As such, we place great emphasis on assisting with the MOD's institutional reforms, and also on building capacity for Georgian Defense Forces. NATO readiness is the goal, so of course we are supporting NATO initiatives (under the SNGP- Substantial NATO Georgia Package) as well as pursuing bilateral co-operation. And this is a partnership – there's much the UK can learn and gain through our co-operation.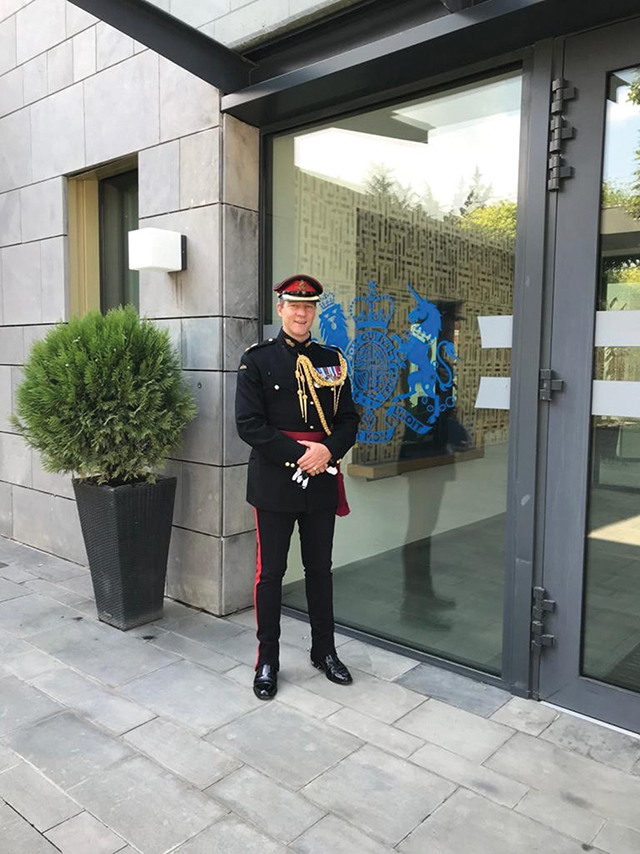 What are the top 3 largest or most significant obstacles in achieving those goals?
We try to see challenges, rather than obstacles. Resources are a constraint: neither Georgia nor the UK has unlimited capacity, and so we need to prioritize the areas of activity. Coherence is a challenge too: we have to ensure that what we are doing is coherent not only with Georgia's own reforms but also with what other partners are trying to achieve. And, of course, we need a common language, which is why one of our priorities is to provide English language training.
How do you plan on overcoming those challenges? Are these solutions achievable in months, years, or decades?
The UK recently published its Integrated Review, which lays out how its defense and security objectives will be pursued internationally. Through an approach of 'persistent engagement', the UK seeks to have an enhanced presence in the region that will do the work of training and providing education required by Georgia's MOD and Defense Forces. It's a strategic approach, so we are planning for the long-term, but we're making solid progress towards the targets each year.
In order of importance, how would you rank the various types of assistance being offered by Georgia's partners: training support, material and humanitarian support, arms and weaponry, battlefield technology, and intelligence support?
Having played such a key part in NATO-led operations in Afghanistan, Georgia's Defense Forces already have extensive capability in the tactical fundamentals – to Shoot, Move, Communicate and Medicate.
Now, under the Substantial NATO-Georgia Package, there are capability developments underway in many other areas, such as Strategic Communications (led by the UK). Each of these SNGP initiatives is seen as having equal priority. And more than this, since combat effectiveness is a product of its conceptual, moral and physical capabilities, these areas all need to be developed in harmony.
The involvement of Russia in the Belarusian-Polish border confrontation with immigrants, a buildup of forces around Ukraine, and the continuing matter of both Russian forces in Nagorno-Karabakh and hostilities between Armenia and Azerbaijan, has made the EU and NATO more concerned. What does this mean to you here in Georgia?
We try to focus our efforts on providing Georgia's defense and security institutions with a greater ability to detect, deter and counter hostile activity. Of course, that includes increasing resilience against Russian hybrid attacks including cyber and disinformation. The UK is especially invested in further hardening Georgia's MOD against cyberattacks and in both developing the free media and actively countering disinformation.
The Royal Navy routinely visits the ports of Georgia and participates in naval exercises in the Black Sea, despite the ire of the Russian leadership. How would you gauge the need for greater development of Georgia's naval warfighting and coastal defense capabilities?
We feel port visits to Georgia by Royal navy ships are a vital part of our co-operation package.
They provide a clear message on the UK's support for Georgia's sovereignty and territorial integrity; more than that, they help ensure freedom of navigation both in Georgia's waters and the international waters of the Black Sea. We enjoy excellent co-operation with the Coast Guard, whose boarding teams are now accredited for NATO operations. US, UK and wider NATO initiatives are all providing uplifts to Georgia's maritime flank security.
With NATO membership being ever so close yet seeming just out of reach, what would be your advice to any Georgian defense officials or politicians reading this?
The UK remains fully committed to Georgia's NATO progress. The UK's ongoing support to SNGP is just one example of this commitment. The UK will also provide troops to next year's NATO-Georgia exercise. British Forces are proud to be partnered with Georgian Defense Forces and Georgia's Coast Guard; our common focus is security, deterrence and stability.
Exclusive interview by Michael Godwin