Georgia's prospects for European Union integration have been fraught with speculation. While some claim that it is long past time for Georgia to join the European social and economic family, others have cast doubts over the compatibility given internal social and legal troubles. Despite this, one man has made it his personal mission to bring the iconic currency of the Union to the aspiring nation.
Gunther Fehlinger believes this is the first and most pivotal move to bring Georgia West. He is the President of Europeans for Tax Reform (ETR), an economist from Vienna, Austria, and Chair of Austrian Committee for European Ukraine. He says the road to EU and even NATO membership starts with the National Bank of Georgia and its adoption of the European currency, the Euro. He has traveled across Europe, particularly to Moldova and Ukraine, sharing the model he believes can help the three EU aspirants become a part of Europe.
GEORGIA TODAY sat down with Fehlinger to discuss his project. While visiting the nation, he has spoken to various political entities, pro-European activists, and NGOs to share his ideas about Georgia's path to Westernization and prosperity. In addition to his podcast and writings, he has started a petition to push for Georgian inclusion in the EU.
First, why the Euro? And why now?
It's simple. It's time for a complete Europeanization of Georgia. That's being a part of the European Union, having the currency the Euro, NATO membership, and integration and assimilation in the foreign policy. It's all one package. You cannot separate it, and that's why I call for all these things immediately. We have lost a lot of time with transition, and by giving Russia a lot of space that has caused this disaster in Ukraine.
It's very important that Georgia redoubles its European efforts. The currency reform is one pillar, the labor market is another pillar, the economic integration into the customs union, and also political integration by following common EU foreign policy. I know it's a bit difficult, as the EU has been a bit too distant, but it's absolutely necessary to accelerate the process of European integration for Georgia, now.
Surely this is something that would take years, if not a decade, to fully convert. How do you see this process being carried out?
We have seen this in the Baltic countries; Estonia, Latvia, and Lithuania. They were all members of the Soviet Union, just like Georgia. Georgia was a driving force that helped bring down that evil empire. But Georgia lost time, while Lithuania, for example, is a member of the EU and NATO already. Of course, they have different geographics and history, but nevertheless, the same role model is there now.
We have in the case of Georgia, Moldova and Ukraine that Russia has taken many countermeasures since 1991. We lost a lot of time. If the country wants to join the EU, NATO, and Europe, we should be faster responding to this opportunity. The social situation, the economy, the lives of the people of Georgia would be so much better if they were fully integrated into the Western world.
Do you sense any opposition in Georgia that could derail this effort?
We have a very complex challenge here. First, we have to convince the Georgian people, but everyone I talk to is very ready for the European way and a European future. Of course, we also need to convince our own leadership in the European Union. We'll have to explain Georgia, their European-ness, their history, and the future that we belong in together. We explain that narrative, and that Georgia is ready and we believe in Georgia, that's the way for us.
You've mentioned how it can bind the EU and Georgia economically, but what about Georgia's other regional partners? Won't this complicate trade and economic relations with Azerbaijan, Armenia, and Russia?
First, I'm in favor of ending the Eastern Partnership of the EU because I don't think it's the right concept. We have a better offer to make. We have to support the regional cooperation of southeastern European countries. This includes Azerbaijan and Armenia. Georgia will be the gateway for them both into the European Union.
This is very beneficial for Georgia and for us. Azerbaijan is a very important actor in the energy market and is a gateway to central Asia. A first step with them would be a free trade agreement, and then gradual access can be made through the regional cooperation council. Armenia is a bit problematic because they are a military ally of Russia in the CSTO (Collective Security Treaty Organization). It would be expected for Armenia to distance itself from Russia.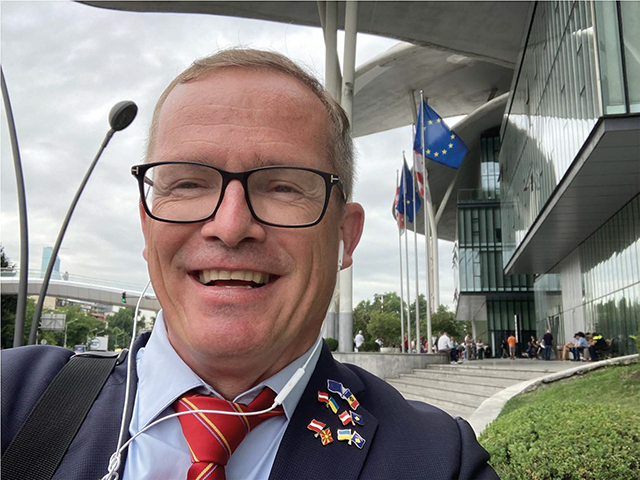 Georgia is not outside the ire of the Kremlin, despite the current focus on Ukraine. Would Georgia's adoption of the Euro further deteriorate relations with Russia?
That's the argument they have had since 2008 in Bucharest. The United States tried to implement this and the Europeans blocked it, saying we shouldn't provoke Russia. The consequences of this non-provocative approach was the war in Georgia, a war since 2014 in Ukraine and full scale escalation in 2022, added to which, we have Russia playing out a terrible situation in Syria and Libya.
So this idea that we should take the interests of Russia into consideration led to a complete disaster. I don't see why we should continue that. We should confront Russia and make an aggressive offer to them in this region. The ones who are in this already, Ukraine, Moldova, and Georgia, should be added to the European Union, our economy, our customs union, and our currency system. The others that are on the periphery can be added to a secondary program, with customs unions and agreements. Europe is the future, not Russia.
Let's say you win this campaign. What's next for Gunther Fehlinger?
For me, it's the EU and NATO membership of Georgia. The currency integration is only the first step. Georgia should be fully integrated, politically, as a voting member in the Union and also in NATO. It's always debated that it's a partly occupied country with Abkhazia and South Ossetia. I think the role model for Georgia is Western Germany after 1948. The Americans introduced a new German Mark currency, backed by the US Dollar, and that became the basis of the nation's stability.
Then came NATO and EU membership, with a new constitution and a new Mark. This worked extremely well. It became so successful that ultimately it was possible for unification. The same model is also true for Georgia. One day, the time will come when the breakaway regions will want to reenter Georgia, economically and politically, based on the country's success and its becoming a NATO and EU member.
Exclusive Interview by Michael Godwin