The combined death toll in Turkey and Syria from the powerful and devastating 7.8 magnitude earthquake that hit on February 6 has now risen above 41,000. And as people are still being rescued from the rubble, a parallel rescue operation, one less well documented, has been ongoing: The one to save the animals.
Nilgun Engin, animal activist, organizer of the Ankara Save Chapters and Regional Liaison for the Middle East and South Africa, Animal Save Türkiye and endorser of the Plant Based Treaty, spared a few moments away from the tragic chaos to tell GEORGIA TODAY what the situation is like on the ground.
How did the earthquake affect people's pets?
It's sincerely impossible to describe the scale of the destruction in Turkey and Syria. After one week, many now say that multiple neighborhoods and perhaps cities have been wiped off the map. It's so hard to describe what happened without tearing up. So many different things happened to pets. There are birds and mice, for instance, who are kept inside cages. This instantly limited their ability to escape when the earthquake hit and the buildings collapsed, even after, if they survived. Dogs and cats had more chances to get out, but they panic, and sometimes go into hiding in the rubble, which makes it even harder to locate and rescue them. Sometimes, when a building is not safe to enter (after assessments made by the search-and-rescue specialists), no-one is allowed to go inside even if the building is standing. At that point, even if you can see a pet sitting looking out a window, you can't do anything. If we're lucky and can get a crane onto a street with no road blocks, we can reach the pet from outside and take it out the window, unless the animal gets scared and runs deeper into the building. Sometimes, we come across animals on the streets and roads. A week on since the earthquake and, all this time, no animal outside was able to find any food or water. For such animals, it comes as pure relief when we approach with water for them to drink.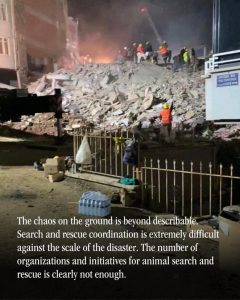 What is the current situation on the ground?
It is utter chaos and utter suffering. The human death toll is reported to be around 40,000. The United Nations estimates that this figure will double. But the animal loss is unreported and undocumented, unfortunately. As if that's not enough, since the first quakes, around 2500 more earthquakes have occurred in the same areas, with 3-4-5 magnitudes in variation, and they keep happening.
No-one is saying that they are not okay, though. Everyone says that they are "doing fine," just so as not to distract one another's focus. We will cry about everything later.
How are you (and others) helping?
We're all super focused on the tasks we have listed. Animal Save Türkiye is a group of 20 people with all kinds of jobs. We normally live in Ankara, Istanbul and Izmir, but now we are working in shifts to go to Kahramanmaras, Gaziantep, Malatya, Adıyaman, and Hatay (Antakya), and wherever else our help is needed. We are delivering pet food, pet carriers, as well as water, food, blankets, baby formula, diapers and hygiene supplies for the survivors. We provide rescue transfer support to animals in need. We have rescued and transferred dozens of cats, as well as several dogs and birds, from several cities. As of February 13, we have rescued 35 animals in total and almost all of them have been brought to safety, while some are in the process of transportation. While one group sets up a mobile soup station, others continue their search for the lost or left animals. Surviving animals are being brought back to Ankara and Izmir to safety, as the next group loads the supplies and items and heads back into the disaster zone.
Many of our friends are risking their lives to enter damaged buildings to rescue animals, but this is something we feel we must do. We work in shifts and give veterinary care to the animals that are being rescued from collapsed buildings or found wandering the streets. We are searching for homes for animals that lost their owners or need special care, while a part of the team stays in the areas working with local vets and rescue teams. They feed the stray animals and take in the animals after they're seen by a vet. We take each and every animal that we find or rescue to a vet for a preliminary check to see if the animal is able to be transported, because in some cases the journey can take 20 hours by car due to road blocks and heavy winter conditions. Not even the weather is on our side.
Our non-mobile teams are supporting us online, taking calls for help; forwarding them to the respective team on the ground; managing the social media accounts where we receive dozens of reports, tips, news and calls; sharing what we've been doing and updates about the calls that have been dispatched; fundraising; communicating with vets for medical procedures for the rescued animals; coordinating the adoption procedures for the rescued animals with volunteering new homes, and probably many more things that I cannot think of at this moment.
What are the challenges facing you now?
Search and rescue coordination is extremely difficult considering the scale of the disaster. The number of organizations and initiatives for animal search and rescue is clearly not enough. For instance, when we reach a call for help, the animal in need might have run off or got lost under the rubble. No-one is able to keep up with all the scared, lost or wounded animals. Insufficient cooperation also harms our efforts, as we end up wasting our energy, time and resources answering such calls for help.
What can we in Georgia do to help?
Even sharing this interview would be a great help. We are working hard under very difficult circumstances, surrounded by death and suffering. Yet, we want to continue our efforts for all animals, whether lost in buildings or left on farms. We want to be able to keep sharing positive stories. We can use all the support and visibility we can get, because it will matter for each and every cat, dog, bird, mouse, horse and sheep. After following our efforts, if you wish to contribute in a way, please consider donating via our GoFundMe account and sharing the incredible stamina and patience that our teams have been displaying.
The link for our GoFundMe account: https://www.gofundme.com/f/help-animal-save-turkey
Click for a video of volunteers from Turkey's Animal Rights Federation rescue animals in Antakya [Courtesy of Time]
By Katie Ruth Davies