On October 8, 2021, the EU-supported Caucasus Social Innovation Grant Competition award ceremony took place at Rooms Hotel Tbilisi. This competition was held within the framework of the EU-funded project "EU4Youth: Social Entrepreneurship Ecosystem Development (SEED) for Green Growth." The Grant Competition awards grants to individuals who have built social enterprises with strong social and environmental missions, as well as have a strong sustainable business model. Within the the project, there was a total of three social innovation competitions, which has supported 27 grantees in Georgia and Armenia.
Representatives of the Delegation of the European Union to Georgia attended the award ceremony. "The green and social component is very important for the European Union" highlighted Nino Samvelidze, Youth Programme Manager at the Delegation of the European Union to Georgia, during her welcoming remarks. She expanded by saying, "the main priorities of this EU program are to ensure the employment of young people, to develop their entrepreneurial skills and reach the most vulnerable groups. And I can confidently say that this project implemented by CENN fully covers all three of these priorities." During the ceremony, Ms. Samvelidze was able to talk to the grant winners: "I had the opportunity to talk to some of the winning entrepreneurs and I'm very happy that with our help, these young entrepreneurs have been able to achieve their goals." Moreover, Ms. Samvelidze noted that she strongly believes that, with the help of CENN, the priorities of the EU can be realized.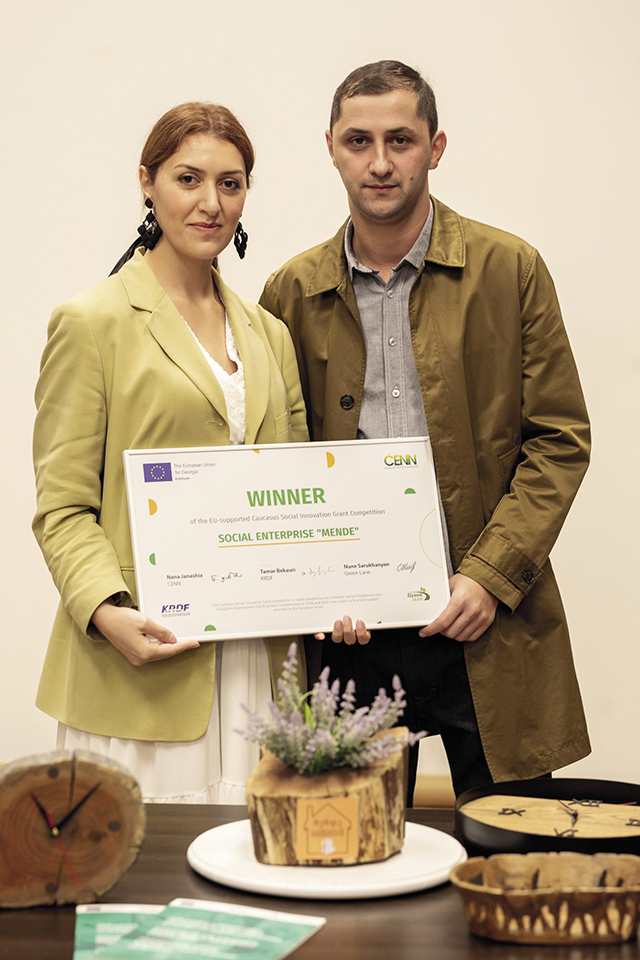 Nana Janashia, CENN Executive Director, thanked the EU delegation and noted that the spark of motivation seen in youth was completely different than what CENN has seen in other interest groups in other projects. Ms. Janashia highlighted that it is often difficult to start an initiative, especially in an environment where legislation is not very supportive of the development of social enterprises, but noted that, with this program and additional funding, they will have more opportunities. "We want to give young people a spark and opportunity to grow," she said.
Ms. Janashia emphasized, "at CENN, we always strive to include all types of minorities. This is not just a demand of the EU, it is a demand of a progressive society, to involve as many marginalized groups in your activities as possible."
Iza Bekauri, KRDF Director, and Nune Sarukhanyan, President of Green Lane NGO in Armenia, also delivered speeches at the award ceremony, congratulating the young people winning the Grant Competition. Moreover, Mariam Khergiani, CENN Project Manager, introduced the details of the project: "the aim of our project is to increase the readiness of young people for social entrepreneurship in Georgia and Armenia. We cover three municipalities in Georgia, namely Gori, Akhmeta, and Ninotsminda."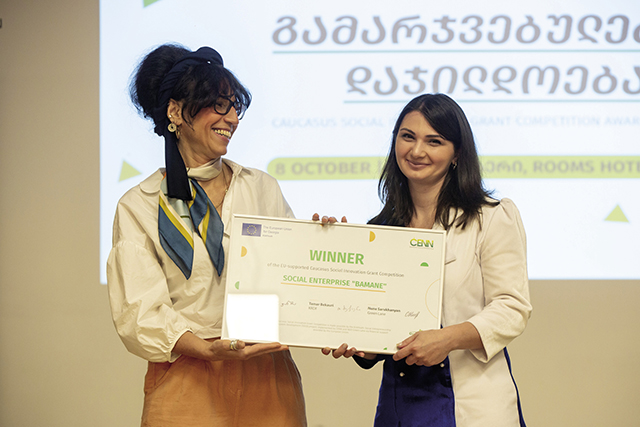 "In Armenia, the Shirak, Lori, and Tavush regions were selected because these regions are vulnerable, there is a high rate of poverty and unemployment, and it is in such regions that it is important to create youth start-ups for sustainability."
One of the winners of the Caucasus Social Innovation Grant Competition was Avtandil Chikadze, founder of the wood and metal workshop 'Mende' in Akhmeta.
"We have 14 years of experience. For 14 years, we have only created drawings and now, with the help of CENN, we have the opportunity to bring these drawings into reality," said Iza Legashvili, Mende's co-founder. "Our main goal is to take care of the environment and give a new life to the waste that actually exists in the form of wood. Youth employment is also a huge challenge in the regions, and we want to share our knowledge and experience with them. We are currently employing two young people."
Giorgi Badashvili and Guri Devidze have established an innovative greenhouse and grow black tomatoes.
"Our priority is not to have any negative affect on the environment. We have an energy-efficient stove, we compost and we will soon have solar energy. Our social mission is to employ local young people, representatives of vulnerable groups, and we have already selected two ladies," Badashvili told us.
Another winner, Keti Kvachantiradze, is the founder of Bamane. She used to have a sewing shop, and now sews sleeping bags for babies using leftover fabric waste from sewing.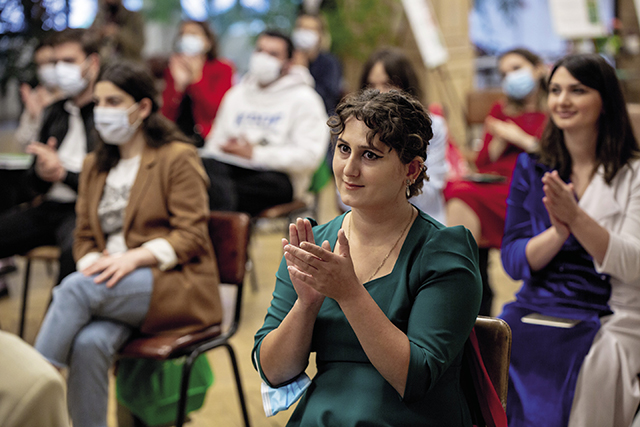 "We are employing people in the region, and are planning to expand the enterprise to employ even more," she said. Kvachantiradze expanded by saying, "it is also important that our enterprise is located in the village of Karaleti, just a few kilometres from a Russian base. Our goal is to create a resilient community in such villages so they do not get empty, and young people will be able to find employment and realize their potential locally."
After the award ceremony, a digital platform called "Idea Bank" was presented. Idea Bank is the first social and green entrepreneurship platform connecting young entrepreneurs from Armenia and Georgia with potential investors. The main goal of the portal is that the project beneficiaries will have more publicity and be better able to find investors for their projects. During the presentation of the Idea Bank, CENN noted that there are a lot of interesting ideas that lack funding. The platform provides the young creators of social and green ideas a portal for new opportunities; this is a first for Armenia and Georgia.
The EU-funded enterprises from Georgia and Armenia cover sectors such as manufacturing and services. These enterprises focus on sustainable waste management, ecotourism, agriculture, eco-manufacturing, healthcare and many more. By the end of 2022, the funded enterprises will ensure the implementation of environmental and social missions, including empowering young people through business, employment, and contributing to solving social and environmental challenges.