On August 19, a fire broke out in the forest of central-western Georgia, Borjomi Municipality.
Initially, the fire spread over an area of about 2-3 hectares. In the process of putting out the fire, along with the local firefighters, additional groups from the neighboring municipalities were called in.
On August 22, the Government of Georgia got the defense forces involved in the extinguishing works. This week, four helicopters, over 300 firefighters and 300 representatives of the special tasks department have been involved in trying to put out the fire as windy conditions push it into new areas of forest.
"It is important for us to localize the fire so that it does not spread to other areas. At the moment, there is no risk of it spreading to populated areas, though it now covers 150 hectares," Minister of Economy of Georgia Levan Davitashvili noted, adding that it is too early to talk about damage and loss, and more information on that will be provided in the future through an investigation.
He noted that this is a very difficult process and a lot depends on what the weather is like.
"Why the fire broke out will be determined by the investigation, although it is very hard to imagine something surprising here: It is high temperatures, the summer season. The last half of August is the most risky period, and this is not the first time we've had a fire season in the country during this period."
In 2017, Borjomi Municipality lost 943 hectares in a devastating four-day summer fire.
"If we look at the whole of Europe and the whole continent, there are the same and much larger problems. Portugal lost 10% of its protected areas to fire in just one month," Davitashvili said.
The Minister of Internal Affairs, Vakhtang Gomelauri, went to Borjomi Municipality to familiarize himself with the situation on the ground.
Gomelauri, together with the Minister of Defense Juansher Burchuladze and the Minister of Environment Protection and Agriculture Otar Shamugia, on August 23 inspected the affected area and attended a working meeting at the operative management headquarters.
"All fire sources are not yet localized. They are being worked on. As yesterday was windy, an almost extinguished and localized fire reignited and spread to another mountain. We still have small and active fire sources burning.
"There are more than 1,200 people working on this, among them representatives of the Ministry of Internal Affairs, representatives of the Ministry of Defense, and the Ministry of Environment Protection. 120-110 units of equipment are mobilized, including heavy equipment and tractors working to lay roads so workers and water can reach the affected areas.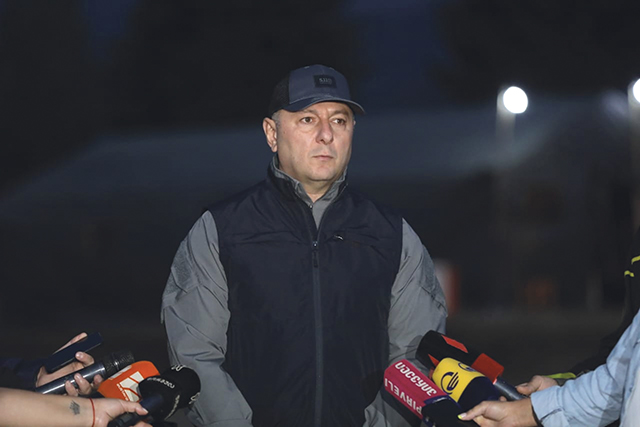 "The main danger is in the wind. If there's no wind, we can work all night and the situation will be better the next day. If the wind picks up, of course, there is a risk of the fire spreading, possibly to a broader area," he said.
"We have localized the fire spreading towards the villages, and fire-engines are mobilized so as not to allow the fire to move towards them, and they will remain unaffected unless something unexpected happens or a storm breaks out," Minister of Internal Affairs, Vakhtang Gomelauri noted on his visit, going on to justify why the helicopters were not put into use immediately, following criticism in the media.
"Weather conditions meant that our helicopters could not fly. They didn't consider it necessary on the first day, and when they started flying, they were only able to drop four loads of water before the wind blew up and spread the fire. There are no specific rules on when a helicopter should get involved, there is no such thing in the world, not only in this country- it does not exist anywhere. When they considered it necessary, found it difficult to localize the fire, they called for a helicopter. They managed to get a few loads dumped, but it was so windy that we couldn't bring the rest of the helicopters.
"I would like to emphasize one aspect regarding the use of a helicopter in fire extinguishing works: Don't imagine that if the helicopter flies over and dumps water, everything is over. Without people's physical work on the ground, a fire will not be extinguished. We studied the ground, dumped water on it, dug about 30 centimeters in, and the fire was still there. The main fire source might be treated with water, but if you don't go down and treat it by hand, it can reignite in an hour," Gomelauri stated.
On August 24, the Minister of Foreign Affairs of Georgia, Ilia Darchiashvili, and the Minister of Foreign Affairs of the Republic of Turkey, Mevlüt Çavusoglu had a telephone conversation, where the Turkish side expressed its readiness to assist in the elimination of the Borjomi forest fires and confirmed Turkey's commitment to provide Georgia with appropriate equipment.
Darchiashvili thanked his Turkish colleague for his help and once again emphasized the close partnership between Georgia and Turkey and noted the assistance provided by Turkey in similar situations in the past.
Turkey's firefighting plane, boasting an 8-ton tank, has already got involved in carrying out fire extinguishing works in Borjomi.
"Three aircraft joined the work together with the Border Police aviation team, and I would like to express my appreciation to our friends, the Turkish side. Their assistance is very important and greatly contributed to the fire extinguishing works," Gomelauri noted.
He highlighted again that due to windy weather, the helicopters were finding it difficult to operate, so the planes were much needed and appreciated, and, as a result of their water-dumping, the fire sources and area of expansion had already decreased.
"I would like to express my gratitude to our Azerbaijani and Armenian friends, who also offered to help us with equipment, though it is not yet possible to take them up on their kind offers as we have already mobilized equipment and are not capable of working in full force physically, owning to the difficult terrain.
"I would like to underline that there are and have been fires throughout Europe, and elsewhere, and everyone is dealing with their own issues. Firefighting aircraft are a great luxury and not every country has one, so we do not expect any aircraft from other countries to arrive in the near future," he stated.
Gomelauri emphasized that the area where the fire has spread has not gone beyond the red zone, however, fire has appeared in new locations where it was not detectable before, mostly within the pine forest.
"We have now made a full circle and inspected the area. You remember the fire in Borjomi that occurred in 2017: everything burned at once. This is not the case here, as we have only small fire zones. The area is large, but the scale of the fire is comparatively less.
"As to when the fire will be extinguished," he said, "It's a very difficult question to answer. It is largely dependent on the weather. Let me point out once again that even if we had more helicopters, they would not be able to operate in wind. Also, I would like to inform you that, as it was reported to me, there is no danger posed to strategic pipelines," Gomelauri stated.
The fire extinguishing works are ongoing.
By Ketevan Skhirtladze